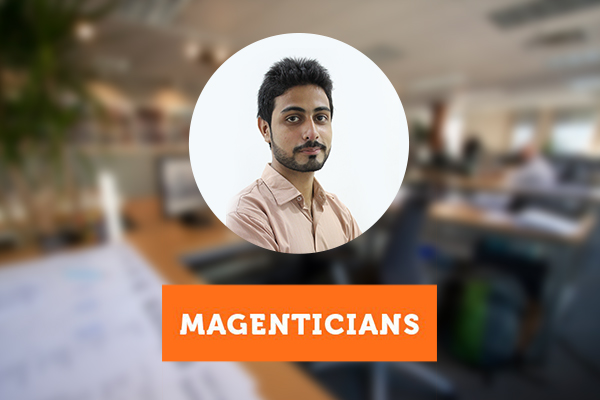 Reading Time:
5
minutes
We have with us today a Magento developer, blogger, and influencer, Syed Muneeb Ul Hasan. He has been teaching the Magento community through his articles and easy-to-follow tutorials for a long time now.
He is also highly active in the community and contributes regularly as much as he can.
Q1. Syed, thank you for agreeing to this interview. Personally, I have been very impressed with Magenticians and the work you guys are doing for the Magento community. First off, can we have a little background information? Please introduce yourself to our blog readers. Tell us about your career path: how you started with Magento and how you came to Magenticians?
First of all, thank you for giving me the opportunity to share my views. I completed my Bachelor's in Software Engineering in 2015, and in early 2016, I started my professional career as a Web Developer where I used PHP, JS, HTML, and CSS for web development.
My interest then grew towards eCommerce development. So I did my research and I found Magento better than other eCommerce platforms in terms of security, feature set, and support. Hence, I went with Magento and it proved to be a great choice. I had the fortune of joining Magenticians in mid-2016, and I started working here as a Magento Developer and Blogger.

Here, my basic role is to educate people about Magento and provide the best solutions to their issues. We have now forayed into conducting Magento site audits and providing expert advice on developing, troubleshooting, and configuring Magento stores to people as well.
Q2.  What is Magenticians in your opinion? Is that another Magento blog? Or is it something else, something bigger? 
Technically, Magenticians is a blog, yes. However, it's not just another Magento blog that is competing with others for better rankings. It's a lot bigger than that.
Our motto is 'Magento Made Easy'.
And that's what we do for our audience. We focus on providing value to Magento users which is why we publish five quality articles per week, more than any other blog; a fact we pride upon despite not competing with anyone.
Magenticians, in simple words, is your go-to resource whether you are new to the platform or a veteran. At Magenticians, each visit will give you something new to learn!
Our product is Magento software itself, and our success lies in the fact that we help people learn it and move their stores to Magento.
Q3. As I noticed, you frequently contribute in different Magento blogs as an author. Where are you pulling inspiration from? 
Yes, I contribute on many different Magento blogs as an author. The reason behind it is to educate and help the Magento community as much as I can.
As for inspiration, I can't single anyone out. There are many who are doing a great job for the growth of Magento. I regularly follow Alan Storm, Gabriel Guarino, Vinai Kopp, Sander Mangel, Max Pronko, Fayyaz Khattak, and Allan MacGregor among others.
However, when I'm creating a tutorial for Magenticians or any other blog, I keep in mind the issues generally faced by the readers and followers of that particular blog.
Q4.   If you could go back in time to when you were just getting started with Magenticians, what advice would you give to yourself?
My enthusiasm and excitement to teach people lacked something crucial back when I was starting: identifying what people really want to learn.
Back then, I was creating tutorials and articles at whim without understanding or identifying the impact they will create. Hence, if I stumble upon such a time-machine (although it's completely beyond the bounds of scientific possibility – so far! ;)), I will go back and ask myself with a straight face, "What are you doing?"
My younger self will probably freak out, but I will proceed to advise him to be more involved with the community, find out what pains them, and what will make their lives easier working with Magento. That way, I'd have been able to have a bigger impact for the people of Magento.
Q5.  Can you name a couple of other educational Magento resources that are worth reading?
Sure. I think everyone involved with Magento should follow these as well:
From my experience, these are all great Magento resources. But of course, none beats Magenticians haha! 😉
Q6. Now, let's talk about Magento itself. What is this eCommerce platform for you?
Truth be told, Magento is the most powerful eCommerce platform. In recent years, you must have noticed the rise of other eCommerce solutions, but when it comes to functionality, nothing beats my beloved.
Furthermore, the Magento product team is pushing it in the right direction, which means that it will only get more powerful and resourceful with time.
Q7.  What is the greatest advancement you've seen in the Magento industry so far?  
The growth of Magento Community. Even the Magento officials have become more active in the past few months. I have one great example of this: Chuck Choukalos, the product leader at Magento, asked me to create a Magento 2 launch checklist, and he later mentioned it in the Magento Devdocs Community. The point is that Magento officials are working to expand the community as much as they can.
There are many others like Sherrie Rohde, Rebecca Brocton, and others who are doing an excellent job in the community as well, and this is all a beacon of hope since the involvement of these prominent figures is crucial to the platform's growth.
Q8.   How do you see the platform's future? What really excites you about it? Do you have any concerns about it?
Oh, it's a bright future for Magento.
The platform is loaded with awesome features and that really excites me. Magento 2 is growing rapidly as well. I have seen that many users have issues with Magento 2's speed; however, I don't think it is slow by default and can be optimized to run faster!
I wrote an article on how to make Magento 2 fast, and it has helped many who complained of sluggish performance.
The people of Magento and the community are doing an excellent job, as I mentioned, so I don't have any concerns and I look forward to more success for the platform!
Q9. What do you think of the new Magento Marketplace? In your opinion, what will it bring to Magento developers?
The new Magento Marketplace is a great move. Just like the App store revolutionized how people sold and bought apps for their smartphones, the Magento Marketplace will make lives easier for Magento Developers and store owners.
Getting an extension or anything required during development is a lot easier now and saves time. You can now invest that time in other productive activities.
Whether you want an extension or a theme, the Magento Marketplace is your pitstop and you don't have to wander aimlessly to get what you require.
Q10.  As a closing comment, have you any plans (personal or business) that you can share with us about your future plans/goals/lifetime goals?
I have one personal and one business goal that I want to achieve.
Personally, I want to improve my technical skills in Magento by becoming a Magento Certified Developer.
As for my business plans, I want Magenticians to become the number one most useful Magento resource after Magento Devdocs. All the success Magenticians has had is because of some great team work, and for that I am specially thankful to Sunyyan Junaid – our Editor – and all other members who are involved with Magenticians, because without them, it was all unachievable.
However, we still have a long way to go. And when my readers inbox me more frequently to thank me for making their Magento journey easy, I'll feel I'm getting closer to achieving my business goals!
We thank Syed for this great interview and wish him best of luck in his career!