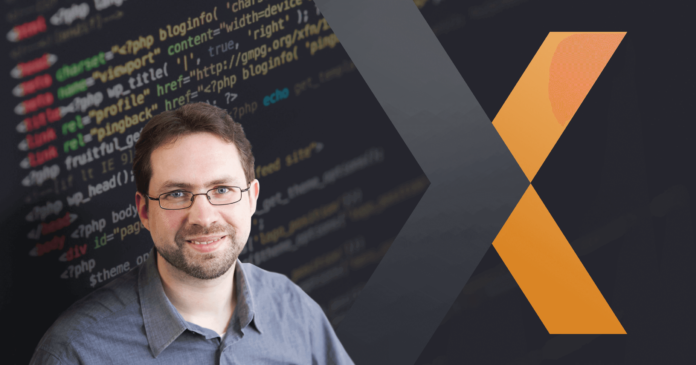 Reading Time:
7
minutes
---
We had an honor to get an interview with Andreas von Studnitz, Certified Magento Developer and Co-Founder of integer_net, Magento agency in Germany. Andreas was named one of 50 Magento Contributors in 2017.
In the interview, Andreas talks about his activities in the Magento Community, the most challenging projects, shares his experience visiting various Magento events, and more.
Question #1
Andreas, thank you for joining us here today. Let's start with some traditional questions. I had a quick look at your profile details on social networks and dug out that you've got more than 15 years of experience in web development. Is that correct? Please, tell us more about your career path.
Andreas: I started with professional web development directly after finishing my university degree in 2003. In fact, that makes 15 years of full-time web development this year.
I first started an internship at a web agency which was then changed into a full-time job. That's where I really learned PHP, but also everything else in the business as I became a project manager at that time too.
In 2012, we founded integer_net: three former co-workers and me. We decided to fully specialize in Magento, which was a good decision so far. At the moment we have 10 employees, and we will continue to grow slowly but steadily. I am one of the Managing Directors, being responsible for the technical part. Besides management, I do trainings and consulting, while taking care to have enough time for doing development which is still my passion. We have gathered a great bunch of people, with Sonja Riesterer and Fabian Schmengler being the most well-known, both selected as Magento Masters in 2017 and 2018. Somehow a small company in Germany has become the only company worldwide that has two Magento Masters and three Top-50 contributors at the same time.

Question #2
What led you to eCommerce, and Magento in particular? Was it an exact moment or person, or everything was just heading in that direction? How long have been working with Magento?
Andreas: Before Magento came out in 2008, we had been working with the old-fashioned online shop solutions like OSCommerce and xt:Commerce, but also the TYPO3 CMS. As I was actively following the tech news at that time, Magento caught my attention, and I had the chance to start an internal shop project with Magento 1.1. Magento was the first of a new generation of shop systems and filled a huge gap. One thing led to another, and Magento soon became my only focus, especially after I decided to become a freelancer in 2009. I had finally found an area which I could really focus on and build some expertise in.
Question #3
I know that you've been working on dozens of Magento projects. What was your most challenging experience?
Andreas: From a technical point of view, it was integrating Magento 1 with several other systems for a concert hall in Switzerland, KKL Luzern. The connection with a different CMS was quite challenging, but the most interesting part was integrating a ticketing and 3D seat selection tool based on node.js, connected via Websockets. We had some very intense and constructive discussions about how to implement the integrations the best way.
My most challenging experience with Magento 2 was self-chosen: I decided to give Magento 2 development trainings after just having worked with Magento 2 for less than 3 months. It worked out well in the end, and I still like giving training a lot.
I like challenges, so when I heard that the new Magento 2 Professional Developer Certification was out at the beginning of March, I decided to take a part in it the same day. Fortunately, there is an online exam available now. So, it was possible, and I passed with a bit of luck, but without having known before how to prepare.
Question #4
Do you have a favorite or a disliked functionality in Magento? What is it, or maybe they? What about a favorite feature? Do you have one?
Andreas: What I dislike most in Magento 2 is the frontend technology named "UI Components" which is being used at the checkout. Modifying the checkout is so complicated, and it's really hard to debug if something goes wrong. I like some complexity (I wouldn't be doing Magento 2 otherwise), but that's clearly too much. I already wrote some blog posts about that in our blog at https://www.integer-net.com/blog/. I am really looking forward to the new possibilities which the PWA technology will give us – not only because we will be able to replace the UI components in the frontend by using tools like Deity, Vue StoreFront or the official Magento PWA studio. This might become my new favorite technology – on the other hand, I like the Dependency Injection in Magento 2 very much.
Question #5
What were your first feelings after the announcement of the list of top 50 Magento contributors? How did you find out about it? Was it something like having a morning tea, checking emails, and voila!
Andreas: Before I saw that, I had received a personal email from Sherrie Rohde about that. That was a pleasant surprise for me which I didn't expect as there has never been such a list before.
Question #6
I can't help asking you about the Magento Community. How and when did you start to actively participate in it? What drives you in these activities? What advice would you give to the new members of the Community?
Andreas: When I became a freelancer, it was clear that I needed a network, so I decided to start networking. It started at the Meet Magento conference in Germany where I have also been giving talks since 2010, continued at hackathons and eventually led to organizing our own local Magento meetup in Aachen, together with a fellow Magento enthusiast. I became addicted to that smart and friendly community all around the world, so I continued visiting conferences, hackathons, and meetups all over Europe and even in the US, and it's really hard for me to miss out any conference.
My advice to newcomers would be to attend this kind of Magento centered events and talk to people which you find interesting. I am not an extrovert at all, but for me that worked very well, and only the first step may be difficult.
Question #7
Do you have any stats on contributions to share with us? Do you keep track of the GitHub Pull Requests you've made?
Andreas: I don't like to compare the numbers of contributions as it's not a competition. I am just doing my thing, and that's building and maintaining OpenSource modules like Firegento_MageSetup or AvS_FastSimpleImport for which I got a lot of appreciation in the past.
Question #8
I know, you are one of the core developers of MageSetup that serves as a legal foundation for multiple stores. Please, tell us more about your experience working on this module.
Andreas: We started that module at my very first Hackathon at the German coast. There was a big need for a module of good quality which would adjust Magento to the German market and laws. That's how GermanSetup was born, and I turned out to be one of the two main contributors to that. We later renamed it to MageSetup as we extended its usage to other European countries, such as Austria, Switzerland, France and many more. In cooperation with the Meet Magento Association, we – at integer_net – even built a Magento distribution with several locally important modules which was called Magento DE. And, of course, MageSetup was at the core of that.
Question #9
What do you like the most about being a part of the Magento community? What are your goals for the future?
Andreas: I find nearly all Magento community members to be very kind and smart. I think that's partly because you need to be smart if you want to work with Magento successfully. Also, there is nearly no competition between agencies as the market is big enough in general. So, cooperation with these friendly people is really easy.
There is a Magento community association based in Germany named FireGento which I enjoy being a part of. Its members organize all the kinds of events like hackathons and the MageUnconference. For me, this is the community as it should be, and I'd like to contribute to promoting this kind of community some more.
Question #10
In your opinion, what is the biggest challenge for Magento these days?
Andreas: From the technical point of view, I think the frontend of Magento 2 is the biggest challenge at the moment. Luckily, Magento has taken the criticism from the community seriously. I think that's one reason why they are putting so much effort into their PWA solution at the moment.
Question #11
There is an opinion that circulates among small and mid-size businesses that Magento is slowly but steadily shifting towards Enterprise businesses. What do you think, is there a concern for smaller businesses?
Andreas: Yes, there is. In my opinion, small businesses will have trouble running a Magento 2 shop if they have a limited budget. I think that the problem will decrease in the upcoming years as servers are getting faster, knowledge in the community rises and the number of bugs is going down seriously. But still, the focus on enterprise-size businesses is clearly recognizable. For a mid-size agency like ours, this is no problem, but there will be a decrease in agencies and developers which previously developed solutions for smaller businesses with Magento 1.
Question #12
You've been quite actively attending various Magento events. What is your favorite event, and what impressed you the most? Are you heading to Magento Imagine this year, by the way?
Andreas: No, I'm not. I attended Imagine last two years and will skip this year, and possibly next year too. It was very impressive, especially in 2016. On the other hand, Imagine will never be my favorite conference as it's too commercial – but it's great for meeting people.
From a technical point of view, the talks at the MageTitans conference in the UK have been outstanding. On the other hand, talking to fellow community members is the reason why I go to conferences mostly. Regarding that, the local German conferences are most important to me: the yearly Meet Magento in Leipzig, and especially the MageUnconference, which gives you the most insights by far due to its successful, non-commercial concept.
Question #13
What is your vision for Magento and its community 5 years from today?
Andreas: I think we'll have a much more mature product by then. If Magento continues to invest into community engineering, a big part of the development will be community driven in the future, which reduces the risk of building more over-engineered solutions like the UI components.
From the business point of view, I don't see Magento going down but staying at the high market share it has now, especially among medium and large shops.

Question #14
If you are asked to give a piece of advice to a Magento merchant, what would it be?
Andreas: Implement a PWA solution better sooner than later. I am convinced that PWA is the future, and especially with a solution like Deity (which we are partnering with), but also Vue Storefront, FrontCommerce or the Magento PWA Studio, you'll have many possibilities. PWA improves performance and usability of webshops, and it re-introduces a clear cut between frontend developers and backend developers. Using the existing frontend technologies, you need to be both in order to be a good Magento 2 developer. Have I mentioned that I don't like the current UI components?
Question #15
Coffee vs tea. iPhone vs Android. Magento Imagine vs Meet Magento. What's your pick? 🙂
Andreas: Coffee, Android, Meet Magento.
Question #16
Work hard, party harder, they say 🙂 How do you spend your time off all the Magento activities?
Andreas: I have a family with three kids between 7 and 11 years old which occupy most of my spare time. I like to travel (with my family or for my job), I like board games and computer games. I enjoy reading and some sports (cycling, running, skiing). Although I really like my work, I find it important to take enough time off for family and regeneration.
***
We thank Andreas for such a positive and insightful interview, and wish him the best of luck in his career path and personal life!