Reading Time:
5
minutes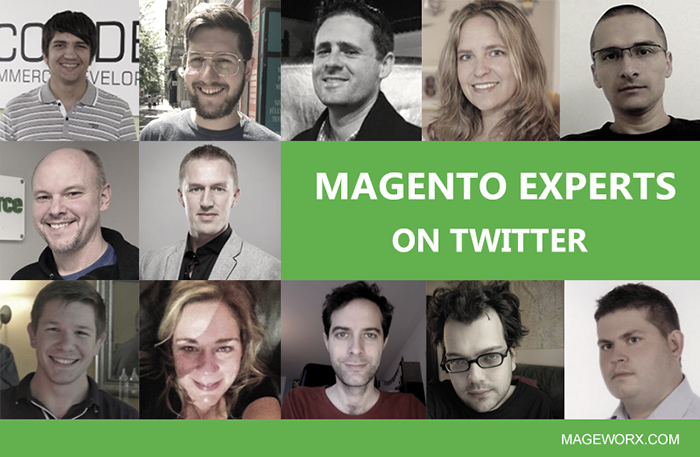 Being new to something is hard. Being new to Magento can easily make your head explode from the bulk of information you should deal with.
That's why we've prepared a list of top rated Magento experts every newbie should follow on Twitter. These Magento Ninjas know the platform back-to-front, have relevant experience, share their knowledge together with valuable content and of course are worth keeping an eye on.
We based our choice not on the followers' count like many of the similar posts but rather on the following points:
Influence in the community;
Ability to share useful information.
1. Guido Jansen, a Magento evangelist with great passion for his work @gxjansen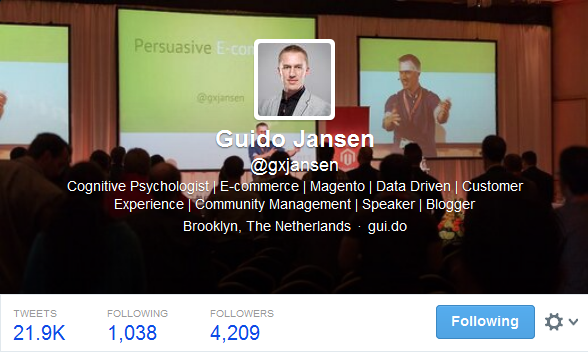 Guido Jansen is the Dutch community manager for Magento, one of the founders of the Dutchento and a must-follow person because he is one of the few Magento guys who has the capacity to explain technical things in an easy, creative or fun way.
Guido shares his experience very eagerly – blog posts, guest posts, conferences, presentations that are always brief and to-the-case. What's more he is very active on Twitter, so following him is the best way to keep track of the latest industry news.
2. Ivan Chepurnyi, one of the first specialists in Magento @IvanChepurnyi
Ivan Chepurnyi is called one of the "Fathers" of Magento, as he was in the team of first five core developers. Since then he developed enormous number of modules and customizations. Not surprisingly he's got vast experience, some people even call him a King of Magento.
Ivan likes sharing all his knowledge with the community and helps other people come with Magento complexity.
3. Alan Storm, a Magento guru with the experience you would die for @alanstorm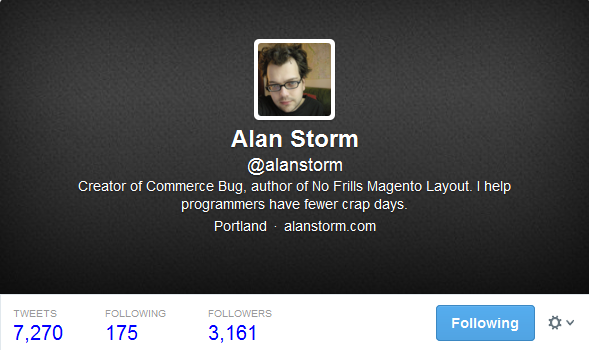 Alan Storm is a developer with much experience who runs an advanced blog devoted to all that stuff for developers. His Twitter profile and blog would be equally interesting to anyone using Magento, no matter whether you're a seasoned pro or just new to the platform.
Alan's Twitter profile is a mixture of professional posts and personal witty tweets.
4. Brent W Peterson, a forum moderator for Magento website & a true enthusiast @brentwpeterson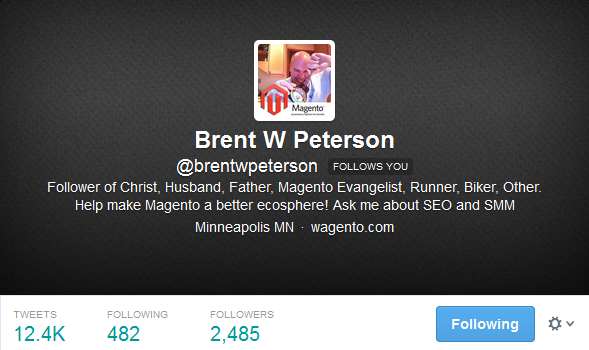 Brent is a very interesting figure in Magento community whose mission is to bring the good news of the Magento Eco-System to the world. Being a true Magento Evangelist & the engine of its community Brent does a lot to make Magento mowing forward.
If you're a newcomer don't be afraid to ask questions. A lot of questions. Brent is the person who will 100% help you, as he is one of the forum moderators for Magento Ecomerce Website. Plus Brent is an experienced developer and is keen on running (Check Mage Run)
5. Vinai Kopp, a Magento pro concentrating on developer trainings @VinaiKopp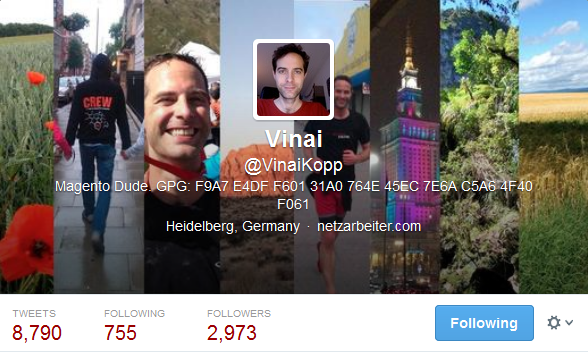 Vinai Kopp has been doing Magento since March 2008 and is primarily active in training Magento developers and providing technical consulting.
Since October 2011 Vinai Kopp is a manager of developer education at Magento Inc. He knows Magento inside-out and is an active community member, so if you have some niche questions,questions concerning his posts or want to try some training courses Vinai will never ignore your tweets.
6. Keren Adam Aminia, your guide to the world of Magento Events @MagentoKeren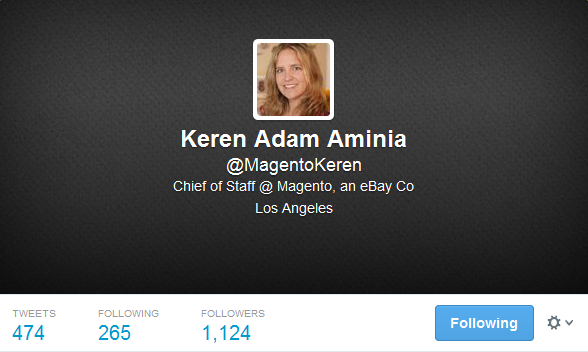 No doubt Magento Events is the most interesting part of Magento. You've got several days to meet new people, network, share ecommerce ideas/innovations with the International Magento community and just have fun.
Keren is the event lead for Magento. Following her you won't miss a single conference, training or certification event.
7. Tom Robertshaw, famous for his in-depth ecommerce surveys @bobbyshaw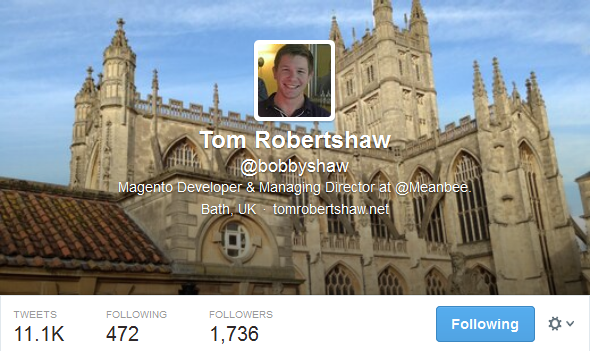 Tom Robertshaw is a Magento guru well-known for his ecommerce surveys and the person who is extremely popular in Magento development circles. Tom actively shares his experience via surveys, blog posts, interviews, slideshare presentations, forum posts.
What's more Tom actively participate in many Magento events & spread life facts and the knowledge he gets there with the world.
8. Branko Ajzele, a highly experienced Magento developer @ajzele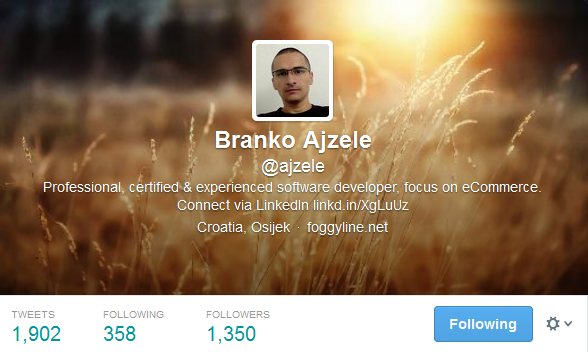 Branko Ajzele is a professional Magento developer who contributes a great deal to the community with his practice-oriented blog posts and advice.
Branko is one of the most active developer in the Magento community. His Twitter profile is an ideal place to keep track of his awesome blog articles.
9. Kimberely Thomas, an expert on responsive Magento themes & the only lady developer on our list @magentogirl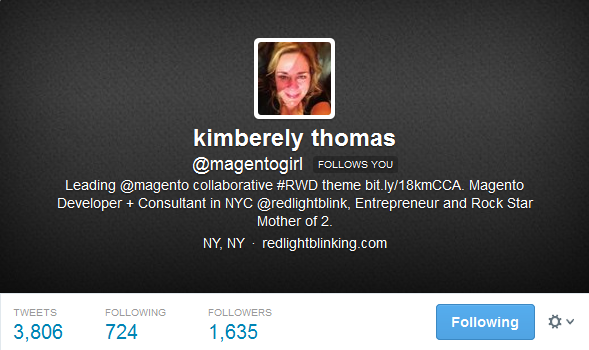 Kimberely Thomas is probably one of the most well-known woman developer in the community. She specializes in responsive Magento themes and shares her experience with the community.
Kimberely's Twitter profile contains a lot of useful information concerning Magento tips, community news and mobile topics.
10. Ashley Schroder, a talented developer & blogger from New Zealand @aschroder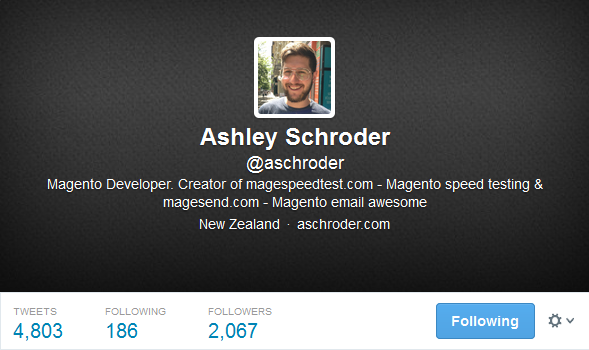 Ashley Schroder is a Magento expert who is absolutely categorical that starting your own blog is a must-have today. Ashley himself has been running a successful blog devoted to Magento development since 2008.
"Blogging enhances your writing skills, helps to build your own audience and brand, prompts to create useful content and is a way to interact with interesting people across the web," says Ashley.
Ashley is your blogging mentor who shares his Magento development experience in blog posts and tweets.
11. Kalen Jordan, your perfect example of how to become a Magento community star in 2 years @kalenjordan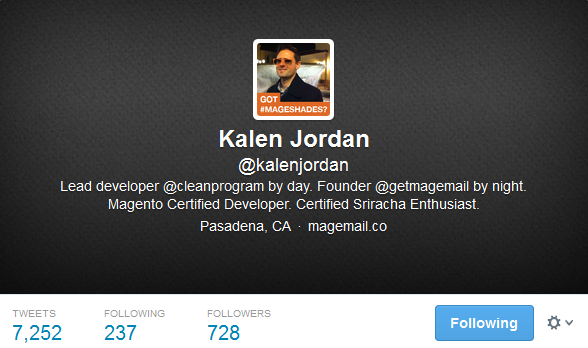 Kalen Jordan has been doing Magento seriously since November 2011. He is a Certified Developer who is actively involved in the Magento community and a Founder of his own company. Not bad for 2 years, right?
Want to know what's happening in the community? Follow those who constantly interact  with Magento developers. Follow Kalen Jordan.
12. Piotr Kaminski, experienced Magento expert @piotrekkaminski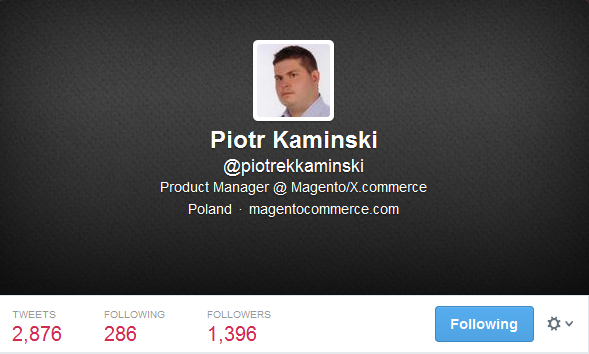 Piotr Kaminski has joined Magento team 10 years ago. Since then he played different roles in the company from the development to sales. Now he is a product manager with the in depth technical understanding of the platform.
Active members of the Magento community say that Piotr should be the official community manager. Be sure he won't ignore your tweets send to him if there's no good reason for that.
P.S. After we'd published the list of 12 experts we got lots of messages to add 3 more Magento gurus a newbie should know.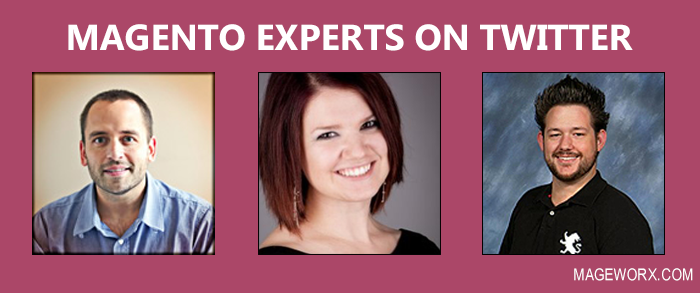 Actually we don't know how we managed to miss these worth following community stars. So guys, get ready to complete your  list of Magento experts to follow.
13. Ben Marks, your favorite Magento trainer of all-times @benmarks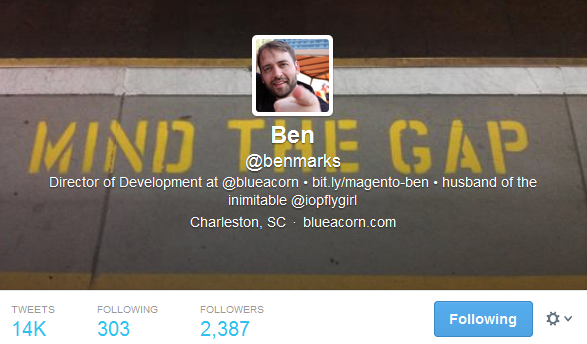 Ben Marks is a Magento expert with an established reputation of a man who helps developers to understand the world of Magento development.
Ben has a wealth of experience: 6 years of Magento development, 3 years of training at Magento U, over 1500 hours of in-person and online training to hundreds developers all over the world, not to mention his publications in php architect ((Re)Introducing Magento and (Re)Introducing Magento: Configuration XML)
Ben is a big fan of questions, so if you have something to ask about Magento development, Ben will be the last person who will ignore your tweets.
14. Sherrie Rohde, the Queen of the Magento community @sherrierohde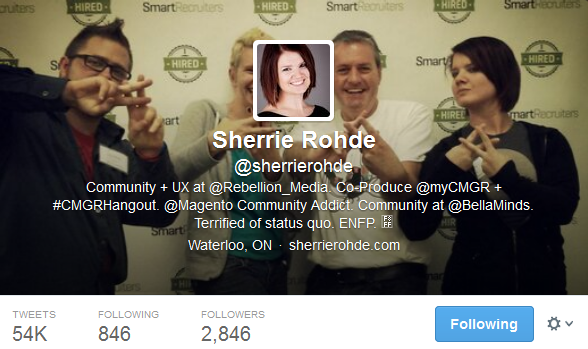 You can hardly find a person more addicted to Magento community than Sherrie. She is already almost a legendary persona in the Magento world.
Sherrie is a community evangelist and a forum moderator. Following her on Twitter is the best way to know the latest industry news. She's got lots of connections, visits many Magento events and is a real heart of the Magento community.
15. Phillip Jackson, a trend setting Magento developer  @philwinkle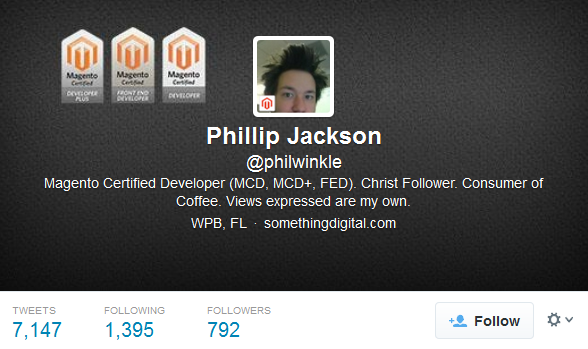 Phillip Jackson has developed dozens of ecommerce sites on Magento for such brands like Harper's Bazaar Magazine, Papyrus Greeting Cards, Theodora and Callum, Native Remedies and etc.
The Magento community is full of people willing to mentor those new to the code. Phillip is an active community member who runs his own blog where he tries to raise awareness about Magento.
Here is is our upgraded list of top rated Magento experts every newbie should follow on Twitter. If we still missed someone feel free to share your opinion in the comments below.