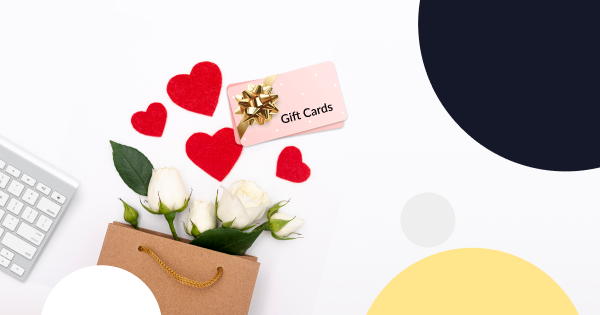 Reading Time:
6
minutes
Digital gift cards might be cliche, but they are a multi-dollar industry, and purchases of gift cards keep on rising every year. According to the Gift Cards market 2019 global analysis, the global Gift Cards market is valued at 337600 million US$ in 2018 and will reach 505900 million US$ by the end of 2025, growing at a CAGR of 6.0% during 2019-2025.
Call it way too impersonal or practical. They are an integral part of the holiday season. Paytronix highlights that the average boost in gift card sales throughout the year is around 6.3%, but in the holiday months, gift card sales increased over 15% from 2017. And according to the stats, there is an increasing demand for gift cards across the globe.

St. Valentine's Day is just around the corner! But some people actually don't want to tune in for love. They get mad or have a headache when it comes to braving the crowds in the shopping malls and actually buying gifts. And even if they get to shop wanting to buy some Valentine's gift cards, they still have no idea whether their significant ones like it or not. And this is where digital gift cards come into the scene.
review
Now, let's have a look at the statistics given by Statista that shows the value of the global gift cards market from 2017 to 2025. In 2017, it was valued at approximately 320 billion U.S. dollars and was forecast to reach a value of 510 billion U.S. dollars by 2025.
Gift Cards Market Value Worldwide from 2017 to 2025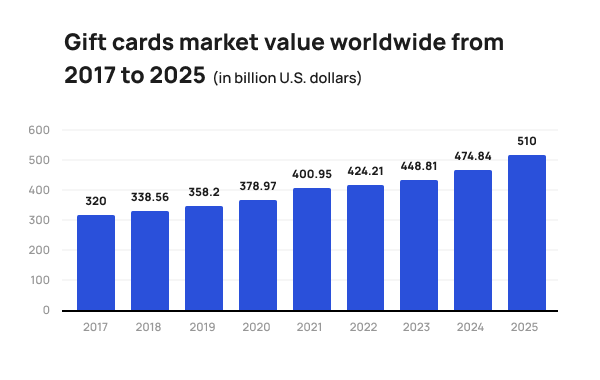 CardCash took a consumer survey and compiled the most up to date statistics so you can have a clear picture of what's really going on.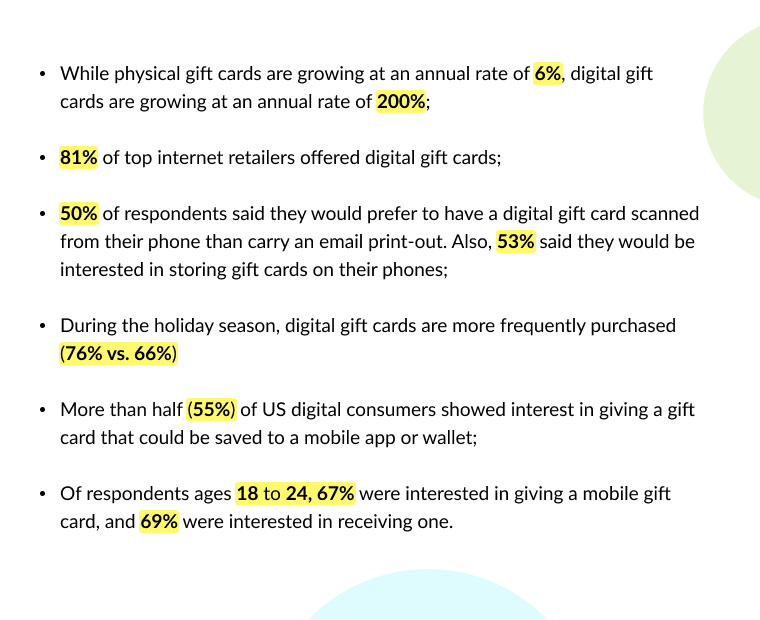 Gift Card Purchases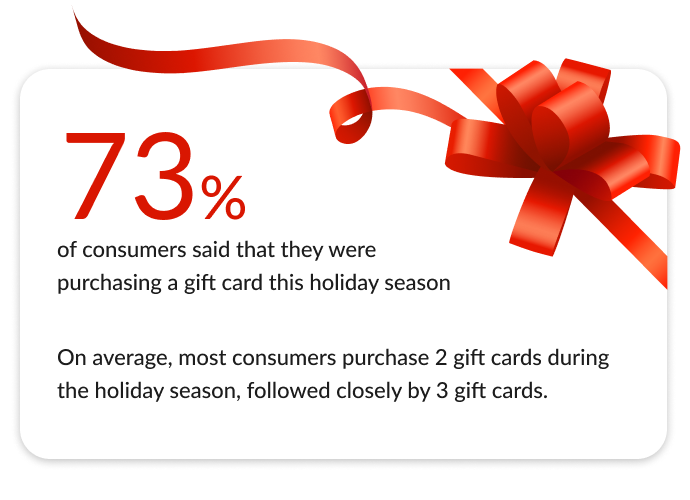 Why are People Buying Gift Cards?
50% of consumers like allowing the recipient to purchase their own gift. Almost 25% of consumers say that gift cards are easier to buy;
The higher your income, the more likely you are to have purchased or received a digital gift card;
Millennials are more than twice as likely to have purchased or received a digital gift card than someone above the age of 35;
Where you live can make a big difference in whether you have purchased or received a digital gift card. Midwesterners are less likely to have purchased a digital gift card than their eastern and western counterparts.
Here's the list of the most commonly-given presents for 13 years running, according to WalletHub's latest annual gift card study. Of all the gift cards included in the analysis this year, six earned overall scores higher than 50. They are: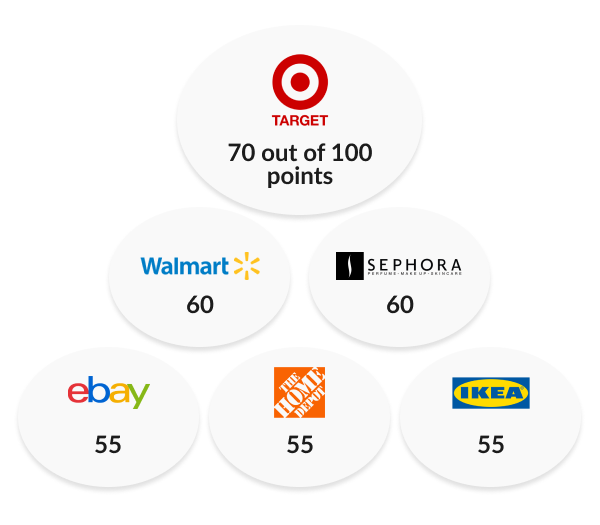 Benefits of Digital Gift Cards for eCommerce Businesses
Skyrocket Sales and Strengthen Your Brand on St. Valentine's Day with a Digital Gift Card
St. Valentine's Day is coming soon! Even though it doesn't generate such big sales as Christmas does, the annual spending on this holiday is still growing dramatically.
Dining and wining, chocolates and red roses seem like a good idea for the ultimate day night, right? However, tastes differ, and sometimes you have absolutely no idea what present your lover wants. In this case, it's perfectly okay to get them a gift card for St. Valentine's Day. By the way, more and more daters prefer to choose gifts for their significant others online.
The ultimate benefit of digital gift cards is that they cater to everyone's needs. It's a simple yet amazing gift that wins the recipient's heart. People tend to buy e gift cards because it saves up a lot of time and allows the recipient to choose something that suits his or her palate. How wonderful is this, right?
Creditcards.com reports that Gift Cards are the most requested present during the holiday season. They provide more sales, especially during the holiday time. Not every person dreams of roaming around the shops or queueing for hours. Some people simply have no time or energy for that shopping madness. And in this case, a digital gift card seems like a perfect last-minute St. Valentine's Day gift for that kind of shopper.
Now, let's talk about how gift cards drive revenue. The thing is that gift cards are usually set to some fixed amounts of money, so there's no doubt that the recipient will spend more than the gift card amount is. Multiple sources prove that customers spend more than the gift card amount while purchasing a product. The point is if you want to get your store ready for the Lovers Day and boost revenue, you should give digital gift cards a chance.
Digital Gift Cards Boost Brand Perception
Increased brand perception is another benefit digital gift cards can offer. It doesn't come as a surprise that the recipient might have never heard about your brand. But don't you worry, it's a perfect opportunity for them to get a better insight into your products or services. If the recipient gets to like your brand, they're highly likely to purchase a similar gift card for their friends or relatives, partners, or children. This is how it works: you build positive brand perception, and then convert your customers into loyal and returning ones!
One more thing to mention, digital gift cards are pretty good when it comes to encouraging senders and recipients for signing up for social media, email lists, and so on. See it as a chance to promote your brand through marketing channels and get the most of it.

Better Customer Loyalty
If you want to stick customers to your eCommerce store in the long run, you've got to work to earn their loyalty. The good news is you can do it by keeping them satisfied and happy with your core products and services. And when something goes wrong, a digital gift card is a great opportunity to ease things up and rekindle the relationship between your store and your customer. What is more, offering, for instance, another free gift card to customers who purchase a certain amount of money in gift cards may foster them to expend more money, which drives up the average amount of your gift card sales.
Drive Traffic to Your Online Store
With digital gift cards gaining popularity and people getting lazier, gift cards are becoming the picture-perfect last-minute gift. The reason for it lies in the simplicity of buying and using them. Customers can easily purchase a digital gift card through your website, not wasting time in the crowded shops. Isn't it an ideal solution for a last-minute gift? Imagine that the store sends a card to the recipient by email, obviating the necessity for plastic gift cards or paper certificates. And that's how traffic is generated. Introducing digital gift cards to your store will help you drive people to your website and increase income.
In comparison with the benefits that digital gift cards offer, there are practically no drawbacks for the retailer who wants to adapt it to the business. Though they may be facing the following challenges:
Production of digital gift cards can cost lots of money. And also your eCommerce or shopping cart platform provider can charge additional fees.
You'll need an additional gift card processing system, which could involve an increase in the overhead expenses and the need to navigate the complexity of integrating into your existing systems.
It's more difficult to return and exchange low-quality goods purchased by gift cards. If a customer leaves a negative review, it will be enough to tarnish the reputation of the whole store.
No doubt, the pros of digital gift cards outweigh the cons. Considering all the statistics given above, one can say that it definitely brings value to eCommerce stores. If you have an online store run on Magento 2 and want to pursue higher revenue and better brand perception, give digital cards a go with the Gift Cards extension for Magento 2 made by MageWorx.
The module is aimed at optimizing the digital gift-giving process. It generates different types of gift certificates and enables the customers to use it the way they want it.
Let's have a look at the key extension benefits:
Fast and easy gift card codes creation. There are three types of gift cards: email, print-out, mail) that can be created in a mouse click and in bulk.
Flexible pricing setup. You can choose from the following pricing schemes: fixed, set of predefined prices or price offered by the customer.
Multi-stores setup. You can easily assign gift codes to different Store Views.
Specific target audience. Approach the specific customer group using gift card codes differently, or/and restrict access to them for the other segments.
Expiration dates and alerts to take everything under control. Using this feature you can inform your customer about promotions and St. Valentine's Day gift card deals in your store.
Import/export gift card codes from Magento 1 stores or any other stores.
Magento 2 API Support. Create, delete, or update gift card codes using API.
As you see, there's plenty of opportunities to perfect your eCommerce store and at the same time generate better sales in the season of love, right? If you feel like diving deeper into this topic, you'll want to check this article.

Stay tuned and spread the love!