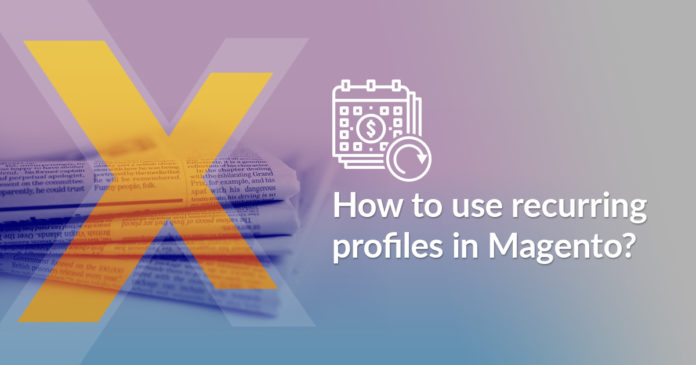 Reading Time:
3
minutes
While still unavailable for Magento 2 (with namespace reserved in tests, in fact), recurring profiles help merchants who run their stores on Magento 1 easily set up subscription options on their websites. So, if you are offering products / services with payment plans by installments – such as monthly magazine subscriptions, yearly software licenses or weekly access to podcasts and videos – Magento recurring profiles are just what the doctor ordered.
Recurring profiles: meaning
This is basically an agreement between the merchant and the customer that authorizes the former to regularly charge the latter according to the agreed terms outlined in the settings of the customer's recurring profile.
By setting billing period units, frequency and cycles, store owners get a chance to specify how often they want shoppers to be charged. Also, a trial period can be set during which a customer pays a promotional price – when the trial ends, buyers get charged with a regular price.
Uses:
· subscriptions,
· products / services with payment plans by installments.
When such payments take place, shoppers get redirected to a third-party payment system – which is PayPal Express Checkout so far – and their Magento profile parameters get transferred to that payment system.
Setup guidelines:
1. Go to the Admin menu and select Catalog > Manage Products. After you've selected the necessary product

Click to open it for editing: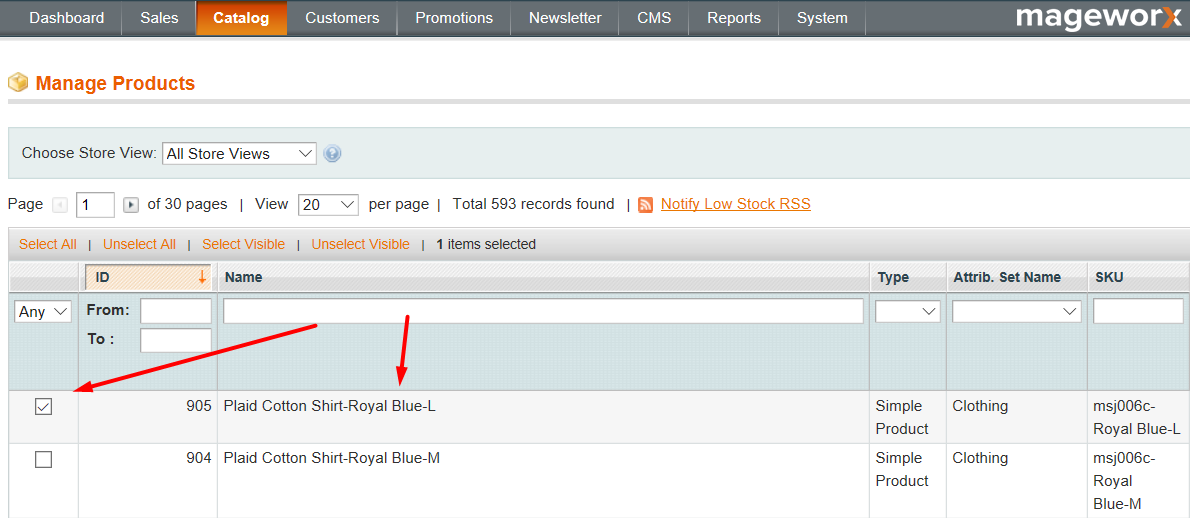 2. Select Recurring Profile in the panel on the left.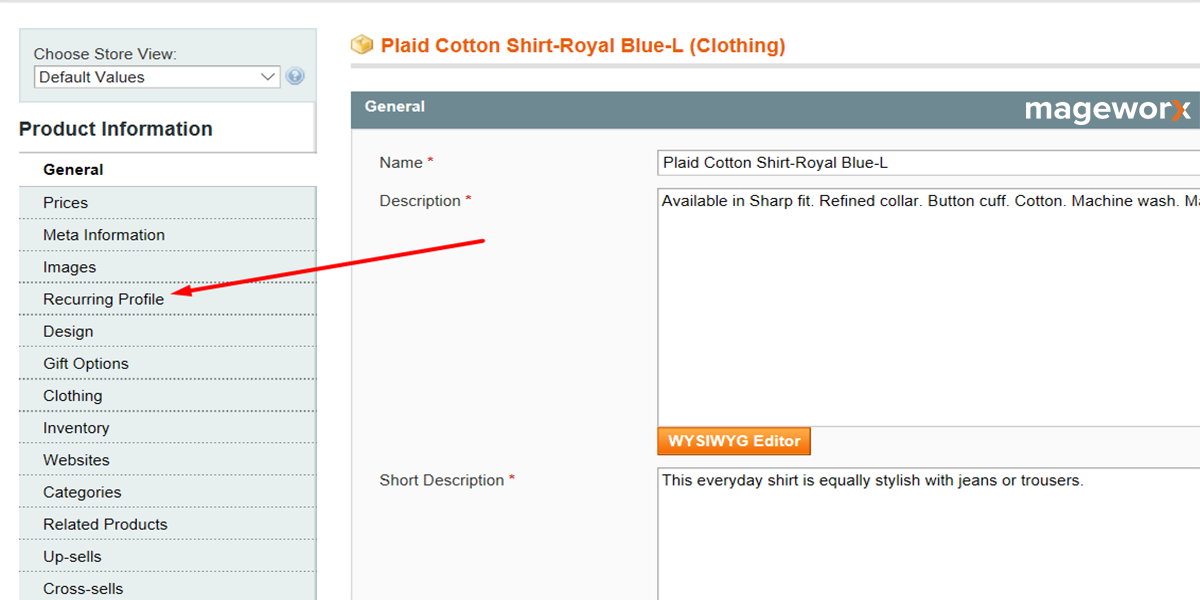 3. Enable Recurring Profile by setting 'Yes', or expand the section in order to include extra options.


4. There are a few fields to be filled in the Schedule section:

 If you want to allow shoppers to configure the payment start date, then choose 'yes'.
Add a short description of the recurring payment. It will be used on the Review Information page.
Specify how many payment failures are allowed before the recurring profile is suspended in the Maximum Payment Failures field.
Enable/ disable automatic billing in the next billing cycle in case of failed payments.
5. Modify the Billing section according to your preferences.

Select the period of billing.
Choose how frequently users are billed.
Configure the maximum number of possible payments for a recurring profile. Note, unless filled in, your shoppers will be charged as long as the recurring profile is enabled.
6. This section is optional. However, if you feel like introducing a trial period for the offered products / services, make sure to carefully fill in ALL the fields of this section. Otherwise, the payment won't be authorized by the payment system.

 Here, you can select for how long the trial period will last.
Specify how often payments will be initiated during the stated period.
Define the maximum number of payments allowed to be made during the trial period.
Specify the price of a product / service during the trial period.
7. This is the last section called Initial Fees and there are only two fields to fill in:


Specify the sum that a shopper will be charged at the moment of completing a purchase. This amount is paid only once during the life of a subscription.
Enable / disable initial fee failure. If 'no' is selected, the initial fee will be added to a buyer's amount owed. This fee will be charged as soon as a shopper has a sufficient amount.
8. Don't forget to save the changes. 🙂

Order creation and invoicing from the perspective of a Magento merchant:
Upon the receipt of a PayPal notification, orders get generated by Magento.
Taxes are stored as line-items. They get charged in compliance with the set tax rules of your Magento store.
Invoices get automatically generated with no action required from your shopper.
Please note that recurring profiles must be set for every item in your Magento store separately. They are also available by default for simple and virtual products but can be also set for other product types too.
Bottom Line
Enabling Magento recurring payments through special profiles comes in handy for merchants who offer products / services with subscription options and installment payment plans. Set them up and enjoy the fast track in your revenues and growth!