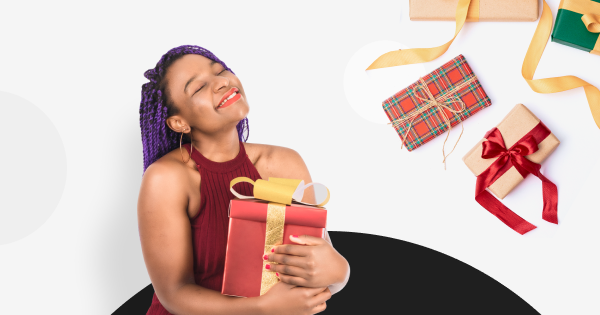 Reading Time:
6
minutes
It isn't easy to pick up a perfect Christmas present. Customers spend a lot of time on search and gift selection. That's why 28.8% of buyers start Christmas shopping in November. However, 62% of them still make purchases in the week before the holiday. Due to a lack of time, customers will be grateful for any help. Retailersre can offer such shoppers Christmas bundle gifts, which can be given as a present in full or split between several recipients.

In the article, we've gathered 25 cutest Christmas bundles that merchants provide this season. Some of these ideas can be interesting and useful for your business.
Christmas Bundle Gifts
Every person is unique. Some people prefer fashionable clothes or beauty products, others are keen on reading or eating. It takes time to find gifts that can satisfy all of them. Let's overview Christmas bundles that will cater to different tastes and preferences and make this holiday unbelievable and magic.
For Beauty-Lovers
Christmas Bundle Idea #1
Image credit: 100% PURE
This Christmas gift set of 100%Pure is a good decision as a present to any beauty-lover who wants to stay young and pays attention to the appearance. Packing it in a festive box, the retailer helps customers save time and money on gift-wrapping. A discounted price makes it more attractive for a gift-giver.
Christmas Bundle Idea #2
Image credit: The Boots Company PLC
In its online store, Boots offers great Christmas bundle deals. One of them is this bright and unique kit that will hardly leave anyone indifferent. This Christmas set consists of 11 items packed in a tin box decorated by a talented graphic designer Zuki Turner. A great number of fillers of the bundle allow splitting it between several recipients. Moreover, the retailer offers this Christmas bundle for half price. So, customers who want to stay within the budget, are likely to purchase it.
Christmas Bundle Idea #3
Image credit: Fresh
Fresh's Six Days of Surprises Gift Set is a finding to be given for Christmas. It can become the joy for a beauty-lover with new skincare treat every day. Moreover, the main peculiarity of the retailer's bundle has become a Christmas box. All the beauty products are hidden in numbered from one to six closed windows. So, for a user, it'll be a surprise what beauty product is in each of them. Undoubtedly, such a creative idea will increase the interest of buyers.
Christmas Bundle Idea #4
Image credit: Elemis
What can be better connected with Christmas than the advent calendar? Elemis knows it for sure and offers such a magic 25 Days of Beauty Advent Calendar as a Christmas bundle gift. It will be a perfect present for a customer or someone he/she holds dear or who is looking to elevate their skincare routine.
Christmas Bundle Idea #5
Image credit: Sephora
One more cute gift set for beauty-lovers is offered by Sephora. It consists of two items packed in a look like a Christmas tree box. This bundle can easily create a festive mood and is an ideal one for stylish and fashionable gift-receivers.
Christmas Bundle Idea #6
Image credit: Lush
The 12 Day of Christmas by LUSH is a gift that is a pleasure to give and receive. Inside a beautifully-colored Christmas-themed box, there is a range of fragrant surprises. An extra feature of the set is an opportunity to use the box when all the fillers are done.
For Food and Drinks Appreciators
Christmas Bundle Idea #7
Image credit: Go Pure
Go Pure provides its customers with Christmas bundles of honey that come with free wooden honey dippers. This set can become a perfect and healthy choice for any sweet tooth. Moreover, the set is beautifully wrapped and doesn't need any extra Christmas package.
Top-notch Christmas gift basket
Christmas Bundle Idea #8
Image credit: Wine Country Gift Baskets
What gourmand won't appreciate such a wonderful gift basket? Wine and Country Gift Baskets offers a wide range of such Christmas bundles to its customers. A discount and free shipping option make this set a perfect choice.
Christmas Bundle Idea #9
Image credit: VINEBOX
A Christmas bundle of Vinebox is aimed at real wine-lovers. 12 bottles of different world-class wines which are for tasting but not for drinking are packed in a festive red box. Gift-receiver surely will be delighted.
Christmas Bundle Idea #10
Image credit: Hotel Chocolat
An idea of yummy sweet Christmas hamper is offered by Hotel Chocolate. It consists of festive and favorite goodies. It is ribbon-tied and ready to gift. Thus, wrapping isn't required, which can be appreciated by last-minute customers. Moreover, it's possible to add a free message card that is also a great advantage at Christmas.
Christmas Bundle Idea #11
Image credit: COOK
Who said that Christmas gifts must be beautifully-wrapped and lay under the Christmas tree? Cook Food provides its consumers with Christmas meal bundles. Including several meals, it could be the best way out for customers who don't want to waste time cooking on the holiday eve.
Christmas Bundle Idea #12
Image credit: Kalifornia Keto
Christmas has always been associated with cookies. That's why a bundle from Kalifornia KETO is a nice choice for the upcoming holiday. Its festive package grabs customers' attention and gives rise to a buying desire. Moreover, beside cookie mixes, there are a measuring spoon and a gift enclosure card inside that makes this bundle a wonderful Christmas gift.
For Book Lovers
Christmas Bundle Idea #13
Image credit: Books by the Foot
This cute bundle of Christmas books offered by Books by the Foot will be gratefully accepted by any little book lover. These bright and merry books create a festive mood. They can become a wonderful Christmas gift as well as split and given as an add-on to presents for several recipients.
For Crafters
Christmas Bundle Idea #14
Image credit: DesignBundles
DesignBundles, for example, has come with a creative idea―the Christmas craft bundle. Such a kit will make this holiday unforgettable for any crafter. It is packed with hundreds of design elements. The greatest advantage is 91% off the regular price! The merchant knows how to create tempting offers.
For Different Tastes
Christmas Bundle Idea #15
Image credit: Fat Quarter Shop
Those who are keen on handicrafts can be interested in the bundle of Christmas fabrics offered by Fat Quarter Shop. These red-colored quarters support festive mood and inspire for various Christmas hand-made.
Squashy Christmas Gift Box
Christmas Bundle Idea #16
Image credit: Hallmark
This wonderful gift set found at the Hallmark site is a good decision if customers don't know what to buy as a present. It will keep its receiver warm and cozy and show how much the gift-giver cares.
Christmas Bundle Idea #17
Image credit: Itzy Ritzy
Itzy Ritzy has bundled up some great mom and baby products for Christmas. The Llama bundle is extremely sweet and adorable. It's difficult to refrain from buying it. A little receiver will be delighted.
Christmas bundle idea #18
Image credit: John Lewis
This funny idea of the Christmas advent calendar is provided by John Lewis. The Happy Socks calendar contains one pair of socks decorated with the brand's eye-catching patterns for every day of advent. Such a bundle is sure to get everyone into the Christmas spirit.
Christmas Bundle Idea #19
Image credit: Firebox
Bearded owners will cry with laughter when getting a humorous Christmas tree beard kit. Firebox has decided on offering such a bundle this season to add happiness and joy to its recipient's life.
Christmas Bundle Idea #20
Image credit: Dobell
Dobell allows its buyers to add holiday spirit to life with this Christmas cracker bundle. Being decorated with Santas and bright colors, the suit grabs everyone's attention. The owner of the set won't be short of popularity, for sure. A nice discount increases the attractiveness of the bundle.
Christmas Bundle Idea #21
Image credit: Walmart
Christmas gifts can be not only beautiful but also useful. Walmart suggests its consumers a set of three Christmas treat jars with an opportunity to add personalized inscriptions on them. It can become a very special and unique present with memorable notes created by a gift-giver.
Christmas Bundle Idea #22
Image credit: Meri Meri
It's possible to create a cheerful and colorful celebration with the Candy Cane Holiday Bundle by Meri Meri, which contains everything necessary for the party table and decorations.
Christmas Gift Basket Ideas for Comics Fans
Christmas Bundle Idea #23
Image credit: Zavvi
The gift set by Zavvi is a super idea of a Christmas present for Marvel fans. Including different items with logos and heroes of Marvel, the bundle will be appreciated and loved by its owner and undoubtedly make this Christmas memorable.
Christmas Bundle Idea #24
Image credit: Performa
At the same time, Performa offers Christmas bundles for Wonder Woman's fans. By giving a discount, the retailer helps make someone's dream come true.
Christmas Bundle Idea #25
Image credit: AT&T
Not any Christmas can do without TV or the Internet. AT&T uses this fact for full and offers a special Christmas bundle deal of internet and TV services. Moreover, the merchant also gives a chance to get $250 in reward cards to use in restaurants, stores, and online. Thus, it's rather difficult not to seize the opportunity.
Wrap up in atmospheric christmas gift package
Product bundles are the best solution to the problem of Christmas gifts. Customers and retailers both benefit from these deals. For buyers, it's a great opportunity to save time, effort, and money. For merchants―to increase revenue and improve the customer shopping experience. Thus, creating attractive and unique bundles in the store is helpful and winning for everyone.