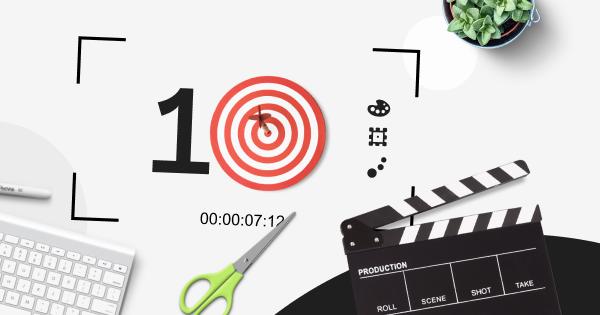 Reading Time:
7
minutes
Nowadays, video content is a powerful tool for marketing products and services online.
Business owners from various industries learn video editing tips and benefit from this digital marketing strategy. Visually appealing content allows entrepreneurs to connect with customers easily.
According to the statistics, 91% of businesses are to use video as a marketing tool in 2023 and value it as an important part of their marketing strategy.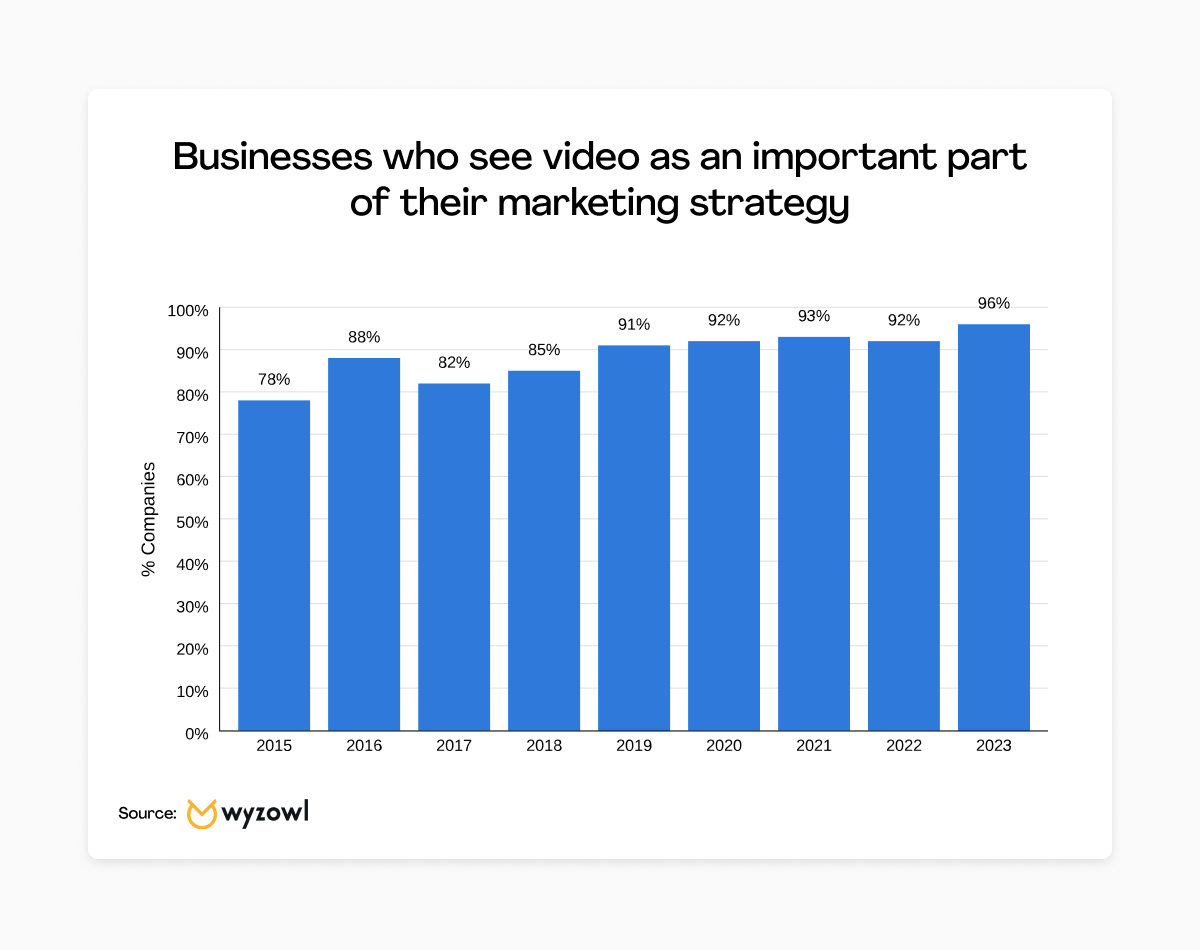 People get all the necessary information from your video and get a call to action to make a purchase.
Only business owners know how to showcase their brand and the unique features of their products or services.
That's why many companies focus on in-house video editing for digital marketing.
You can also hire a professional team of content makers, but it's crucial to be aware of all tips and tricks.
Many entrepreneurs are intimidated to start making brand videos.
They may be unacquainted with all the benefits and easy-to-use editing tools. It's vital to know that marketing videos can make a big difference and bring success to certain industries.
In this article, you will find out how to create professional video content for your business. We collected the most effective tips on editing engaging videos that generate leads.
Read on and explore how to join those 10 industries and edit your high-quality content.
Image credit: Unsplash
The Role of Video Editing for Digital Marketing
Before we highlight the main video marketing benefits, let's define the concept.
Video marketing is promoting products and services with videos.
This medium for reaching an audience is very popular these days. It allows businesses to raise brand awareness, boost sales, and more. But only an effective video content marketing strategy helps yield significant results.
Here are the top reasons to create marketing videos:
Increased Sales
Hollywood-strength editing can help any industry boost revenue. 87% of marketers report sales increase after launching video marketing campaigns (Stats by Wyzowl). You should definitely invest in video production.
With cost-effective editing tools, creative editing techniques, and filming strategies, you will get much more than you have spent.

Good ROI
Return on investment is that metric that indicates the amount of your revenue compared to expenses.
Your investment in video editing for marketing will not go in vain. The number of marketers whose ROI improved grows every year.
That's a sound reason to launch a video marketing campaign.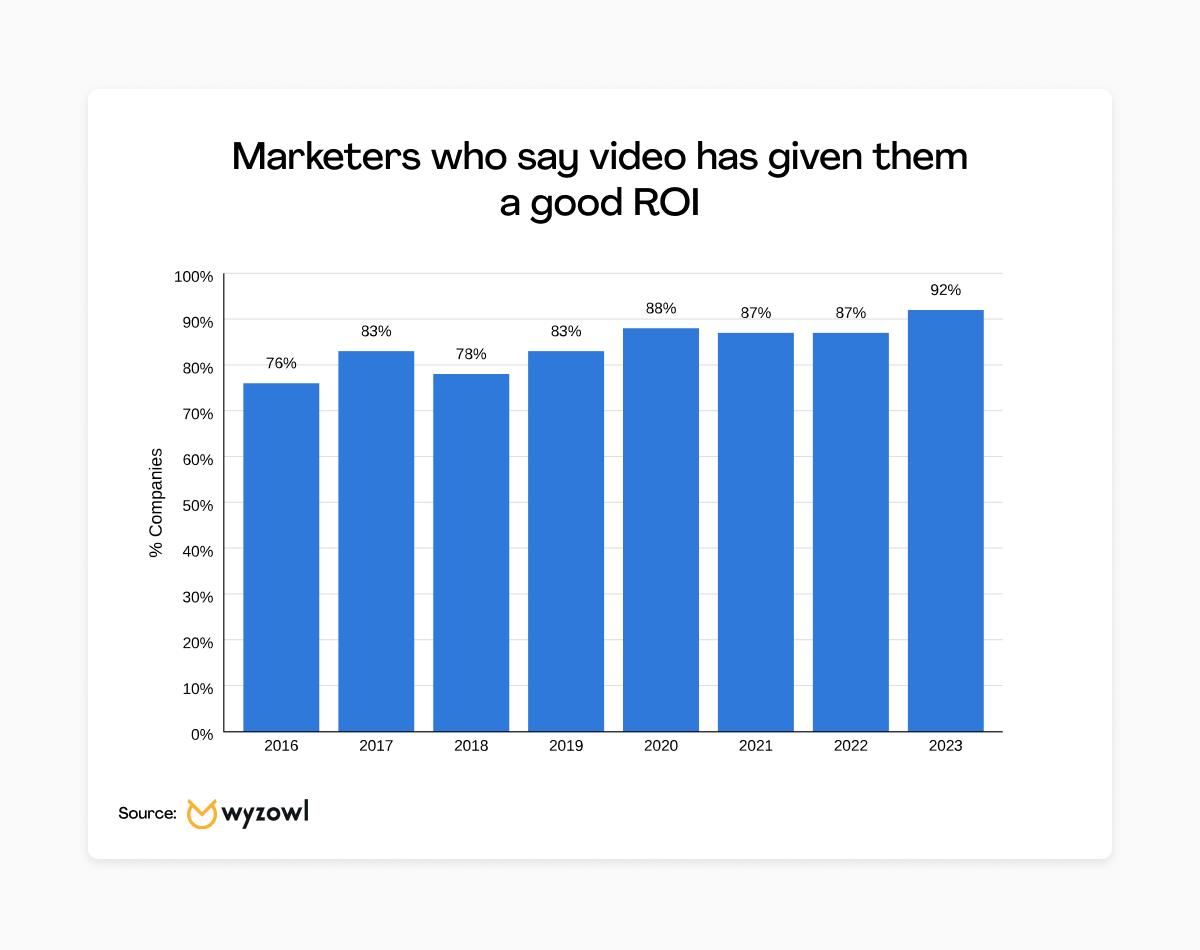 High Leads
A vast majority of marketers say videos assisted them in generating leads.
Engaging videos help increase the number of people interested in your brand.
Once good content grabs the audience's attention, they want to find out more about your company and make a purchase.
Increased Traffic
Boosted traffic is another reason why many companies begin creating a video marketing strategy.
People will start to visit the website more as videos improve your SEO ranking.
High Brand Awareness
Videos promoting your products or services on your website or social media platforms raise brand awareness.
YouTube, Instagram, Facebook, and TikTok are popular hosting solutions to reach a larger audience. 95% of businesses say video marketing has helped them increase brand awareness (Stats by Wyzowl).
💡 The Magento affiliate program allows for reaching new target audiences too.
Reduced Support Queries
You can create different types of videos as a part of your video production marketing strategy.
These are screen recordings, animations, live videos, presentations, explainers, case studies, testimonials, interviews, product demos, and more.
So if you explain everything about the product in your video, viewers get all the vital information and don't bother your customer support.
9% of businesses who decided not to use videos in their marketing strategies report a lack of time, feel it's too expensive, or don't know where to start.
But there are video editing tips for beginners so anyone can learn how to generate decent content.
Read on and find effective tips and tricks for editing videos.
5 Stages of Video Editing
These effective video editing tips and tricks will help entrepreneurs from any industry create powerful content that converts.
Follow these five editing steps and edit like a pro:
#1 Create a Video Marketing Plan
The first stage in developing a marketing plan is defining your target audience.
This will help you tailor your content to their needs and preferences. Many digital tools can help you with the identification of your personas.
You should choose your video marketing strategy when developing a plan.
Read the guide to find out more about online marketing strategies.
Specify your budget, necessary equipment, topics, a video hosting platform, and more when working on the marketing plan.
#2 Develop Messaging and Select Video Type
The next step is creating a message you want to convey with your video.
Based on it, you will select the video type.
Your video may aim to show new products, explain how something works, give useful tips, entertain, share experts' options, make viewers acquainted with the team, etc.
So match messages with the kinds of video content.
It's important to be honest when conveying messages to the audience to build trust and gain their commitment.
#3 Choose Top Editing Software
It's essential to find decent video editing software for marketing.
With so many options, it may be challenging, but make sure to focus on specific features.
It should be user-friendly, feature-rich, and not expensive. Paid tools should have trial periods.
A cross-platform video editor, such as Shotcut, for example, is a great option that allows users to edit videos on any device.
Beginner video editors should avoid complex tools with an abundance of editing functionalities so as not to get lost.
#4 Edit Video Carefully
When editing videos, you should make a story that engages the audience and calls to action.
It should be concise, informative, and appealing, so remove all unnecessary parts.
High-quality footage, images, and music combined with captions make a good marketing video.
When using video editing software for marketing, do not overwhelm your video with effects and transitions. Choose your style and adjust all elements to it.
You can use creative tools, like an online video reverser for free to turn your video backward, record the screen, change the video format, stabilize, etc.
Now you can download the video in the desired format and post it on your website and social media platforms.
You can promote your content using ads or affiliate marketing. (Find out more from this Magento affiliate marketing guide).
You can use SEO techniques to make your content visible online.
And don't forget to measure performance with special tools.
Marketers know about the big role of user testing in marketing, so consider the audience's feedback.
Image credit: Unsplash
10 Industries Using Video Marketing
Many different industries benefit from video marketing strategies.
A company creates a streamlined video ad that highlights its proficiency, credibility, creativity, and more.
Let's take a look at the most popular fields that can make the most of editing videos.
eCommerce
eCommerce video marketing gets immense popularity these days. eCommerce companies invest in video marketing to promote their brands.
We see dozens of ads on social media as today online shopping prevails.
The competition is high, so eCommerce brands are using various marketing strategies, and video content is one of the most effective.
A high-quality video showcases all product benefits and lets people see the item not as a simple image but as a realistic visual representation.
These can be explainer videos, product demos, or testimonials that help build brand awareness.
💡Options Suite extension for Magento 2 will ensure exceptional experiences for your customers.
Real Estate
Real estate companies worldwide take advantage of the latest technologies to market their products and services.
Real estate videos have various purposes, like showcasing footage of a property for rent/sale, introducing a real estate agent, or showing emotions from buying a house.
Similar to the Marketing & Sales Suite extension, a professional video marketing strategy template, helps impress a potential buyer and create deeper connections.
The real estate industry cannot avoid using videos.
Appealing content converts, and customers can make a purchase decision before going to the site. Creating editing techniques are used for that, like slow motion, smooth transitions, and focus on details that reflect the vibe of the place.
SaaS
Many Software as a Service (SaaS) companies have investigated the market rate for video editing and actively benefit from video ads.
Online-based enterprises connect with customers using fascinating marketing videos.
Features of software are clearly explained so that people have any challenges with technical things.
Catchy effects or animations are not necessary.
The main task of an explained video in SaaS is to be transparent and flawless.
It means that the best video editing software for marketing with a straightforward interface will help entrepreneurs without any experience spiff up their products.
Travel and Hospitality
What makes people visit places they have never been to?
Photos, videos, books? Videos are the best.
Visual representation of beautiful places fuels people's wanderlust.
Well-edited footage can highlight the unique features of any place.
Video content gives a person an in-depth look at the place before booking. Social media platforms help companies reach a larger audience and get new visitors. So rely on travel videos to boost your marketing efforts.
Food
The food industry encompasses food producers, sellers, bars, and restaurants.
Food videos show the visual appeal of the final product and the process of its making.
An attractive piece of food content encourages people to buy. Taste, look, and nutritious benefits are only a few aspects to cover in a food video.
Cafe and restaurant owners highlight in their videos not only the meal but also the vibe of the place. Interior and exterior details, personnel, and behind-the-scenes cooking build trust and advertise their eateries.
Education
Today, the education industry uses video to promote its services and encourage people to study.
Traditional educational institutions, online schools, tutors, and people selling courses or manuals — all benefit from video marketing.
They use video to convey the message of how education and new skills can improve people's lives.
This content is engaging and, at the same time, informative to show credibility.
Here we speak also about distance learning challenges and how videos helped overcome obstacles.
Scientific companies may also use videos to represent the results and models or explain some aspects.
Healthcare
Healthcare institutions use videos to promote their services and products that make people's lives better and safer.
Clinics, pharmaceutical companies, insurance companies, and more create marketing videos to attract potential clients.
This industry requires building trust, so any exaggerations, deceitful information, or distracting editing elements are not allowed.
These are not only promotional videos that market healthcare products or services this industry uses.
Explainer videos, recommendations, tips, and any other meaningful and helpful content is highly valued.
Finance
Videos promoting financial services or advising are quite popular today.
These images or words videos help people make financial decisions and understand complex processes. Banking benefits from video content a lot.
They promote their services and explain to clients how to benefit from them.
Investment and insurance companies and many other financial institutions that deal with money need videos to be clear and close to clients.
Beauty & Fitness
Attractive visual content sells, especially when we speak about people's beauty and fitness.
A variety of companies from the beauty industry actively use videos to engage clients.
A video of a result on the landing page speaks louder than any words or figures.
When people visualize their transformation into a fitter body, fashionable clothes, or high-quality cosmetics, they make purchase decisions without any doubts.
Video is an effective type of content for marketing this industry's products and services.
Non-Profit Organizations
The non-profit industry focuses not only on selling but also playing to emotion.
Engaging images and sound make emotional connections in exceptional ways. Video marketing for organizations that don't aim to get money for themselves is a powerful tool.
Generating donations, advertising events, or furthering a social cause is more successful with video. And the best video hosting platforms help with promotion benefits for the general public.
Final Thoughts
Now you know that creating a video can bring your business much success. Visual content attracts and converts the audience.
Effective video editing techniques can help entrepreneurs from any field stand out.
This list of the top 10 industries that can benefit from video marketing is not exhaustive, and you can try your effort if you want.
We wish you good luck and hope this information will assist you in fine-tuning your video marketing strategy.