Reading Time:
4
minutes
What is a secure and profitable product option during seasonal holidays or on birthdays, anniversaries, weddings, and many other gift-giving occasions?
You can be surprised but it's gift-wrapping which doesn't need much effort to implement. Such a small, at first sight, add-on can become irreplaceable in your online store. It's likewise impossible to imagine Tiffany's products without its blue box and the white satin ribbon tied around. Since 1998, it has become a trademark of the brand, which is so much desired and recognizable throughout the world.

In the article, you'll find the data-based answers on why gift wrapping is important in eCommerce and how to add this option to your Shopify store.
Did You Know That…
82% of customers prefer to buy gifts online.
40% of shoppers would like to purchase from a store where premium packaging is provided.
52% of buyers dislike gift wrapping because it takes too much time according to Statista.
$2.9 billion of gift wrap and related accessories are sold in one year in accordance with Hallmark research.
$4.3 billion was estimated to be the market value of gift wrapping products in the United States in 2019. This market is going to reach a value of just over $7 billion by 2025.
540,000 tonnes of wrapping paper and gift bags are bought by Canadians annually.
Less than half of the typical customer's gifting budget is spent on Christmas presents. The vast part of gifts is purchased for the rest of the year.
56% of the total annual expenditure was accounted for by holiday gift spending with occasion gifting making up the remaining 44% according to Unity Marketing's most recent survey.
Taking into consideration all these data, gift wrapping is the best decision for eCommerce to make a great improvement to your company. If you still haven't been convinced, read on to get a deeper insight into the importance of this useful option.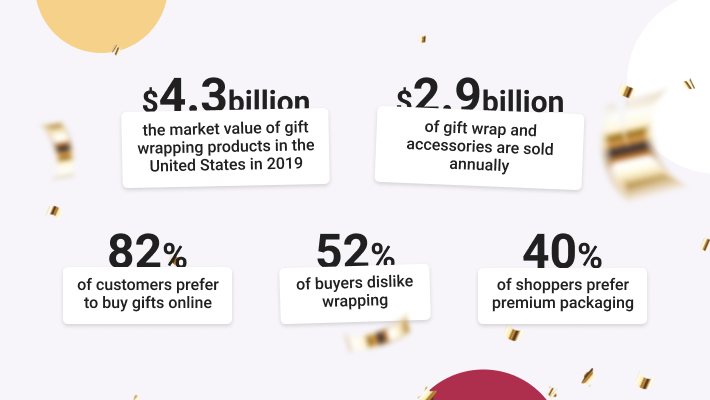 Psychology Behind Gift Wrapping
A lot of different researches have been undertaken to find out if gift wrapping has an impact on receivers and its importance. According to a study conducted by the Journal of Consumer Psychology, gift wrapping improves mood and attitude towards the gift being received. One more interesting fact defined during this research is that recipients prefer sloppily wrapped gifts as they surpass their expectations.

The same result was produced during the psychological test held by Dr. Howard in 1992. Recipients appreciated wrapped gifts more. Moreover, it was proven that gift wrapping is one of the most important aspects of the gift-giving experience.

Perfect gift wrapping with your logo can add more brand value to the products and become an important marketing tool in providing a greater gift-giving experience for your buyers.
For example, John's Crazy Socks adds a personal touch to every gift wrapped in a red box with the logo of the brand, some Hershey's Kisses included and a handwritten appreciation. Thanks to this level of personalization and some other marketing tricks, today, the company has an annual revenue of over $4 million and ships 118,000 orders to all 50 states and 44 countries.
Why Is Gift Wrapping Important?
Gift wrapping is an option that can be added to your store during certain periods such as seasonal holidays. Otherwise, it can become your brand's claim to fame or a part of the unique selling proposition that will give you advantages in comparison with competitors. No matter when, it'll undoubtedly help you with the following:
Reach a new audience, improve customer shopping experience and satisfaction. Providing gift wrapping correctly, you can attract a lot of new buyers and increase loyalty to your brand. During festive seasons, this option can become a lucky find for consumers, especially for last-minute ones. It helps them save time and not think about purchasing all the wrapping stuff by themselves. Moreover, with gift wrapping included, customers can choose to deliver gifts right to the recipients. It is extremely handy and time-saving. Thus, it gives you a chance to build relationships with a gift giver and a recipient through one transaction.
Focus on branding. There is hardly anyone who won't recognize a pink gift bag of Victoria's Secret. Gift boxes of the company are an integral part of the brand. A carefully thought through gift wrapping can also help your brand make a name. You can increase the brand awareness of gift recipients as they can see where these gifts came from. It's all possible by adding your company's colors or logo when gift wrapping, as well as special tags with best wishes, and branded wrapping paper or box.
Increase the AOV and revenue. The main advantage of gift wrapping for any retailer is that it's the easiest way to boost profits, especially during the holiday season and any other popular gifting times. So, when implementing this option to your store, its importance can't be diminished.
How to Offer Gift Wrapping
There are several ways to offer gift wrapping in your online store. You are free to choose the one that is most appropriate for your company.
Cross-Sell
One of the ways to offer gift wrapping is to create cross-sells. Customers may have an opportunity to choose it either when adding a product to their cart, or at the checkout. You can set different prices for smaller or larger items to wrap.
Add-on Option
Another way is to create an add-on option. This method allows you to offer different options right on the product page without additional windows to open. Your buyers also can see all the available options when deciding on what they desire to purchase.
When managing your store on Shopify, for example, you have an opportunity to add a gift wrapping option by using the Order & Products Fees app by Mageworx. With the help of this app, you'll be able to conveniently offer gift-wrapping together with a product that customers are interested in.
Motivation Bar
By using motivation bars, you can inspire your customers to spend more in order to get gift wrapping for free, as well as any other service you provide. When buyers see this tempting offers on the top of the page or at any other place of your preference, they are likely to add more items to their carts. Thus, the AOV increases in such a way.
Wrap Up
As you can see, gift wrapping is the surest way to increase the average order value of your online store, attract new customers and improve the satisfaction of loyal ones, as well as increase your brand identity. This option can be available not only on holidays but all year round as there are a lot of occasions when it can be useful and in demand.

---
Have you offered gift wrapping to your customers? How do you offer this option? Share your experience with us.