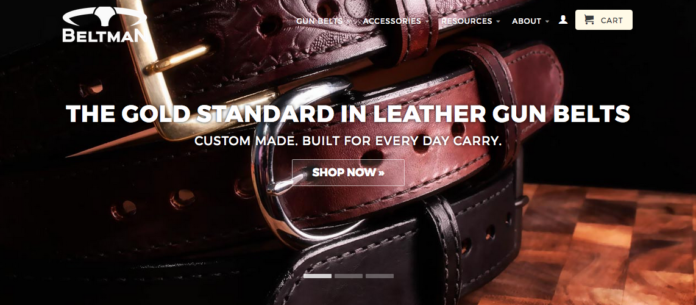 Reading Time:
3
minutes

Beltman is a popular US-based Shopify store that sells the highest quality hand-made gun belts for open and concealed carry, using bull hide, horse hide and elephant hide.

We've talked with David Giles, the owner of the Beltman, and he told us the story of his brand and shared some secrets of running a successful Shopify store.
David, please tell us about your experience in eCommerce. How did you get started in it?
My wife Rachel and I started a company way back in 2003 manufacturing projection screens for home theaters and selling them online. Our eCommerce experience was very limited, but we were one of the first companies to sell projection screens direct to the home owner at no-middle-man prices, so we succeeded in spite of our lack of eCommerce experience.
Tell us the story the 'Beltman' store. How did you decide on what to sell, and how did you source your products? Why have you chosen this niche?
Our previous business was very successful for a while, but slowly declined over the years for a variety of reasons, and during that time we looked into other ventures, with a particular interest in leathercraft. In 2015 we learned that the Beltman leather gunbelt business was for sale and we jumped at the opportunity.
The Beltman brand had a fantastic reputation in the industry, but this niche is very competitive (and becoming more competitive all the time), and the business was relatively stagnant with an outdated 10-year-old website on an obscure shopping cart with very poor SEO, virtually no online advertising, and ZERO social media presence.
But we felt that we could revitalize the brand by bringing it up to date with respect to ecommerce business practices, while also doing everything possible to improve product quality, selection, lead times, and customer service.
What were the main reasons for building your online store on Shopify?
We wanted a website/shopping cart that puts minimal IT burden on the merchant.
And based on our research Shopify seemed like an excellent choice for our small business.
Having been on the platform for just over six months now, that was CLEARLY a good decision. We're able to spend our time working on our primary business functions and goals without worrying about website/shopping cart minutiae.
In your opinion, is there something that makes your store special?
Awesome product photography.
Our photography was done by the same company who built the site (shout-out to Kurt Elster and his team at Ethercycle!) and it really sells the beauty and quality of our products and our craftsmanship.
Please, tell us about the back-end of your business. Are you using any 3d party apps to optimize eCommerce operations and enhance your customers' shopping experience?
Our back end is pretty simple, but we do use a few great apps like ShippingEasy, the Product Reviews Addon by Stamped.io, Klaviyo, and of course Advanced Product Options by MageWorx.
Could you tell us how our app helps you in optimizing the product options and conditional logic of your store?

Sure.
By default, Shopify has a built-in limit of 100 product variants, which is vastly insufficient for a custom leather belt business like ours.
But MageWorx's Advanced Product Options app has allowed us to offer our customers a breathtaking variety of options on our concealed carry gunbelts and other related leather products (well over 1 million different possible combinations!).
The app easily and seamlessly integrated with our Shopify theme, producing beautiful results and intuitive functionality on the front end, which helps boost conversions.
And with its simple template structure, and the ability to duplicate and modify templates, it's quick to set up and easy to manage on the backend.
Have you worked with the MageWorx team? If yes, on a scale of 1 – 10 how would you rate our team on communication, reliability and expertise?
MageWorx installed the Advanced Product Options app for us on VERY short notice when our previous options-app stopped working unexpectedly. And thank goodness it did because the move to the new app was seamless and required only a modest amount of effort to set up all our options.
And they went the extra mile to make a few minor tweaks to make the app operate flawlessly on our site (both desktop and mobile). MageWorx rates a solid 10 on communication, reliability, AND expertise!
Thank you! It's a real pleasure to get such positive feedback from our customers! And the last question. Any recommendations for new Shopify store owners?
Try to get involved with an entrepreneur's forum or group (preferably one focused on eCommerce), where you can learn what tools and marketing techniques are most worth your investment of time and money.
We thank David for answering our questions and wish him and Rachel the best of luck in their business!