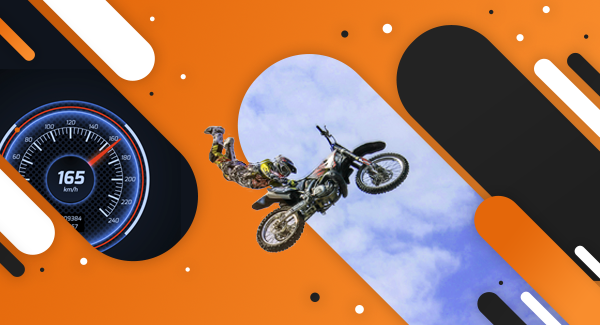 Reading Time:
5
minutes
Magento 2 is a feature-rich platform. The platform that can provide a highly customizable experience for all buyers, meaning no two websites are the same.

Some of Magento's best features include:
Elasticsearch is now built into Magento 2.3 (and beyond),
You can personalize customer experiences better by catering to specific markets,
Returning customers can now expect an easier checkout process.
However, such customizable features have been known to slow down a website and Magento is no exception.

At first glance, it might not seem like a big deal to wait a few extra seconds for a site to finally load. However, store owners can be surprised to know that their conversion rate depends on how fast their website can load. Did you know that a potential customer is 40% more likely to leave a website if it takes longer than three seconds to load?

Statistics like that mean that eCommerce businesses need to be able to meet certain needs of their customers, while not trying to compromise on a customer's other needs. This can become complicated, but that doesn't mean it's impossible.

In this post, I will provide 5 tips to reduce the server response time, and ultimately speed up Magento websites.
Tip #1: Consider Your Hosting
One of the most common reasons for having a slow Magento site is hosting. Once traffic starts to pick up, an average website would have trouble keeping up with a cheap hosting plan. However, since Magento is a little more complex, the platform is more likely to experience problems sooner than an average website.

That's why many certified Magento developers will tell you to invest in a good hosting plan. Magento will not run as well as it should with $5/month shared hosting. In order to speed up Magento, you will have to invest in a premium plan.

In fact, it is important that when you pick a hosting service, you pick a service that specifies Magento certified hosting.

You can also host your Magento website on a Virtual Private Server (VPS). A huge benefit of hosting your website on a VPS is that you, as a site owner, would have more freedom to manage your server.

However, as a Magento site owner, the best perk is that VPS hosted sites are not dependent on traffic or audience. You are more than welcome to use as much server space as you need.

Whether you choose Magento certified hosting or VPS hosting, it is important to weigh out all your options and find the hosting plan that allows you the most space to keep your website running efficiently.
Tip #2: Optimize Your Images
Any certified Magento developer will tell you that one of the best ways to speed up Magento is to keep the images optimized. The best way to do this is to compress your images to their smallest size. This means that when your images are at an ideal size, the website can run more smoothly and efficiently.

There is no real way to tell what is the most ideal size photo for your website, but there are ways to make a photo smaller without damaging the quality of it.

A simple Google search for "free image optimizer" will turn up quite a few free tools that you can use to make your images smaller while maintaining the quality of it.

These tools may provide varying results, but the process is usually the same:
Upload the photo to the website.
Choose the compression settings.

The most recommended setting is either "lossless" or to select "best quality".
Some compressors do not give you the option of how your picture will turn out. In which case, you should just skip this step.

Download your photo(s).
Once you have completed the process, you may upload all of your newly-optimized photos to Magento and proceed to replace your original images with your optimized images.
Tip #3: Check Your Extensions
Website extensions have a large impact on your server's response time. This is because when the site loads, the extensions that help the site need to load as well. Therefore, there will be more HTTP requests.

There is no real answer as to how many extensions your Magento website can have, but a Certified Magento Developer will generally tell you to keep all of your 3rd party extensions to a minimum.

In order to figure out what are the essential extensions to keep on your Magento site, it is advised that you do one of the following:

Conduct a comprehensive Magento extension audit to figure out how many extensions you have and find out how each one affects your loading time. Consider removing the extensions that take up the most loading time.
Consult a Certified Magento Developer to conduct the extensions audit and speak to them to figure out what are the best extensions to keep.
Once you have managed to clear out some of your largest extensions, you may find that your Magento website will begin to load faster.
Tip #4: Minify Your Programming
The less code that loads, the better. If you combine and minimize your JavaScript and CSS files, you can create a faster load time for your Magento store.

You may hire a Certified Magento Developer to do this but if you would like to do this yourself, just do the following:

Go to your Magento Admin Panel and find "System"
Follow the map: System → Configuration → Advanced → Developer
Look under JavaScript and CSS settings.
Under "Merge JavaScript Files", change "NO" to "YES"
Under "Merge CSS Files", change "NO" to "YES"
Save changes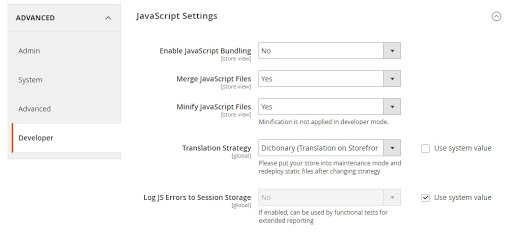 Once you do this, your JavaScript and CSS files will merge and reduce the number of requests to your website.

As for your HTML, if you download a 3rd party extension, you should be able to minimize it.
Tip #5: Keep Your Magento Database Organized
A key point to speed up Magento is keeping your website database optimized. This includes maintaining the following:

Indexes: It's important to note that indexes are used to speed up MySQL queries. By default, Magento updates indexes for every single product in the store. However, there are some instances in which you would have to update a product index manually. To do so, you would have to:

Navigate to "System" → "Index Management."
Select all of the indexes (or the ones you want to update), choose "Reindex Data" from the dropdown and click "Submit."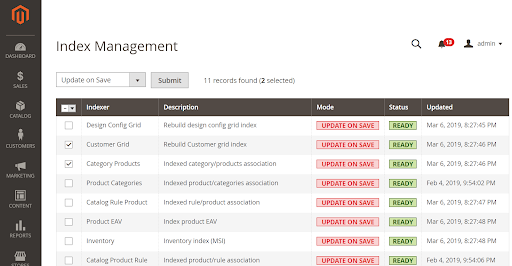 Logs: Your tables, products, and procedures should be placed in the appropriate groups. Outdated logs should be deleted as quickly as possible to avoid the prospect of a longer loading site. To clean up Magento database logs, you have to:

Navigate to "Stores" → "Configuration" → "Advanced"→ "System" → "Bulk Actions."
Under "Days Saved in Log" change it to any amount of days you prefer.
Click on "Save Config."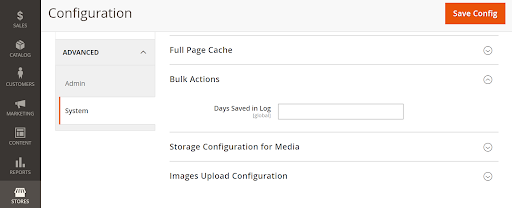 After you have configured this, you can expect your Magento site to load faster.
Takeaway
Having a faster site has become more important than ever. Having a great site is more than having a nice storefront. It's also about creating a great shopping experience for the guest and a huge factor that goes into that shopping experience is site speed.

Having a fast site has become essential to having a successful website. However, there still isn't a concrete path to making every website fast. Things you can do to speed up Magento include:
Having a good hosting plan
Optimizing site images
Conducting an extension audit
Making sure all your coding is absolutely necessary
Keeping your Magento database organized
Doing all of this will mean that you have taken the first steps to speed up your website and, consequently, increasing your conversion and customer retention rate.

---
This is a guest post by Konstantin Gerasimov, a Magento Certified Developer at Goivvy, LLC. He specializes in performance optimization and backend development.