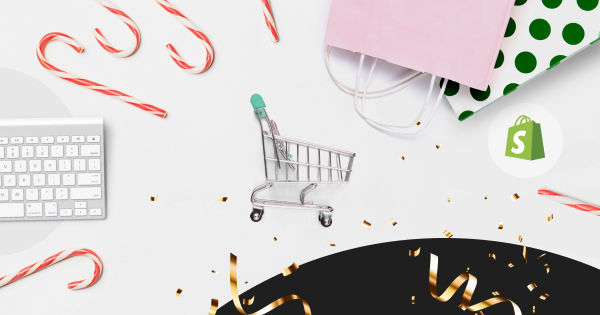 Reading Time:
4
minutes
Retail holidays like Black Friday, Cyber Monday and Singles Day have a special meaning for every merchant. During these days the largest sales growth can be observed. According to the National Retail Federation, holiday sales account for 20-30% of all sales for the entire year.
As retail holidays are golden years for all merchants, it's extremely important to be well-prepared for them. So, it makes sense to be sure your online store won't have any problems during this period to ensure the best customer experience.
In this article, we offer a checklist with useful tips that help your Shopify store successfully cope with seasonal holidays. Let's have an insight.
Some Holiday Statistics
According to 2019 Shopify's State of Commerce Report, one of the most popular shopping months in the world is November, the least one is February. At the same time, January is marked as a month with the largest year over year sales growth.
Emarketer reports that the 2019 holiday season is expected to see healthy US retail spending growth of 3.7% to $1.035 trillion.
The figures are huge, but to achieve them, you should know how to get your Shopify store ready for seasonal holidays.
Homework Checklist for Shopify Merchants
Creating Holiday-Focused Pages
In order to improve customers' shopping experience during holidays, it's a good idea to create holiday-focused category pages. You can add such categories as:

Black Friday 2019 Offers,
Cyber Monday Offers,
Christmas Gifts,
Gifts for Beloved,
Gifts for Kids, and so on.
Such categories make it easier for customers to find your special offers, gifts, and deals. One more important thing is that it saves time. For buyers, it's especially significant during this holidays' fever.
Getting Email Marketing Involved
Email marketing is a wonderful channel for you to connect with your buyers. When you have a vast email list of customers, you should connect them in advance to optimize holiday sales. Via emails, it's possible to:

remind customers to buy presents for any holidays,
offer a special discount, free shipping, or gift wrapping,
say 'Thanks',
make a holiday announcement,
send a holiday video, and so on.
According to Mailcharts, email marketing is responsible for 20% of holiday sales. So, email communication with your buyers is one of the best ways to boost sales during seasonal holidays.
Implement Theme Decoration
Theme decoration is not the last thing you should pay attention to during retail holidays. Creating a holiday spirit in your Shopify store, you get a chance to push up sales. With the help of Shopify Quick Holiday Decoration app, you can do your Shopify holiday theme especially successful and unique.

The app allows you to equip the site pages with beautiful, well-designed festive effects and effortlessly apply templates for New Year, Christmas, Valentine's Day, Easter, St.Patrick's, Halloween, Black Friday and other holidays. With the holiday app for Shopify, you can variously tweak the holiday effects and for each of them upload your own imagery. One more thing is that you may create your personal design.

With the Scheduler, it's possible to add custom designs for any popular holiday and set the time to apply them in your store. It can rightly become one of the best holiday Shopify apps.

Offer Gift Wrapping
During holiday times gift wrapping is more essential than any other time. So, it's your chance to get some extra profit, to save time for your customers, and to give them convenience as well by offering different packaging options.

Free gift wrapping can be offered for orders above a certain price and, as a result, incite buyers to purchase more.
Offer Rush Delivery/Delivery by a Certain Date
Getting your Shopify store ready for holidays, you should think about adding such an option as rush delivery or delivery by a certain date. Delivery by a certain date is for customers who buy presents in advance. And on the contrary, rush delivery can be crucial for those who weren't able to buy gifts beforehand. As ShipStation reported, last-minute shoppers accounted for nearly 30%.

The best way to build your brand is to offer an exceptionally perfect delivery service to your customers. There can't be any delay, delivery to a wrong address or in bad condition. Shipping should be well-organized without any miss.

Providing your customers with this service you'll be able to increase conversion rate and improve buyers' shopping experience.
Offer Free Shipping
When preparing your Shopify store for holidays, think about offering free shipping. It can become a great incentive for customers to buy from your store. 79% of US consumers said that free shipping would make them more likely to shop online. (Walker Sands, 2018). According to HubSpot, 24% of shoppers are ready to spend more to qualify for free shipping, so this is a great way to increase the average order value.
Sell in Bundles, Upsell and Cross-Sell
Seasonal holidays are a great time for you to increase the average order value by selling in bundles, upselling and cross-selling. You should think over properly how to create effective bundles and what products to recommend.

It makes sense to create such categories as best sellers products, based on increased customers' demand; most reviewed products, which can convince customers due to the number of reviews; and most relevant products to the product being sold.

The main thing you should remember when creating bundles is that it must be products that are supposed to be given as gifts.
Use Holiday Popups
If you have never used popups in your Shopify store, it's the right time to start doing that. During the holiday season, shoppers are especially in a rush searching for best offers, discounts, coupons, and so on. So, it's a better way out to provide them with your offers via popups.

Thanks to popups, you can boost your sales by creating a sense of urgency for buyers and prevent them from leaving your Shopify store without purchases.
Offer Gift Cards and Discount Coupons
During holidays fever, gift cards can be extremely needed for customers who have no idea what to buy as presents. In the future, you'll get an opportunity to increase your revenue as shoppers have been proved to spend more than the value of a gift card when shopping.

As for discount coupons, they encourage online shoppers to buy. But this marketing tool can be used only to certain products. So, customers are more likely to purchase from the store offering a discount.
Organize Inventory
Our checklist can't be full without this point. You should think properly about your stock levels and what products must be fulfilled. It's a good idea to analyze the last holiday season and what products are in greater demand to have them in greater quantity in stock.
Wrap Up
As you can see, it's important to get your Shopify store ready for holidays on time to achieve a more successful and profitable holiday season. We do believe that this checklist will be useful for your Shopify store and help you get a significant piece of the pie.