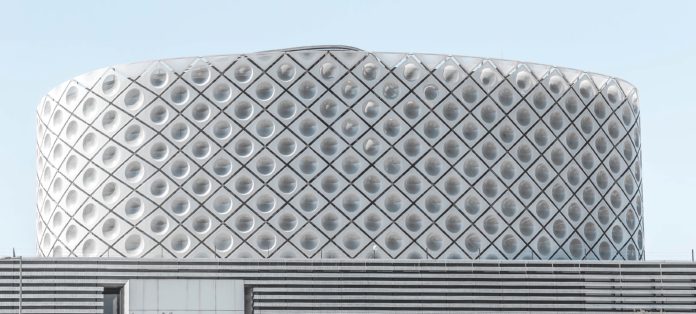 Reading Time:
5
minutes
Optimizing pages filtered by layered navigation has always been one of the most painful aspects of eCommerce SEO in general, and Magento SEO in particular.
In this article, I'm going to describe you a general approach to optimizing this type of pages, as well as tell about a little-known, yet truly effective way to optimize them.
Layered (aka faceted) navigation is an efficient way to navigate through content on eCommerce websites. Basically, this functionality enables shoppers to narrow down product catalogue search results and adjust them according to various criteria.
All that shoppers need to do is to configure a combination of filters on the left (less often right)-side layered navigation menu.
The system quickly filters out the desired product category, required brands, colors and shapes. Also, using this feature, it's possible to set a preferable price range and surface all products that are in this price tier.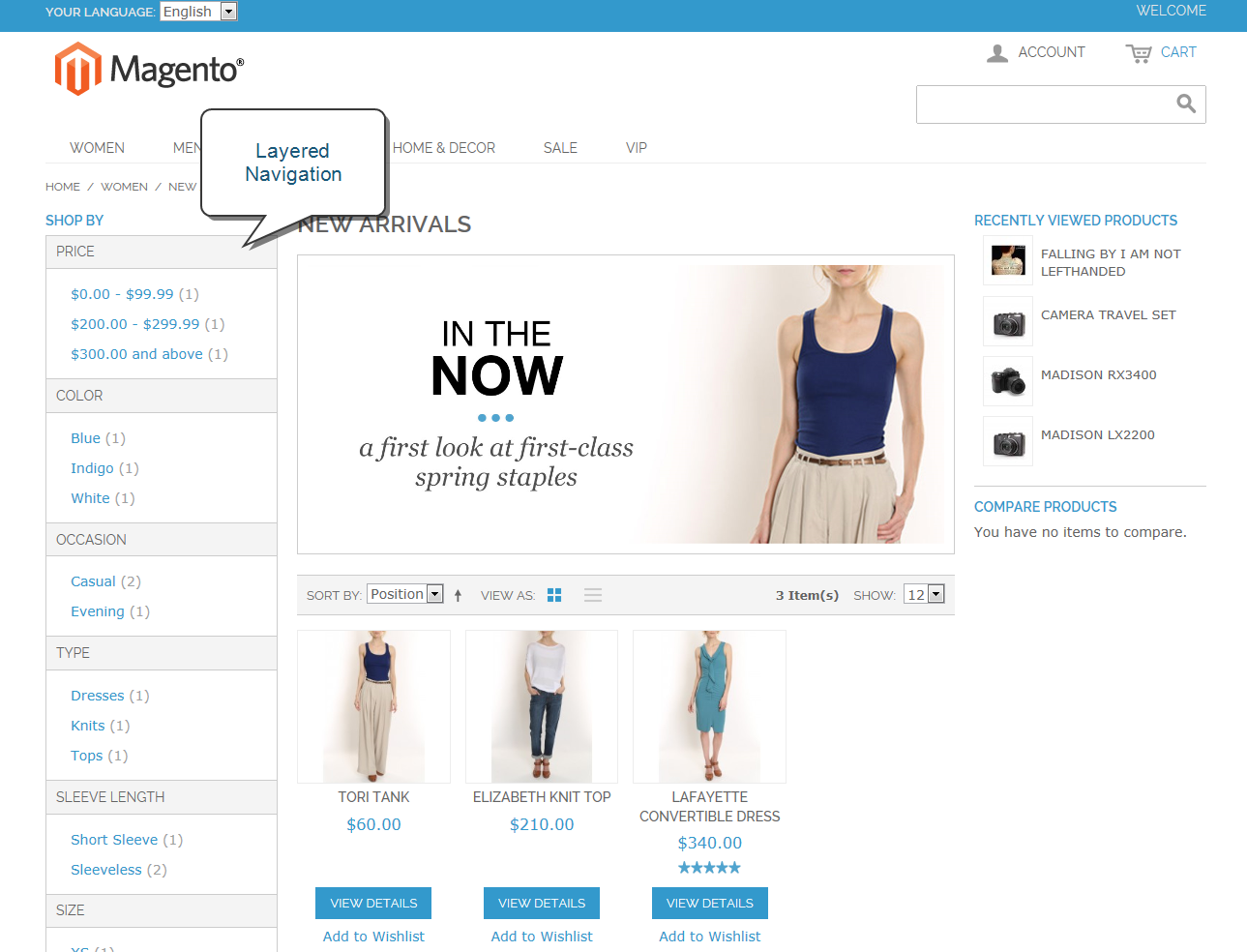 On the one hand, pages filtered by layered navigation significantly enhance site navigation and greatly improve customers' shopping experience. On the other, these pages are a pain for online merchants and SEOs. Pages of this type bring serious duplicate content issues and increase an amount of low quality pages. Also, these pages can have negative impact on website crawlability and cause over-indexation.
Needless to say, that it's quite time- and resource-consuming to optimize pages filled by layered navigation. And it's even more challenging to do that the right way.
Most of online merchants prefer to:
either get these pages out of the Google index by using meta robots or Robots.txt files
or set there a rel=canonical tag and point it to the current category.
To implement the abovementioned operations, you can use SEO Suite Ultimate extension for Magento.
Setting Meta Robots for Pages of Layered Navigation
Go to SEO Base: Canonical URLs, Meta Robots and Next/Prev Link Rel — Meta Robots Settings section under the extension's Configuration settings.
Here, you can set a minimum count filters used on layered navigation pages before adding Robots Meta Header.
Say, if you set the count to 3, all LN pages, where the number of filters is bigger than that, will get a NOINDEX, FOLLOW Robots Meta Header.  For example, of the minimum # of filters on LN pages — 3,
www.store.com/eyewear/l/rayben/men/shades/black/.html — this page will be excluded out of Google Index
www.store.com/eyewear/l/rayben/men.html – and this one will get indexed.
Note that when you enter '0', the setting will be applied to all filters at once.

Also, this is the place, where you can set Meta Robots for attributes or attribute combinations used on your layered navigation pages.

Note that here you can use any kind of Robots Meta Header (even INDEX, FOLLOW).
Furthermore, this setting has a bigger priority, than the previous one. Say, if you set the # of NOINDEX LN filters to '0', and write "index,follow:brand" here, it will override the filters count setting and add INDEX, FOLLOW Meta Robots header for LN pages filtered by 'brand'.

Additionally, you can set the rel=canonical tag for any any filtered attribute, and point it to the filtered page (that can be done in Catalog — Attributes).

Disallowing LN Pages with Robots.Txt file
In case you have no time and resources to optimize pages filtered by layered navigation, you can hide them all at once by using a Robots.txt file.
Thus, you'll avoid over-indexation and duplicate content issues (but will miss out on some SEO opportunities this type of pages offers).
You can disallow these pages with SEO Suite Ultimate Robots.txt Editor. Go to the extension's settings — jump to the Canonical URLs, Meta Robots and Next/Prev Link Rel section and enter the following:

Setting Rel=Canonical Tag on Pages of Layered Navigation
Another traditional way of dealing with pages filtered by layered navigation, is to use the rel=canonical tag in order to point them to the current category.
Thus, the search engines will associate URLs of this type:
www.website.com/en/accessories/eyewear/l/black/shades/rayben.html 

with the URL of the current category
 www.website.com/en/accessories/eyewear.html
To enable this setting in the extension, go to SEO Base: Canonical URLs, Meta Robots and Next/Prev Link Rel Settings and jump to the Canonical Tag for Category Layered Navigation setting.

* * * * *
That is how you can hide LN pages from search engine indexation.  But, you know… in fact, pages of this type may drive a lot more SEO value than most of us think.
Read on to learn more.
You might get surprised, but there's another, totally different approach to optimizing this type of pages.
Instead of hiding them from Google, you can turn them into (almost) regular store pages. That can be beneficial in various ways:
if there are no sub-categories in your store, pages filtered by layered navigation can successfully perform their role,
these pages can be fully optimized for long-tail or any specific search queries; thus, shoppers who are searching for "men's black polarized Ray-Ban sunglasses" will land on a page with highly relevant results,
optimized pages of this type can extend and strengthen your site architecture.
If you decide to go this way, first, you need to add an editable content area, and inject your content in there. That requires some extra custom development, or can be done with the help of ready-to-use some 3d party solutions.  Also, for each page of this type, you will need to set title tags and meta descriptions, as well as to add a full description.
The process can be optimized and fully automated with SEO Suite Ultimate extension.
The extension's NEW features will let you quickly optimize meta data for an unlimited number of layered navigation pages using advanced SEO templates.
To create a new template for the filtered pages, go to Catalogue – SEO Extended Templates – and select 'for Category Filters' template type: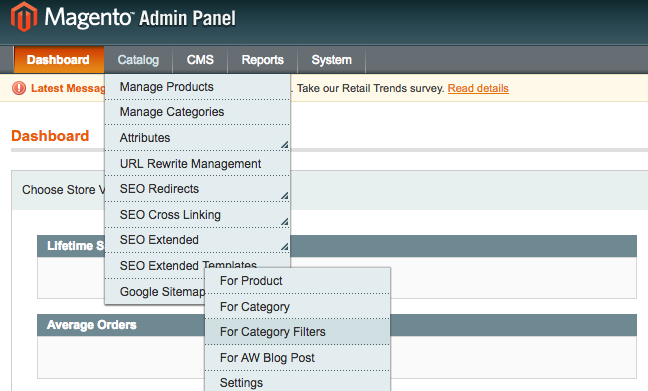 At the next step:
select a template type
pick up an attribute to optimize (you can select one attribute at a time)
and chose a Store View(-s) to apply a template to.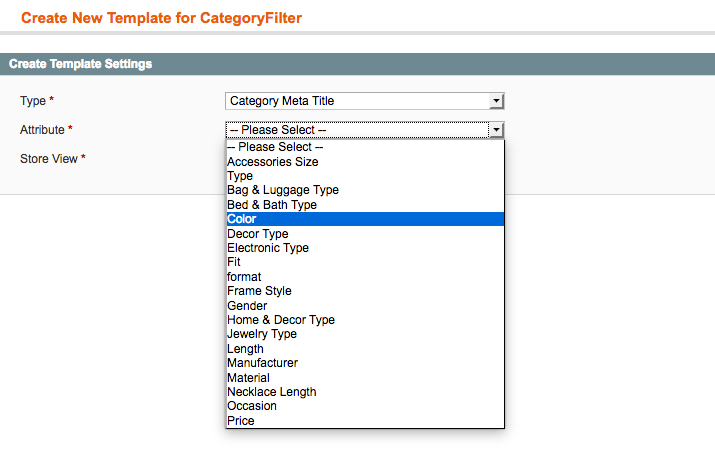 Then, specify the template's name, rule, choose the way to apply this template and enable the template auto-generation (if needed).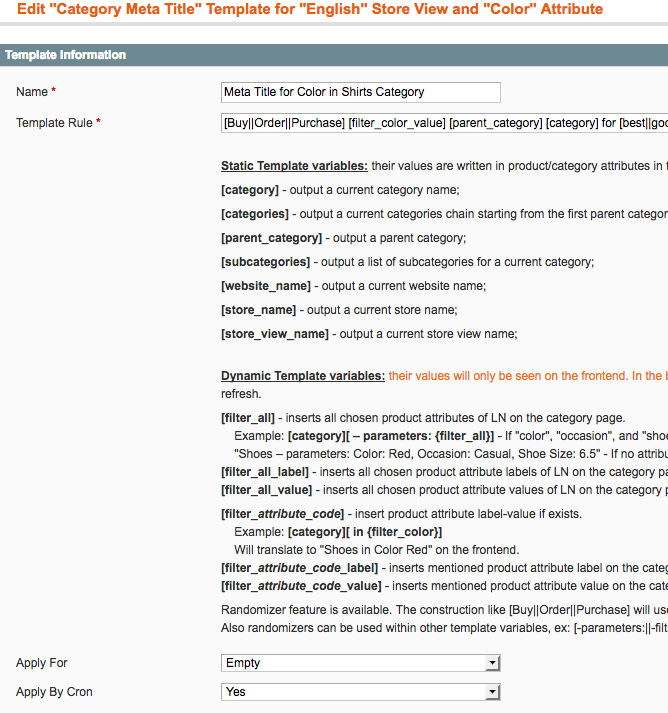 Jump to the Categories tab to select a category for this template.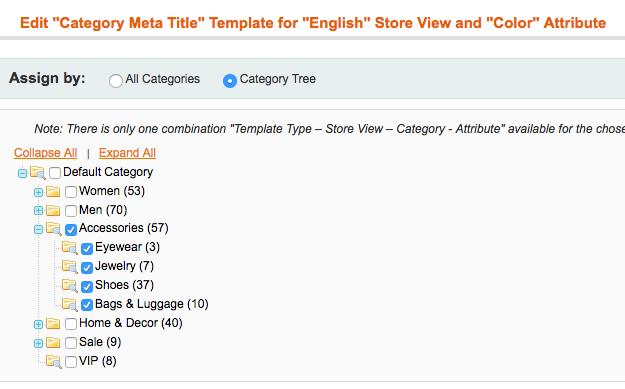 There is only one 'Template Type – Store View – Category — Attribute' combination available for the chosen Category. Categories assigned to different templates with the same conditions will be shown as Disabled in the Category Tree.
Click the 'Save' button to finish.
All done! The template we've created in this example will optimize meta titles for all layered navigation pages under the filter 'Color'.
IMPORTANT
Please note that it's advised to create one type of SEO meta template (e.g. a template for Category Meta Title) for one LN attribute filter at a time!
If you have a page with multiple filter attributes, e.g. /l/color/size/shape.html, you should create a certain type of an SEO meta template only for the main attribute.
You can however, specify the priority for different LN attributes for the same template type. Thus, if the same template type gets associated with a number of different attributes, the extension will pick up the one, that has the biggest priority.
To set attribute priority, first disable the enabled by default 'Use SEO-ed data for a single filter' option in SEO Extended settings:

Next, go to Catalogue — Attributes — Manage Attributes and specify an attribute's position (note, the bigger the position, the lower its priority).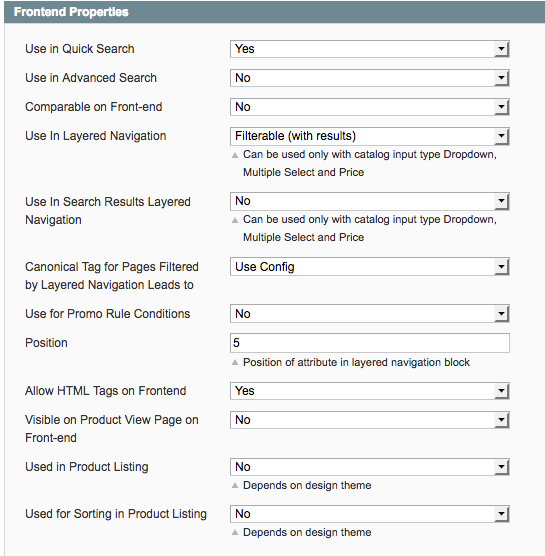 By the way, from here, you can also opt to enable/ disable this particular attribute in Layered Navigation, or Layered Navigation Search Results.
Additionally, you can manually manage such SEO values as meta title, meta description and long description for any page filtered by LN attribute.
Go to Catalogue – SEO Extended – SEO for Category filters to access these settings.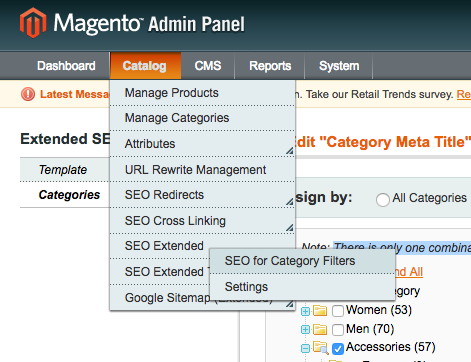 Under these settings, you can manually create the main SEO values for each chosen attribute from scratch.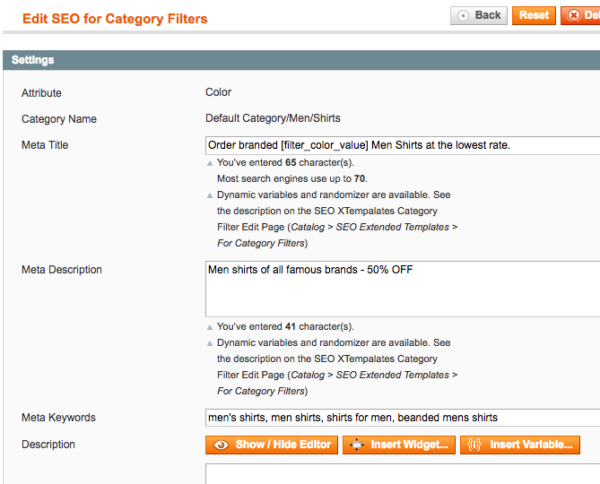 Thus, either automatically, using SEO meta templates, or manually you can optimize each page filtered by layered navigation and turn it into a fully-fledged store page.
Bottom Line
As you can see, despite all optimization difficulties, layered navigation pages can make a significant contribution in your website SEO success.
You just need to carefully plan each stage of the process and pick up the right tools to simplify the optimization routine.
Do you have any experience in optimizing pages filed by layered navigation? Feel free to share your expertise in the comments section below.