Reading Time:
4
minutes
By offering volume discounts and being thronged with customers, the retail giants such as Tesco and Walmart show in practice that net income can be generated by selling more goods at a lower price than fewer items at a higher price. To compete with these giants as an eCommerce business owner, it is helpful to comprehend what formulas should be used to inspire customers purchasing larger amounts of goods.

Read on to learn more about the most popular volume pricing models.
Volume Discount Pricing Models
All-Units Pricing Model
In this pricing model, discount increases with the quantity of units sold. It means that the price per unit is dependent on the amount of items a shopper selects to purchase. For example, one unit costs $100, two—$80 each, five—$70, and so on. Thus, if customers want to enjoy a quantity discount it is necessary to purchase a higher quantity of products.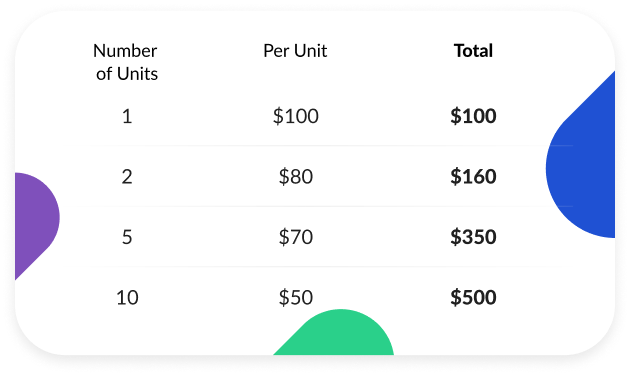 The main advantage of this volume discount formula is its logic and ease of comprehension for buyers. Shoppers who buy more, pay less for an item. Nevertheless, a problem arises when analyzing the overall cost in comparison with the number of products. Thus, the only way out is to reduce the discount gap between items to prevent drop at a larger quantity of units.
Tiered or Incremental Pricing Model
The tired or incremental model applies a discount only to products ordered above a specific price level. This volume discount pricing strategy is best used when buyers are likely to require high quantities.

For example, when a customer chooses one unit, the cost is the price tier for one, or $100. Selecting two units, the customer will pay $100 for the first unit and $80 for the second one. If the buyer chooses five units, the first will be $100, from the second to the fourth the cost will amount to $80, and the fifth one will be $70. Thus, the full price will be $410.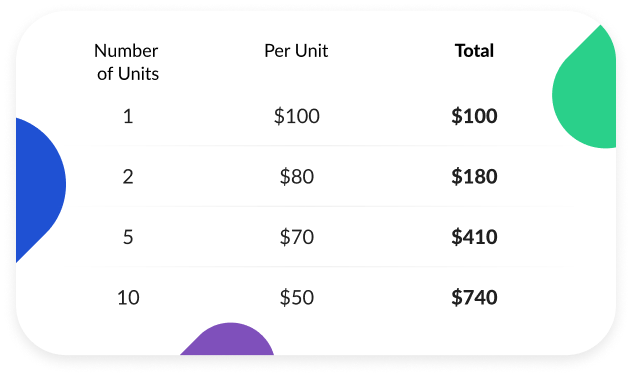 The main advantage of the incremental volume pricing model is the absence of step-down points. It means that you won't lose your revenue
when selling more.
Package Pricing Model
In the package pricing model, shoppers purchase packages of items at a fixed price. According to this volume discount formula, the discount is applicable for specific packages of the items.

Thus, if a buyer has an intention to purchase an unstated amount, for example, 7 units, he/she will have to buy a combination of package deals: a package of five units for $350, and a package of two for $160 results in the total cost of $510. It will look like 7 units=(5 units *$70)+(2 units*$80)=$510.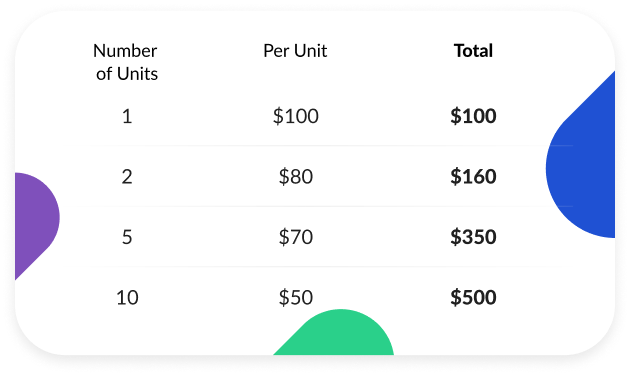 Undoubtedly, this model entices shoppers to buy more goods to get a better discount, but at the same time, buyers may decrease unit purchases to fit a specific package.
Which Model to Choose
After getting to know the most useful and effective volume discount pricing formulas, you should choose the most appropriate one for your online business. The surest way is to analyze the average quantity per order. You'll see that with the growth of the unit quantities, the incremental model retains higher unit prices. Moreover, for every price break, the difference in price between the models grows larger.

In spite of what volume discount pricing strategy you choose, make sure your buyers understand your discounting method effortlessly. Otherwise, it will be complicated to sell multi-quantity orders.
How Volume Discounting Can Help Your Business
Successfully chosen volume discount pricing model can help your company achieve different goals:
To defeat competitors in the market. In the highly dynamic market environment, it is necessary to gain a competitive advantage with well-planned strategies. Volume discounting is the best way to both enhance your market share and brand reach. By offering lower prices, you can increase conversion to your site and the number of loyal customers.
To attract more buyers. As buyers are mainly interested in high-quality products for reasonable prices, offering them volume discounts on bulk purchases will surely attract them towards your eCommerce store and product suggestions. Moreover, it may help convert shoppers into loyal customers.
To increase store profitability. When you incentivize your buyers with quantity discounts, you generate more significant revenue by letting shoppers get more value for purchasing in bulk.
Volume Discount Pricing Do's and Don'ts
When you implement volume discount pricing in your Shopify store, it's necessary to know how to do it the right way.

Do's:
A target price should be set for each transaction based on carefully-run analytics in order not to make deals unprofitable.
It's reasonable to segment your customers. That means to suggest a volume discount to buyers who are going to acquire big orders.
The price margins of different products vary. Not to sell at a loss and not to show volume discount pricing below the threshold percentage, it makes sense to set minimum prices for various items.
Analyze your sales data and evaluate strategies. You should do it consistently to know what's working and what's not.
Don'ts:
If you don't want to lose profit, don't give the same discount to all customers. Not specifying the needs of each buyer, you risk missing the boat with customers who don't need to purchase a huge volume at once. The customers who can afford to purchase in huge quantities often take advantage of volume discount pricing.
Don't devalue your product by giving a price concession. When you give your buyers a discount every time, they think it's only worth the final sale price.
Make it impossible to raise prices. When customers get used to discounts, it is difficult to raise prices when you need to do so. Shoppers will refuse to pay more knowing that they can get price concessions. Thus, it becomes impossible to raise prices.
Bottom Line
Every volume discount pricing formula has its advantages, as well as disadvantages. Choosing the best-working model for your store, you'll be able to generate a bigger revenue and increase your customer base.

Have you already decided what model to choose for your Shopify store? Do you know other effective volume discount pricing formulas?