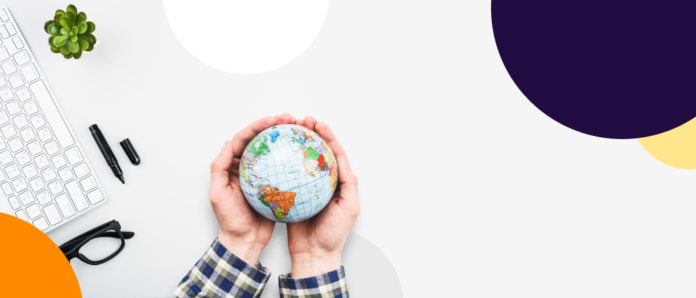 Reading Time:
5
minutes
More and more consumers turn to international marketplaces because of a lack of access to products domestically. One more reason for cross-border eCommerce is better prices and more affordable shipping. Moreover, international customers pay 16% more than local buyers for the same items, according to eBay research. In 2019, cross-border eCommerce sales reached $3.53 trillion, and e-revenues are predicted to gain $6.54 trillion in 2022 (Statista, 2019).

Selling internationally is a great opportunity for retailers to extend their reach overseas, capture a wealth of new customers, and increase profitability. Thus, having started from the ground up in 2011 in Brooklyn, New York, a shoelace company Hickies was able to start selling in 50 countries around the world by launching a Kickstarter campaign. If you have a desire to achieve the same results in Shopify international sales, check out ten important things to start with before selling cross-border.
Ten Things to Get Started
# 1: Get to Know New Market
To start with, you should conduct research on targeted markets and their consumers. Your aim is to determine in which countries your products are in demand and try to test selling specific goods. Also, you should know your competitors in these markets and what marketing strategies they use. One more important thing is to identify potential customers, their buying habits, and preferences. Your company should be flexible in approaching buyers from different locations and cultures. Understanding their motives and expectations can be crucial in your international expansion strategy.
# 2: Consider a Multi-Language Store
A key challenge you come across when selling cross-border is language. If consumers don't understand product descriptions, they will hardly purchase from you. Instead, they will find another store with all the necessary information. Thus, the best way to look professional and trustworthy is to deliver quality translations in the native languages of customers. Good translations are critical. They should be accurate and deliver the benefits of products and services to make sense for buyers. Moreover, it's important to use a professional service to translate responses to the FAQ in order not to be abused.
# 3: Sort out Payment Methods
Payment methods are a stumbling block in international eCommerce. There are different preferences in accordance with location. For example, customers use credit card payments in North America and Australia, at the same time, consumers prefer bank transfers or cash on delivery in Asian countries.

Before expanding your business worldwide, you have to find out Shopify's international payment methods preferred by your new consumers and optimize the checkout process for them. Only then you will have an opportunity to increase sales and reduce cart abandonment. According to the Baymard Institute research, more than one-third of online shopping carts are abandoned because of few payment options offered.

It's also crucial to choose a payment provider with a strong global reputation for security. For example, PayPal is a secure way to pay, and the top payment method chosen by 39% of customers throughout the world (Statista). There were 277 million PayPal active accounts in 2019.
# 4: Support Local Currencies
What else do you have to pay attention to when selling internationally? These are local currencies. Most shoppers are not ready to waste their time on converting prices. It's easier for them to shop from another store than to do all these actions every time. If you want to retain international buyers, the best thing you can do is to display prices in their local currencies. It will help you increase customers' loyalty to your brand and reduce the number of shoppers leaving your online store.

The easiest way to improve your consumers' shopping experience is to allow them to make purchases in their local currencies with Multi-Currency Auto Switcher by Mageworx. The plugin automatically converts your prices into corresponding currencies and gives your visitors a chance to choose preferred currency.
# 5: Research International Shipping Options
Having chosen targeted markets, knowing your potential buyers and products in demand is only half the battle. The way you will ship your goods is one more option. Make sure to run a research and explore international shipping rates to markets, you are going to expand to.

According to the Baymard report, 61% of buyers don't complete a purchase because of shipping fees. One of the reasons is that some heavier goods can be more costly to ship internationally. But you can incentivize customers by offering free shipping for a certain amount deal. Thus, you'll cover some shipping costs with more items sold.

The most important thing is to be transparent with your international consumers regarding shipping internationally and give accurate delivery estimates based on country and list shipping costs in an easy-to-find place.
# 6: Study Tax Rules and Regulations
In order not to get into trouble, you have to study as follows:
Taxes and duties. You should find out how they will affect your pricing in target markets, how much you will have to charge. Thus, you will know the amount of Shopify international taxes that should be included in the total as extra fees.
Customs and country's regulations. All the international products make their way through customs, where every package should have a custom form. Thus, you should take care of it. Moreover, there are different regulations regarding international sales worldwide the importance of which can't be diminished. For example, according to shipping regulations, the UK sellers are not allowed to send products like hair colors and perfumes by air.
Free-trade agreements. One more thing you should check is free-trade agreements as thanks to them, you may reduce or eliminate tariffs for some products. For example, the US has agreements with 20 countries giving a lot of advantages for retailers.
# 7: Have Clear International Return Policy
As returns are inevitable, you should have a clear return policy for your international customers to feel secure. It's especially crucial for shoppers buying from an unfamiliar brand.
Your return policy should comply with the local laws, inform on return fees or restocking. Also, make sure to specify whether you offer store credit or a full refund.

If you want your returns to be cost-efficient, you can, for instance, consider setting up a local returns center.
# 8: Investigate Fulfillment Centers
When selling cross-border, it's hard to compete with local retailers regarding delivery time and shipping costs. 84% of buyers refuse to shop with a brand again because of poor delivery experience. At the same time, brand loyalty of 98.1% of shoppers depends on delivery (Convey).

To avoid all these losses, the best chance is to investigate local fulfillment centers. With their help, you'll be able to pick and ship goods for next day delivery. That allows you to satisfy international buyers and improve their shopping experience.
# 9: Find Business Partners
One more thing you should think about before selling cross-border is the necessity to find a local business partner or an intermediary. That should be someone who understands a targeted market and its regulations and has access to a network of potential customers. Moreover, the intermediary must be smart in your business to boost sales.

# 10: Make Use of Analytic Tools
The final step on the way to expand businesses worldwide is to use analytic tools. They allow tracking traffic your site gets, understand which channels work best for your e-store, and decide on which market to focus on. Moreover, you can get customer insights and all the demographic characteristics you need, as well as learn, which of your goods are selling the best and the most profitable, etc.
SavvyCube Analytics & Reports by Mageworx can be of help on Shopify. The plugin can provide you with an overview of your online business by aggregating and consolidating data from Shopify, Magento, Google Analytics, and PayPal. As a result, you'll get custom reports, data on your sales and profits, and detailed forecasts.
Final Thoughts
Selling internationally is a significant step that can allow you to achieve new horizons, make your brand known worldwide, get more new customers, and increase your bottom line. Follow our checklist to be a success in the new beginnings.

---
Have you decided on selling internationally yet?