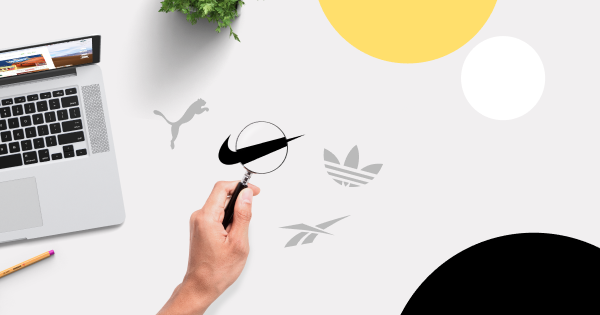 Reading Time:
6
minutes
Ecommerce has been growing at an unprecedented rate all over the globe, but one thing remains the same—it's the close relationship between customer loyalty and brands. Truth to be told, customers won't just become loyal, you have to earn their loyalty. If you've been investigating ways how to breed customer loyalty or just curious to know what's down the pipeline, let's take a better look.
Why are Brands Lovable? Or the Psychology Behind the Brand Loyalty
Building trust and loyalty is a paramount goal for every eCommerce business. But have you ever wondered, what's behind the word "loyalty"? And why brand loyalty is so vital when it comes to sales? Here's a pleasant surprise for you: most of the customers buy brands that they think "get them" and share their values. So, if your brand aligns with your customers' core values, you can count on them repeating purchases over and over again.

As you can see, we're moving towards higher brand personification, where businesses win their customers' hearts by espousing certain values, and later on, acting on them. But for a customer, the reality is quite the contrary. When becoming loyal to a certain brand, he or she thinks that it's a hallmark of excellence or something out of the extraordinary. And no doubt, it all might be true, but it's not that simple. The thing is that the brand is simply resonating with a customer. Which literally means that he or she has been affected by this specific brand.

Take Reebok. The Reebok's motto is "Through sport, we have the power to change lives. And our sport is fitness". By saying this, they not only aspire people to do sports but seed the idea into people's heads that there's nothing impossible. Purchasing from the brand with a motto like this looks like getting closer to a goal. The customer is proud to associate themselves with the brand. At this point, the brand plays a significant part in the day-to-day life of the customer.

Another good example of the well-established brand can be artful shoes made by Manolo Blahnik. It's been two decades since the first episode of the "Sex and the City", but tell me, what's the first thing that comes to your mind, when you think of Carrie Bradshaw? Manolo Blahniks, right? The series character argued that women could have power and money and could live with the same liberty as men. For the majority of women, she was an idol. Celebrating women's power and inspiring them to live lives they want in the series, Carrie helped cement Manolo Blahnik as the shoe brand of the generation. According to the stats, her favorite shoes were sold 1.6 times faster than other shoes. Even now, when shopping by shoe brands, most women would kill to buy those famous Carrie's shoes! Would you believe it?

The idea behind these examples was that people want to buy from a brand that inspires them. A brand that either simply shares their values and dreams, or helps to make the world a little bit better. That's what an average customer wants.
Considering this simple truth and influencing your customers' values and beliefs properly results in better customer loyalty and good associations with your brand. Once again, if you inspire customers, they will come to you over and over again. The feeling of belonging or excitement can truly engender loyalty from your customers.

Another important thing, when it comes to brand loyalty is social identity. How many times have you asked your mom for Nutella, when you wanted some chocolate spread? And have you noticed your colleagues or friends don't use the words "phone or cell phone" anymore? They've easily replaced it with the "iPhone", so it became commonplace. And how did we get there? According to the studies of consumer psychology, buyers tend to identify themselves with some social groups or communities. In this case, their friends, family members, colleagues or mates can easily influence their choice of the brand.

Some customers think that people judge people by the brands they buy. So, if one can buy a luxurious brand, they feel like it will contribute to better social acceptance. That's where brand status comes into the scene.

Have you ever wondered why everyone is so obsessed with Apple? The thing is that some people buy Apple technology to be perceived tech-savvy and fit in the group who does care about art, technology, and creativity. They buy it because it makes them feel special associating with the brand.
Take Ferrari. Buying a Ferrari, a person contributes to his or her image of a wealthy or refined person who has it all. In both these cases, you see how certain brands support consumers' personal images.

If you want your customers to evangelize your brand, you should get to know their interests and motives. Engaging authentically with your customers and anticipating their desires will help you win their loyalty and repeat purchases over time.
Now let's have a look at the statistics that prove that brands and loyalty go literally hand in hand: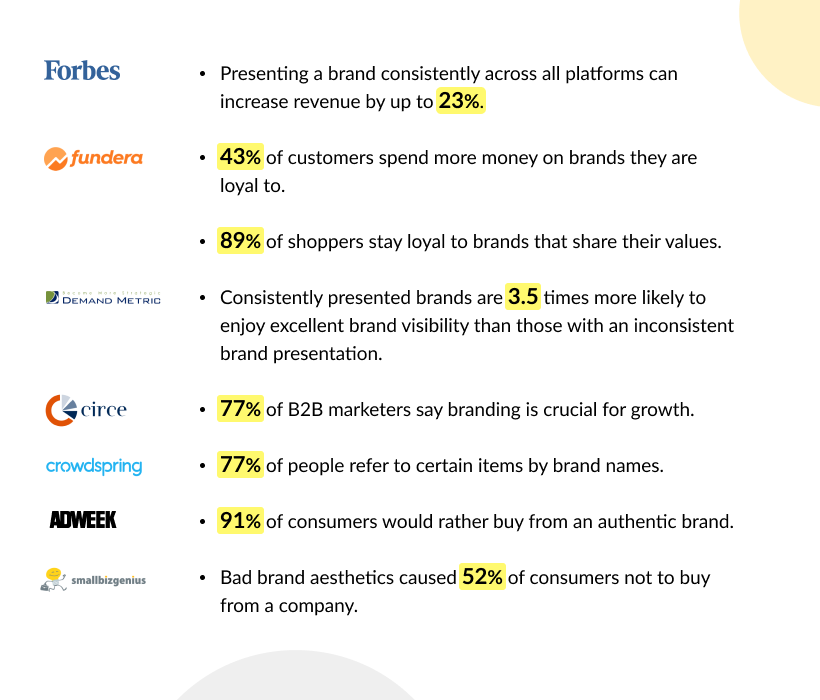 Magento 2 Based Websites with Shop by Brand Functionality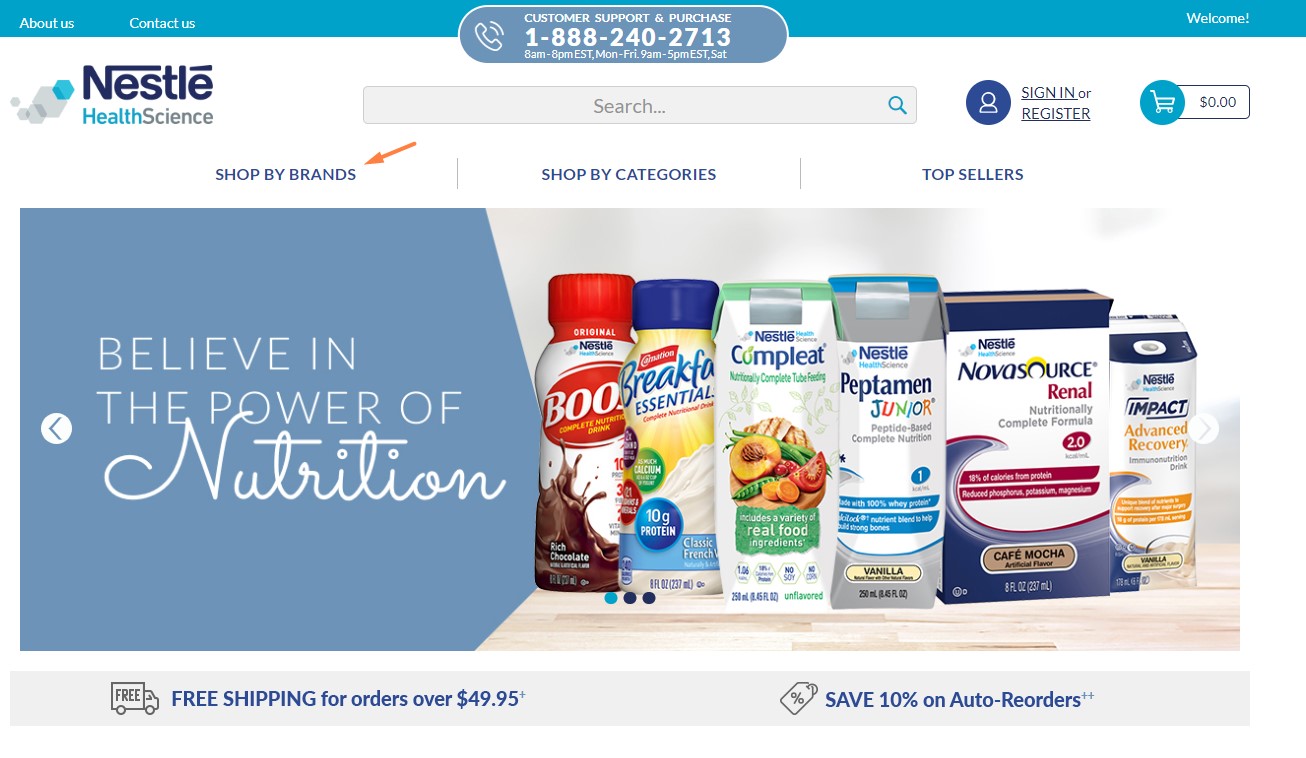 This website is a perfect example of how shop by brand functionality works. As you can see, the shop by brand button works wonders for the company that has introduced it to their website. Displaying brands on the website allows customers to search for their favorite brands with ease.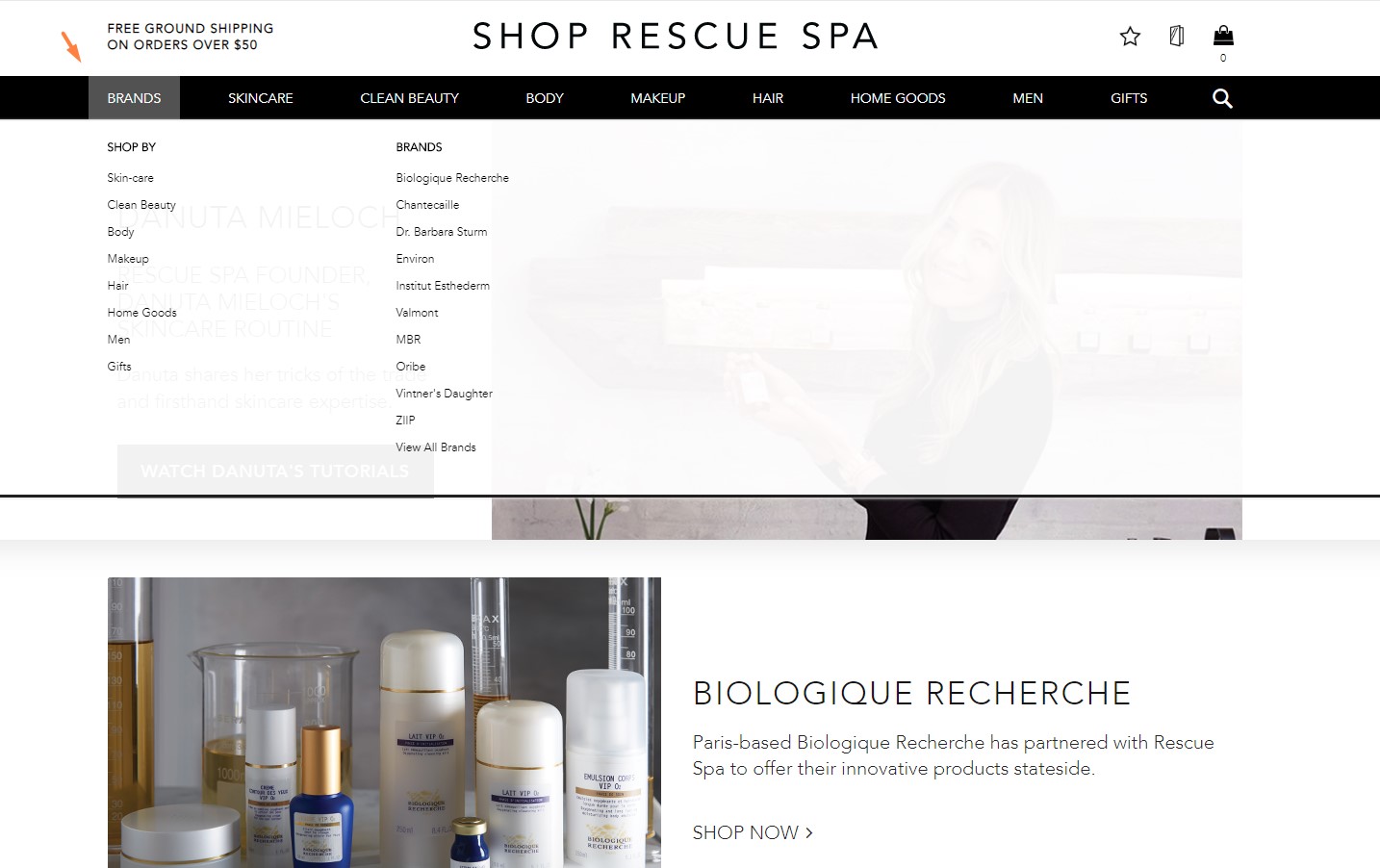 When scrolling down this website, one can mention the UX. Long story short, UX is vitally important for conversion and sales. It provides a shoppable experience that keeps customers loyal to this or that brand. In this case, the shop by brand functionality provides a beautiful visual experience that is essential for customer satisfaction.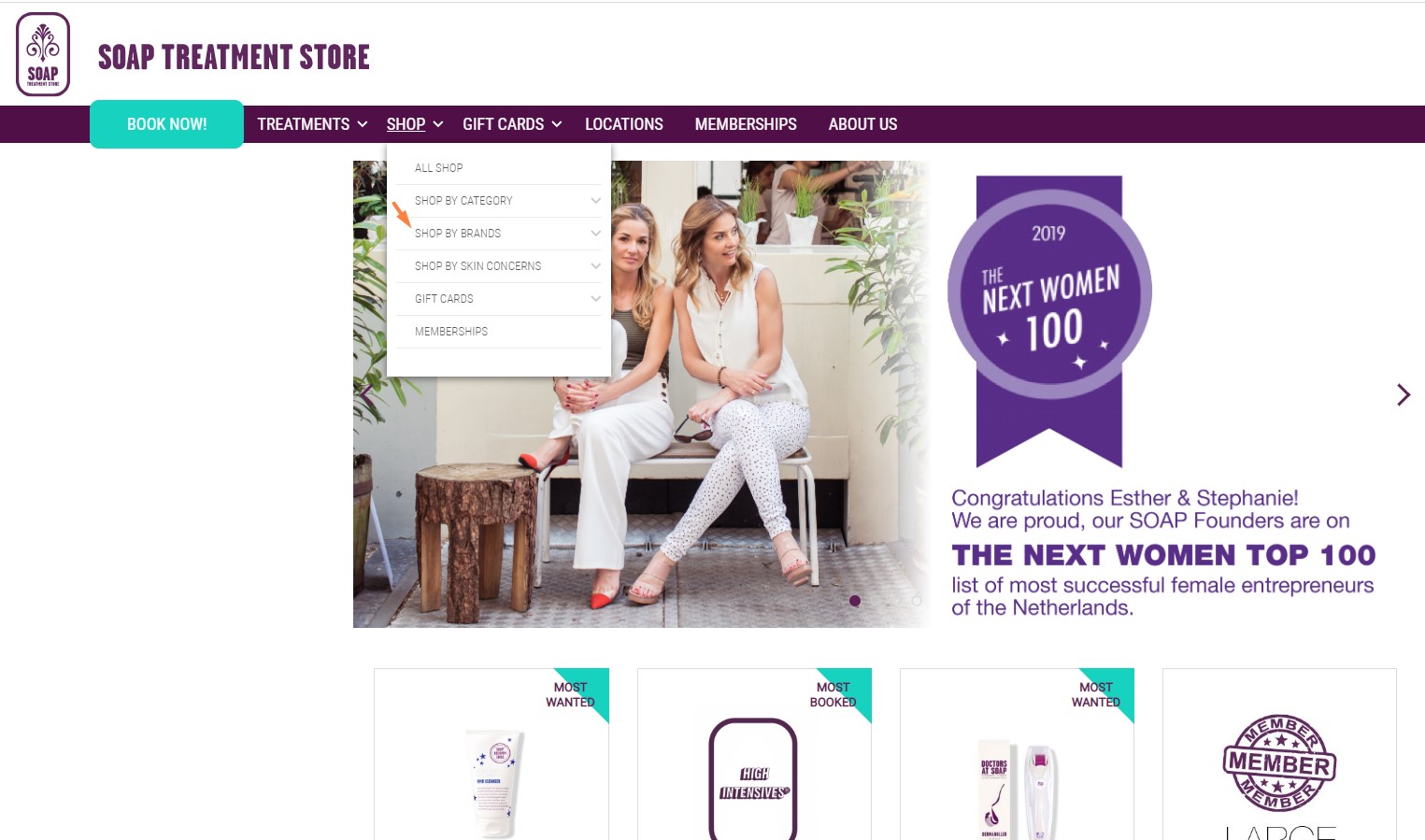 In this case, the shop by brand functionality is a well-thought part of the on-site navigation. Have a look at the UX. It is clean and simple, which makes a customer experience positive and shoppable.
Also, the merchant has put a "Most wanted" product label on the specific brand. It's a popular marketing technique that helps whet the customers' appetite for products or services. Having this inventory on your website will definitely boost your sales!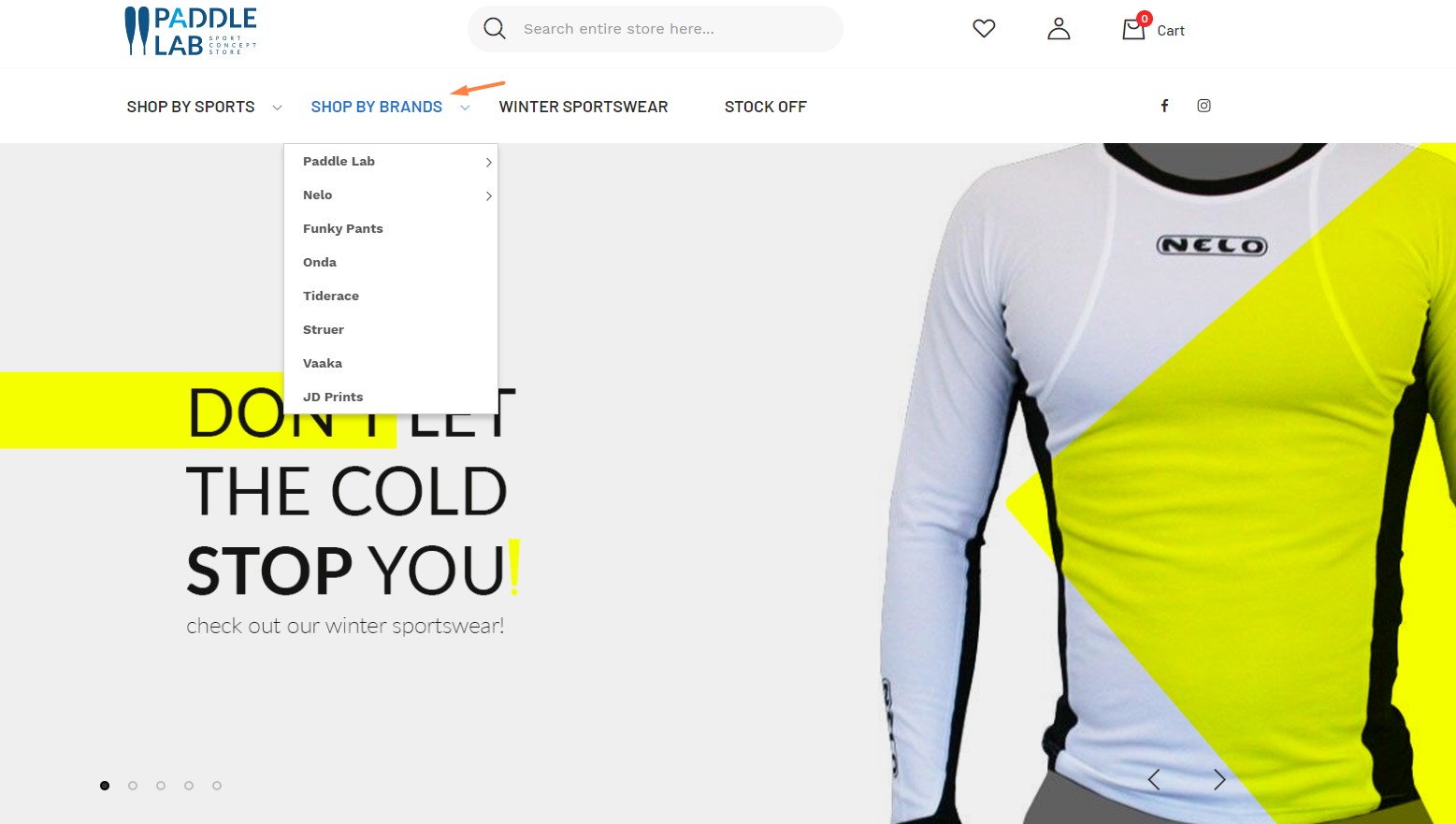 Applying the shop by brand functionality to your website, you'll provide your customers with an opportunity to easily reach the products or services they want. Easily accessible from the home page, it makes the search of the favorite brands fast and intuitive.
If you want to enable the search for brands through alphabetical order, the Magento 2 hop by Brand extension is something you really need! By implementing it, you'll make your customers' lives much easier. Take watch shopping. If you place an alphabetical order, it will be super easy for them to get what they want! They won't be scrolling down your website to buy Chopard, right?
Yet, another example of the alphabetical navigation. But it's not a simple brand listing, it's whole website customization. And another great feature to match― content. Every ingredient placed on the website has a proper description that helps customers understand what will suit them best.
Take a closer look at this website. Some e-store owners prefer the following listing of brands. Scroll down the page, and you'll see brands located right in the footer. It might be a good idea for a merchant, but not for a customer. Customer satisfaction is everything, right? Believe us, not so many customers will scroll down to the page button. Which literally means fewer sales for you.
Usability is the king, and we should stick to it, right? Here's another example of the shop by brand functionality introduced to the website. The good thing is that brands haven't been placed in the very footer, so it's easy for a customer to find them.
If you want to have an outstanding UX, think beforehand about every single detail. Placing brands in the right way creates a positive experience for your customers. You should keep it in mind.
How to Stand Out From the Crowd with Magento 2 Shop by Brand Extension by MageWorx
If you use Magento 2 to run your online store, introducing shop by brand functionality made by MageWorx will skyrocket your repurchase rate and strengthen customer trust to grow revenue. The thing is, as soon as you start showcasing brands, customers will flock to your store!

Let's dive in what this extension offers:

World-class brand management with an opportunity to create brand pages;
All-Brands-Page, where you can list all your brands in a nice user-friendly way;
SEO-friendly page setup, where you'll be able to change the brand logo or description, put title and meta titles, and many more;
SEO aspects will help you rank higher in search results;
Opportunity to display brands on product pages;
Opportunity to display brands on category pages.
In a nutshell, introducing this extension to your website, you'll craft a truly engaging customer experience! Presenting various brands on your website, you'll gain more credibility to your business, which is extremely important in the competitive eCommerce world. Remember, brand recognition leads to higher revenue.

It's probably a no-brainer, but customer experience is the new battlefield. That's why you should be properly armed. When applying this functionality to your e-store, you'll not only provide flawless customer experience, as it's been already mentioned before, you'll increase brand loyalty in your customer base. You'll have customers who will be with you even when the times are tough, and won't abandon you in the economy dips.