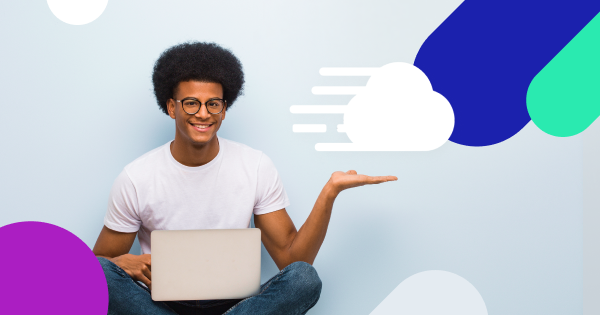 Reading Time:
5
minutes
If you are thinking of switching your hosting, now is the right time!
In the next month, you will witness the biggest sales saga of the year. Last year, eCommerce stores generated over $8 billion in sales. This year, sales can easily soar to $10 billion and above.
The eCommerce market is rising rapidly. The year-on-year growth rate is close to 25%. To reap the benefits from your eCommerce store, you have to get your hands on the right hosting infrastructure.
Magento Hosting Statistics
Magento Hosting Problems
Many Magento store owners have pointed out that the following problems cause issues in the smooth processing of their eCommerce stores.
Legacy infrastructure,
Poor database management
Lack of site security,
Slow site speed,
Limited scalability,
Excessive downtime.
Choosing the Right Magento Hosting
Since Magento is widely considered to be a much more advanced eCommerce platform than WooCommerce or Shopify, users of the Magento platform prefer to get cloud, VPS, or dedicated hosting for their stores. ECommerce store owners prefer not to use shared hosting for their Magento platforms.
It is because shared hosting is limited in functionality, and a lot slower than other hosting solutions available such as Dedicated hosting, VPS servers, and Cloud hosting.
Magento powers around 10% of the web. As the total eCommerce sales are more than $29 trillion, out of this, about $3 trillion of the total eCommerce revenue is being generated through Magento based eCommerce stores alone. This revenue figure is likely to cross $4 trillion by the end of 2020.
Most Magento-based eCommerce websites have products ranging in millions. They require advanced hosting infrastructure that can handle the store performance flawlessly. The infrastructure requirements should be as follows:
fast,
scalable,
easy-to-use,
secure,
dedicated.
Introducing Cloudways
Cloudways Magento hosting provider allows users to get relief from all the above-mentioned eCommerce hosting woes. Users switch to Cloudways to find the best hosting infrastructure for their Magento-based eCommerce stores that is reliable, feature-rich, and dedicated, as is evident through its reviews on HostAdvice.
It offers hosting on five cloud infrastructure providers, including DigitalOcean, Vultr, Linode, Amazon Web Services (AWS), Google Cloud Engine (GCE).
Why Use Cloudways for Magento?
Magento stores require a technologically superior infrastructure that is capable of offering improved store performance and enhanced storage capacity―the two foremost worries of the majority of eCommerce store owners. Unlike WooCommerce-based eCommerce stores, Magento's out-of-the-box size is above 600MBs―without adding products and themes to it. That's where a cloud hosting infrastructure comes in handy.
Let's learn how Cloudways managed hosting augments your Magento store performance.
Enhanced Scalability
Cloudways Magento cloud hosting offers users the opportunity to improve server storage and bandwidth with a single click through vertical scaling.
So, when a store faces a traffic spike, the store owner can change the storage size, bandwidth, and RAM of the server. Moreover, if the users need more storage capacity, they can get it through the 'Block Storage' feature.
Note: The block storage feature is available on DO and AWS only.
Ironclad Security
Cloudways offers many security features to secure your store. It offers Two Factor Authentication (2FA) for both the application layer and the server. Cloudways also allows whitelisting IP addresses so that no one else can access your server.
Super-Fast Performance
Cloudways is known for its impressive page-load time. Most websites running on Cloudways cloud platform load in less than a second. Here is one test of Cloudways Magento and WooCommerce server performance. As you can see, both applications loaded in under one second. Well, this solves your biggest worry, i.e., performance pitfalls.
Moreover, Cloudways is developed with a powerful hosting stack called the 'ThunderStack'. This stack consists of three cache layers, including MemCached, Redis, & app-level cache Varnish.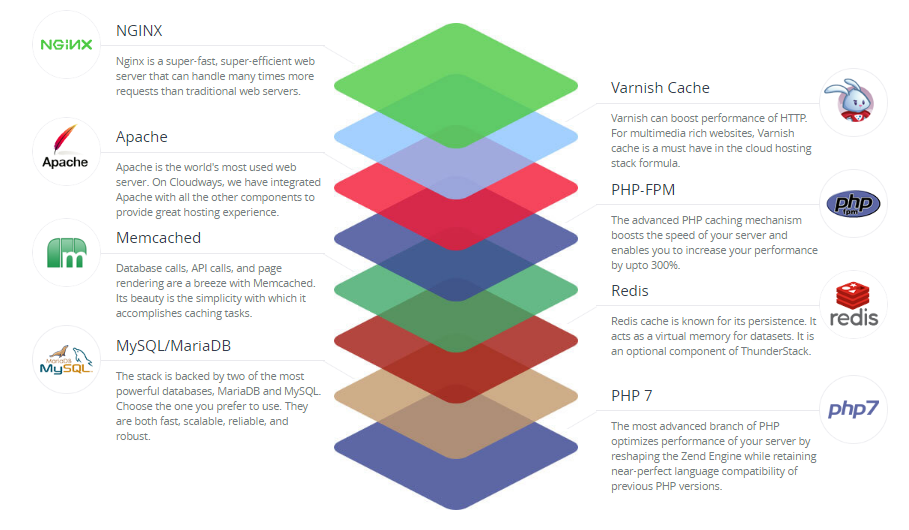 ThunderStack server layer structure – Source: Cloudways
Team Collaboration
Team collaboration feature by Cloudways allows collective management of each server. Cloudways customers can grant access to their clients so that they could manage their websites by themselves.
Let's say you run a digital agency and host your client's websites. With Cloudways, you can grant access of each server to each client so that they could monitor its performance.
You can also grant them payment and console access depending on their needs. They can pay the bill through their credit cards while you keep managing their servers with ease. Cloudways also allows you to transfer the server to your client's account with a few clicks.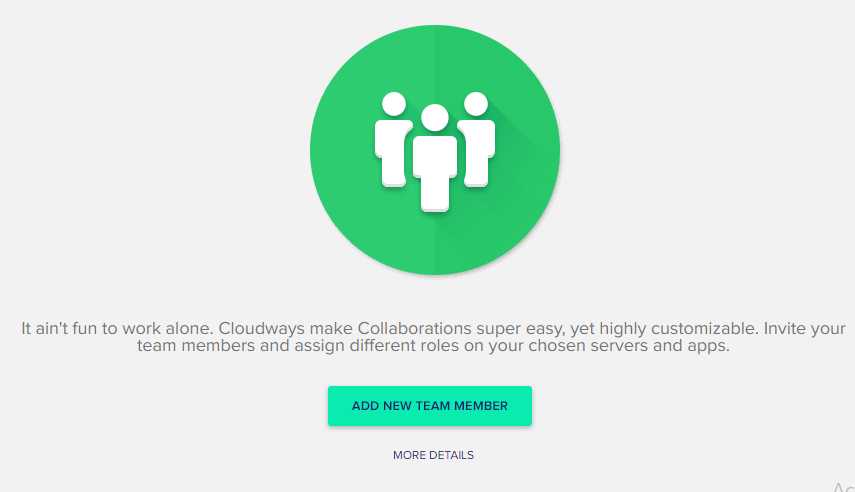 Ease of Access
There is no need to manually install an app on the server when you can do it within minutes thanks to Cloudways' simple yet attractive Graphical User Interface (GUI). The platform grants users complete flexibility to manage the server easily with the GUI interface.
An instance of this is the server load time. In the past, users had to load the server through SSH, and the whole setup took around one hour. Then, they had to install their desired application on the server. The application installation process also took around an hour or so. Therefore, the server installation and setup time were around three hours in total. Cloudways reduces that time to less than 10 minutes.
24/7 Expert Support
Cloudways users can get technical support for their servers and applications 24x7x365. Cloudways allows its users one free migration. Hence, those who want to migrate to Cloudways can easily launch their server with a few clicks. The support team takes care of the whole migration process, and the users only get the final application after it is rerouted to the new server. They don't have to do anything except sitting back and having a cup of coffee.
Cloudways expert support team sometimes goes the extra mile to solve app-level issues so that the users can easily work on their business without getting any interruption in workflow.
Managed Servers
The best thing about Cloudways is that it manages all your servers including updates, security, debugging, and backups. This gives you ample time to work on your website―and that too―at a negligible cost. Cloudways is all about helping users achieve their dreams.
What Speeds Can You Expect on Cloudways?
Cloudways offers an unmatched speed of 1.3 seconds for Magento-based applications. Users interested in launching their apps on Cloudways also get the option to enable 'Varnish' to boost the store's speed further.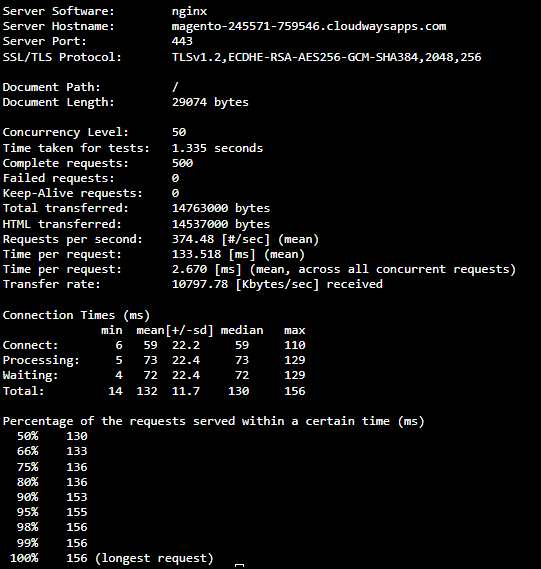 In the image above, a single request took less than 2.7ms for all concurrent users. And the total time to load the Magento server was 1.3 seconds.
However, you can optimize the cloud server further on Cloudways through many Magento optimization tips available.
HostAdvice has given Cloudways a rating of 9.3. Its users have rated the managed hosting service higher because of the support it offers, its scalability and ease-of-use.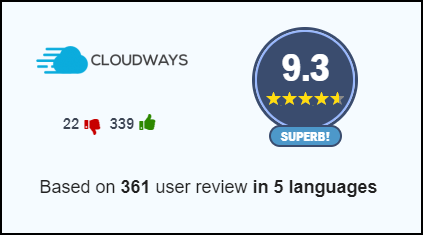 Bottom Line
Whether you are launching your eCommerce store for the first time, or are a seasoned entrepreneur, you will need a hosting that facilitates you in taking your store to the next level with ease. Cloudways does that for you!
Get Cloudways Magento Managed Hosting today and start your free 3-day trial now.