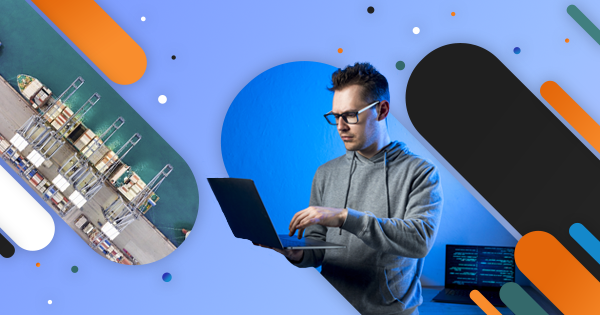 Reading Time:
5
minutes
Whether you already use MageWorx Shipping Suite Ultimate for Magento 2, or unsure about adding extra shipping options to your eCommerce store, shipping optimization is a must for online business success.
As a creator of the Shipping Suite Ultimate, I've done my best to analyze the most frequent extension-related questions and put together valuable pieces of advice that will help you maximize the effectiveness of our all-in-one solution.
1. Check default settings for the shipping method
Normally, each and every shipping method initially has a basic set of restrictions. Setting the minimum order amount or specifying countries are one of them. In order to check detailed configurations for the selected shipping method, and learn what possibilities you've got to set such restrictions, go to:


Sometimes, no 3rd party Magento 2 shipping extension would be required if all you need to do is limit access to a specific shipping method, and it itself offers such settings.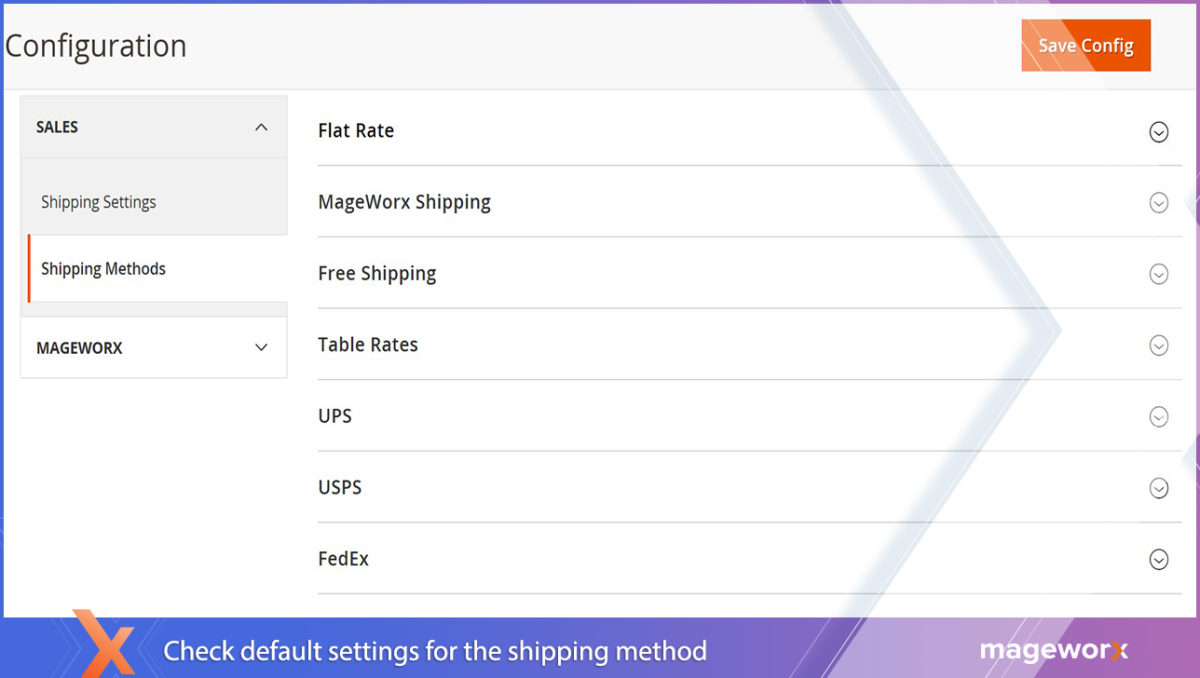 2. Create 'Location Groups'
It's often possible to simplify even the most complicated conditions configuration. For example, if you use the same set of conditions more than once (such as a specific postcodes range), then Location Group creation would certainly pitch in the Shipping Suite Ultimate optimization.
In my example, this will facilitate the process of filling in the rules conditions as you won't have to do all the job manually. Even if you decide to add another postcode later on, you'll save time as there will be no need to enter it for each and every rule. All you'll need would be adding that postcode to the corresponding Location Group just once. Such a change will affect all the relevant rules.
In order to configure Location Groups, go to: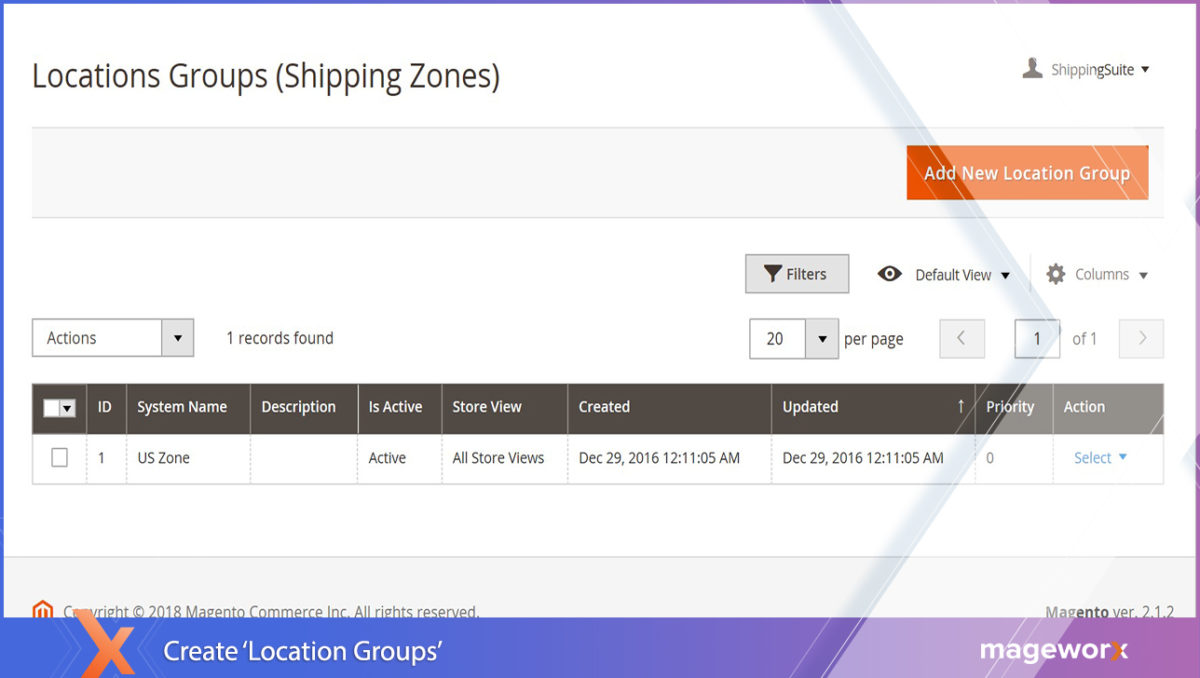 3. Don't use default shipping methods as a prototype
Magento by default has a sufficient number of shipping methods with their own peculiarities. According to my previous experience, our clients tend to use the default methods as a prototype and override them with the help of shipping rules (Magento 2) to achieve the desired results.
In such a case, it'll be more effective to use our extension and create a new carrier and method on a once-only basis. This can be easily done right from the Admin Panel (no coding is required!) and use rules or rates to distinguish the rules for it. Thus, the made changes will be applied to a certain shipping method. This will enable you to use default Magento 2 shipping methods in addition to the newly created one.
In order to create a new carrier & method, go to:


or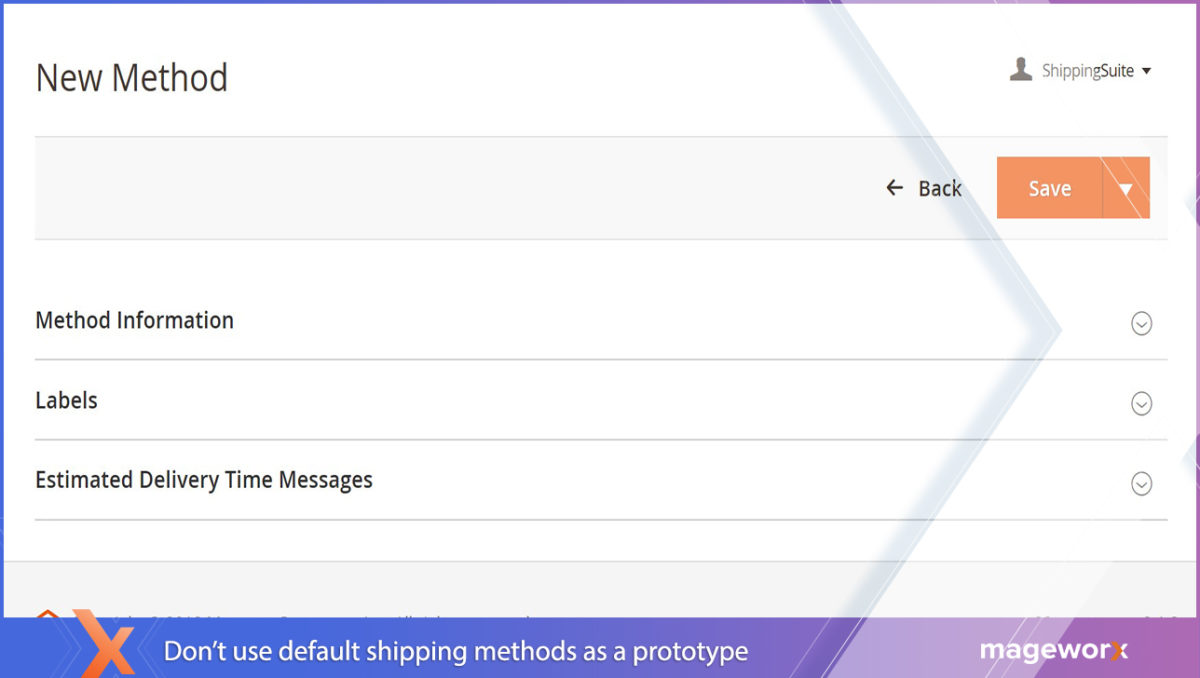 4. Complex rules are not a panacea
Believe it or not, you don't always need rules when setting shipping methods. As practice shows, the users tend to set simple restrictions for a Magento 2 custom shipping method (that was created using our Shipping Suite Ultimate) by applying complex rules that are stored separately.
It'd be much easier to modify the cost and accessibility of such a method with the help of rates by using the 'Hide shipping method if there was no valid rate' setting. However, this won't work well if a rule includes specific products. For example, if the quantity of product 'X' in the cart equals or is higher than 'Y'.
To reach the functionality, jump to:


5. Create rules based on opposition
Sometimes, you might need to make the configurations that come into action when the basic rule doesn't apply. What is the best way to do that? Genius is simplicity.
Just invert the rule. Set the same conditions but select the opposite value. For example, "if the quantity of product 'X' in the cart is less than 'Y' condition would be the opposite of 'if the quantity of product 'X' in the cart equals or is higher than 'Y''. By doing so, you get to disable the shipping rate if the main condition is not met or display an 'error' message.
The configurations are within the 'Rules & Restrictions' tab:


6. Enable the error message for a default shipping method
This is one of the most common settings that frequently slips the users' attention. The error message doesn't get displayed for a default Magento shipping method.
In order to display it, you should enable it for that very shipping method in the settings. Be aware that if the message is disabled, the system won't display it even if you've set in the rules that such an error message must be displayed.
In order to do that, just go to: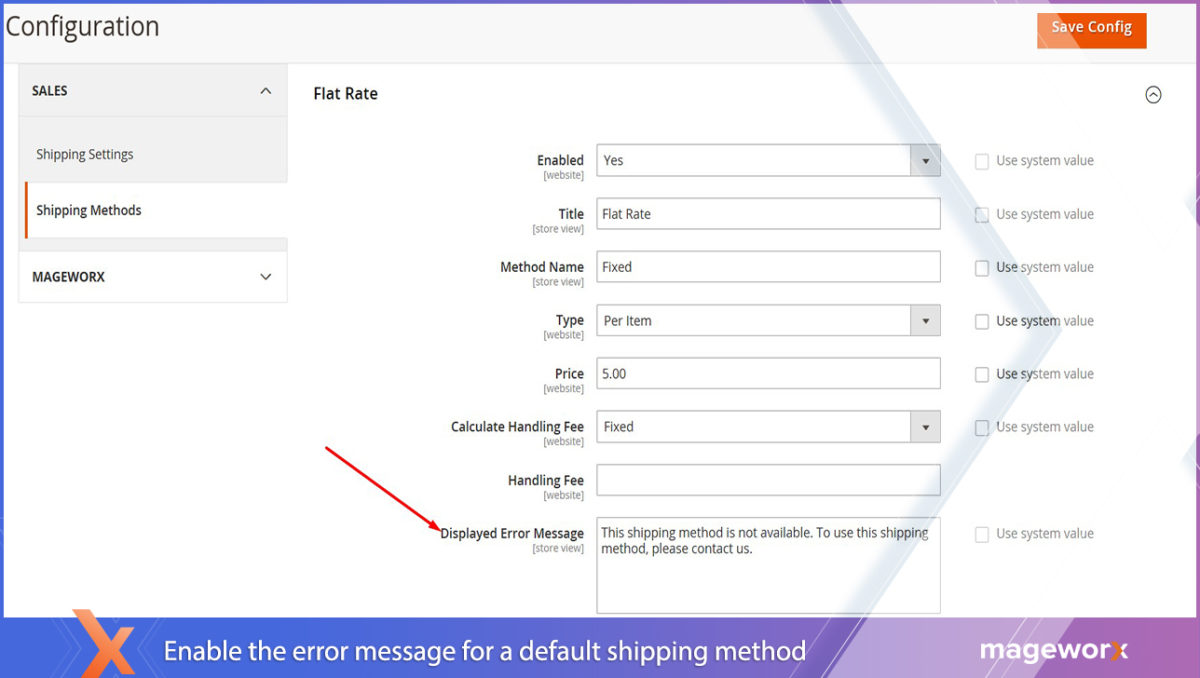 7. Keep your customers informed
Notify the customers with custom error messages when something goes wrong. Correct shipping configuration can sometimes be time- and resource consuming. Now, imagine your customers guessing why their fridge can't be sent by post with cash on delivery. You'll significantly help the customers avoid confusion by displaying correct error messages after disabling certain shipping methods.
In order to do that, just go to:

The exception would be the case when you've got a great many Magento 2 shipping methods. Displaying such notifications could become too overwhelming for the customer who is one click away from completing a purchase. Postponing such a click would certainly mean less cash in your pocket.
8. Add regions to your countries
The shoppers often hesitate how to enter a region's name in the text field correctly. The more thinking, the less buying.
Make sure to free your site from such hesitations once and forever. Add missing regions to the required country. No worries, the data is stored in a separate table, and even if you uninstall the Shipping Suite Ultimate extension, no settings on your site will be affected.
In order to do that, just go to:


9. Offer the customers to set their country/region from the first page
Do you have any concerns about your website visitor seeing either incorrect product price or wrong info that is based on the shipping address?
You can get rid of such doubts by offering the customers to conveniently select their country and region right after they arrive at your site. Our Magento 2 shipping Suite Ultimate module allows setting a Location Pop-up, where all the countries are listed with images thus making the choice intuitive. When enabled, this little yet helpful button will be displayed in the right corner of your site and let the visitors specify all the necessary data in advance.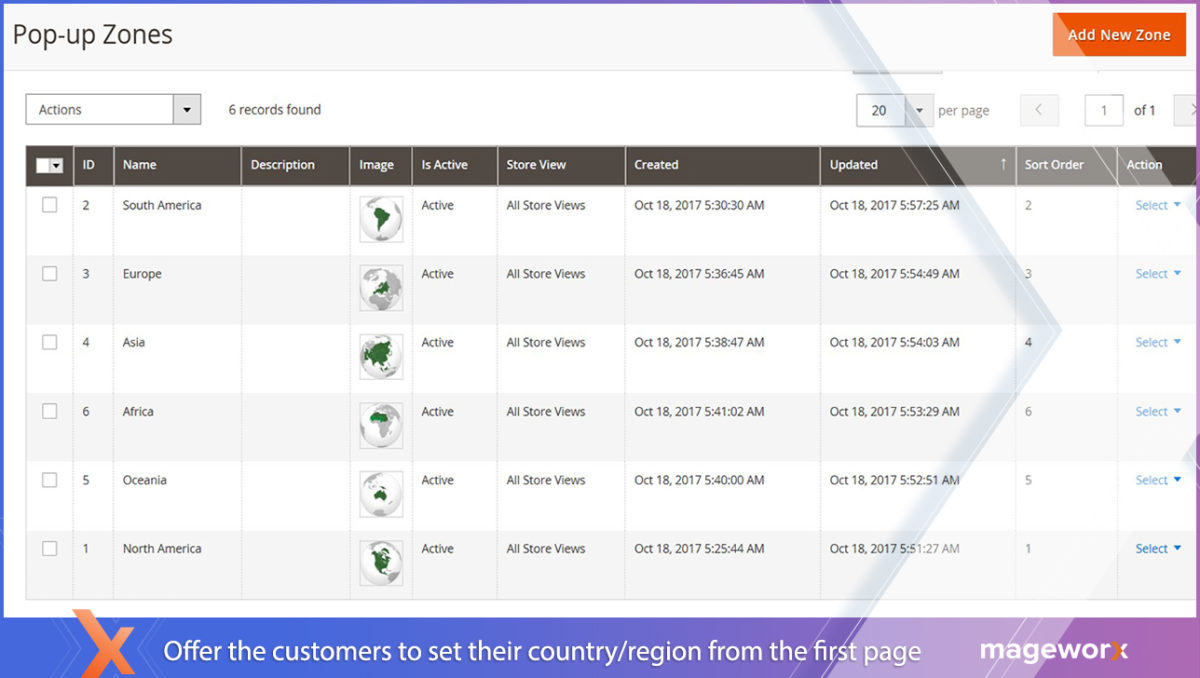 Now, you get to display grouped zones with countries and regions. However, we are planning to expand the functionality in the near future and would certainly appreciate your suggestions regarding the future. 🙂
10. Forward us your suggestions
Don't hesitate to contact us at [email protected] in case you've got any concerns or feature suggestions. We strive to ensure a streamlined support experience!
Even if the extension works just fine for you but you find something inconvenient, don't hesitate to tell us about it! I am sure thousands of other users would appreciate if you ask to fix the position of certain buttons or get rid of a too pushy pop-up, for instance. All the suggestions will be given a close attention to and added to the list for the most recent enhancements. These are you who make us build a top-quality product!
The image is clickable:

Bottom Line
Sometimes effective extension configuration is a few steps away. Click here for more details about the Shipping Suite Ultimate for Magento 2, and choose for yourself.
***
Should you have any questions or suggestions, don't hesitate to leave a comment below. Article sharing would be much appreciated!