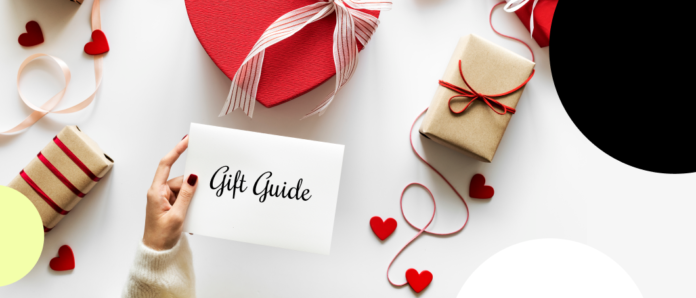 Reading Time:
5
minutes
Valentine's Day gift shopping is in full swing. Customers who are going to celebrate the holiday are searching for perfect gifts for their beloved, family, friends, pets, and themselves. We've stopped by Mageworx merchants to find out what Valentine's Day gift guides they have prepared this season.

In the article, we've gathered 20 inspirational Valentine's Day gift ideas. Be enjoyed!

Valentine's Day Gifts for Yourself
11% of Valentine's Day gift buyers purchase something for themselves. This year they are going to spend $1.85 billion. Some merchants have considered this fact and decided to offer something special for customers.
Statement Pieces
The retailer suggests the female customers to 'take the romance up a notch this season with the range of Valentine's Day clothes'. Moreover, Statement Pieces promises that anyone who buys one of these dresses can become a real heartbreaker and 'give the look of love'. So, if any woman wants to surprise her beloved one, find love, or just break someone's heart, these appealing and eye-catchy dresses are the perfect gift she can make for herself.
Lisa Lehmann Designs
Lisa Lehmann is confident that 'by loving yourself you are able to love others as they need to be loved'. The merchant encourages customers to love themselves to be loved. Who will refuse it? Hardly any customer will be able to pass by such touching words without making a purchase. A wide range of Valentine's Day gifts with 'YOU are loved' signs can be found in the store.
Gifts for Pets
Pet shops also should be prepared for Valentine's Day as 20% of customers are going to buy gifts for their furry friends.
Hypnotic Dog
The merchant has created a special 'Valentine's Glam Collection', where every dog owner can find specially created holiday collars to make gifts for their favorite pets. Thanks to the creative idea, the store customers will also be able to participate in the Valentine's Day gift exchange with their pets.

Emma Smith
With 'Puppy Love Valentine's Day' party decor pack from Emma Smith, real pet lovers will be happy to create a festive atmosphere and show all their love for their little friends on this day.
Valentine's Day Gifts for Couples
According to the data of the National Retail Federation, 90% of Valentine's Day gifts are made for significant others (spouses, boyfriend/girlfriend). Thus, couples are still the main gift seekers on this holiday. Any store should have something to offer them as Valentine's gifts.
Truly Grateful
Truly Grateful has prepared for Valentine's Day properly. The vendor suggests buyers a Valentine's Day Gift category with a wide range of featured couple shirts and shining jewelry. With some kinds of goods, customers get to personalize their gifts with their own signs. For instance, they can order a chain decorated with the heart and the name of their beloved one. It's the perfect gift for someone you love, isn't it?
Abbott Lyon
The Mageworx merchant, Abbott Lyon, provides its customers with an awesome Valentine's Day gift guide where shoppers can 'find the perfect gift and spoil the one they love'. The tempting 'Valentine's 2 for 1' offer makes this guide even more attractive for all gift seekers.
Unique Gifts
Even not being Valentine's Day-oriented store and not having a chance to create a vast gift guide, any vendor still has a chance to offer something unique to its followers by customizing goods to this holiday.
Ashes with Art
Jewelry is bought by 19% of Valentine's Day customers. Even though Ashes with Art doesn't have a whole range of the holiday-themed products, the merchant is still offering the only but unique one. It's the heart pendant that comes with complimentary engraving and a selection of different colored gemstones and all precious metals. Shoppers can choose according to their preferences and tastes. Being displayed on the home page, this gift can't go unnoticed.
Gun Goddess
Flowers are not only for women. When having browsed our Mageworx retailers' stores, we came across such an outstanding bullet bouquet that can become a wonderful Valentine's Day gift for him that lasts forever.
Wish & Well Co.
Any gift is more surprising and exciting when it's perfectly gift wrapped. Wish & Well Co. offers Valentine's Day gift boxes with an option to choose a personal design. Such boxes will be a wonderful addition to any Valentine's gifts, as well as become standalone gifts that will definitely help gift-givers show their love.
Pottery Awesomeness
One more creative Valentine's Day gift idea is suggested by Pottery Awesomeness. Especially for this holiday, the retailer has prepared Valentine's Customized Pottery Painting Kit that can be gifted not only to beloved ones, but also to friends, children, and parents. One more attractive thing about this kit is that it is wrapped in a box and doesn't need any other packaging. Thus, it can be appreciated by last-minute gift seekers especially, as it helps them save time and get already wrapped gifts in one place.
Smartish
Customized Valentine's Day mobile cases for heartbreakers and lovemakers are suggested by Smartish. Depending on the status of their relationship, shoppers will decide on which one to choose. The merchant entices buyers to purchase some by making this offer limited in time and quantity.
Valentine's Day Gifts with Goodies
What can encourage customers to make purchases better than free offers? For instance, when shoppers have a chance to qualify for free shipping, 93% of them are likely to add more products to their shopping carts.
Brandini Toffee
To make Valentine's Day special for its consumers, Brandini Toffee offers to buy beautifully wrapped toffees with a free shipping option till February 14. For gift seekers, it's a great opportunity to buy presents without any need to worry about gift wrapping and delivery.
Ultra Essence Skin Care
The merchant improves Valentine's Day buyers' shopping experience by good gift ideas at discounted prices with a free plush Valentine's bear. All these bonuses make these gifts set even more attractive for customers. Moreover, these bundles can be split between several recipients.
Gifts for Everyone
The NRF survey has shown that the most preferable Valentine's Day gifts are candies (55%), greeting cards (46%), flowers (36%), an evening out (35%), jewelry (19%), clothing (17%), and gift cards (15%). It's a great chance for any store to participate in Valentine's Day shopping rush.
Southern Made Monograms
Southern Made Monograms has carefully gathered all the appropriate gifts in Valentine's Day category to save time and effort of gist seekers. Here, buyers can choose various T-shirts with a love-themed design for themselves and all they love and care about.
Words That Talk Ltd.
Being specialized in wooden signs and decorative quotes, Words That Talk Ltd. has created Valentine's collection of heart-shaped ones with holiday-themed quotes. The retailer provides buyers with an option to choose the colors of lettering and wood. Thus, shoppers can make a perfect personalized Valentine's gift by themselves.

Glim Press
Valentine's Day greeting cards take second place among the most preferred holiday gifts. Thus, Glim Press has presented for its followers Free Valentine printables. Any customer can select the most attractive design and download it or have it printed by the vendor. Moreover, Glim press will add new designs weekly until February 14, so anyone can find something to their taste.
Amish Baskets
'Gifts to Share Your Heart' are suggested in the Amish Baskets store. These hand-crafted items are aimed to show care and can be a special memory that will last a lifetime. Combined with free shipping and an opportunity to save an additional $10 these Valentine's gifts are more tempting.
CakeArtelier
The sweet smell of love is in the air. CakeArtelier offers to strengthen it with heart-shaped jelly cakes. The retailer has prepared a wide range of beautifully designed Valentine's Day cakes that are able to melt anybody's heart. Gift givers can present such a cake not only to the beloved ones but also to family and friends.
Water Butlers
Water Butlers has also got ready for Valentine's Day and prepared a special holiday collection but in limited quantity. Thus, if shoppers want to be late to purchase something for their loved ones, they have to hurry.
Roger's Garden
Did you know that 79% of Valentine's Day sales are represented by cut flowers and 73% of them are red? Roger's Garden knows it for sure. That's why the merchant offers its customers a range of primarily red Valentine's florals that will help express their gift-givers' love for recipients.

Conclusion
As you can see, Mageworx merchants have prepared responsibly for Valentine's Day, their holiday guides and gift ideas are rather resourceful. We hope that most of the offered ideas can be useful in your Shopify store.

What Valentine's gift ideas do you like the most? Be the first to share your opinion with us.