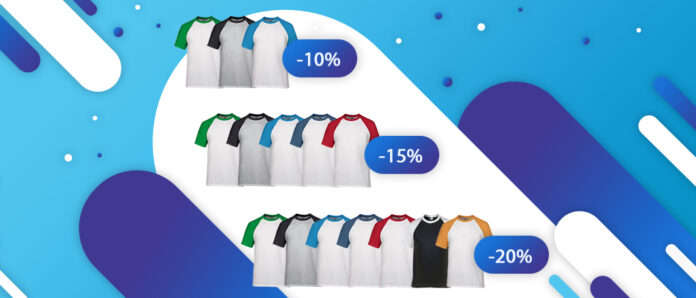 Reading Time:
4
minutes
Tiered pricing, often referred to as volume or quantity discounts/breaks can be seen in a multitude of markets. No wonder! According to Convinceandconvert, consumers often opt for getting more instead of paying less. This makes this pricing strategy a great means to increase the average order value for online retailers.
In this article, we'll consider tiered pricing and its importance for eCommerce merchants. Let's have an insight!
What Does Tiered Pricing Mean?
You can apply tiered pricing & volume discounts when you provide your clients with individual options for purchasing your service or product. It works so that the price per unit decreases once the quantity within certain tiers increases.

How Does Tiered Pricing Work?
For better understanding, let's take an example and assume you have a clothing store. You want to increase sales of socks. With Shopify tiered pricing, each separate item within the first 1-10 goods would cost, for example, $5. The next 11-21 items — $3.50 each, and the next 22-32 units would cost $2 each. The final price would be $2.50 for each separate item. As you can see, the price of a single item would decrease from $5 to $2.50. These numbers are just an example and should be carefully thought out before implementation.

Thus, while the customer gets motivated to purchase a greater number of products at a lower price for a single item, the merchant gets to increase average order value. Isn't it a win-win?

Tiered & volume discounts are a great method of sales. The buyers receive the maximum return for their money. The strategy also permits you to create options such as product grouping by service, quality, and quantity.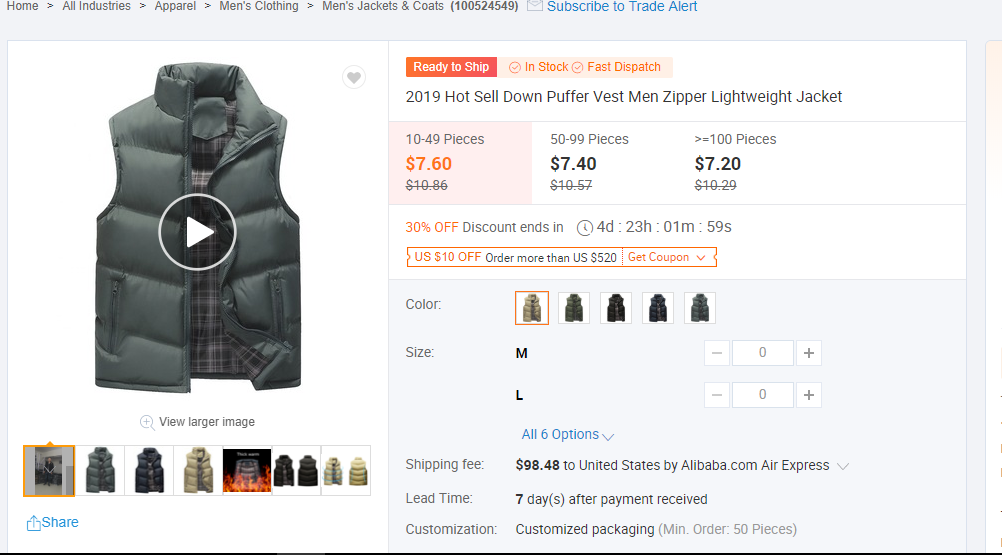 As you can see, the functionality is simple yet extremely effective. However, on most eCommerce CMS, including Shopify, it can not be achieved by default. Luckily, the Shopify app store offers a good selection of apps to choose from. So, its introduction and implementation should not be a problem.
Psychology Behind Quantity Discounts: Volume Curves & How to Optimize Them
Volume curves form the basis of discounting for a lot of companies. So, if a client buys more volume, we can additionally discount goods or services and stimulate the purchase of more units. You can see an example below:


There are about two factors, which you should consider when creating volume curves.

Factor #1

You have to estimate volume curves periodically to make sure that the goal is achieved:

The world changes and you have to be ready for any scenario. Let's look at two simplified examples where you should periodically edit the volume curves.
Example 1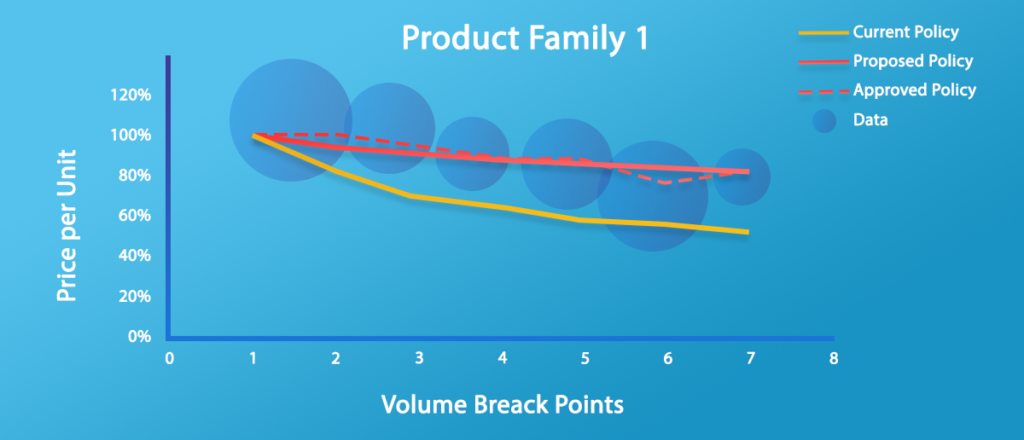 The current policy is active and volume discounts are expected to be given much quicker, but approved policy based on the transaction data suggests that the volume discounts should be decreased from the current policy. By performing statistical analysis, we can advise the right slope at which the proposed policy curve should reside.

b) Example 2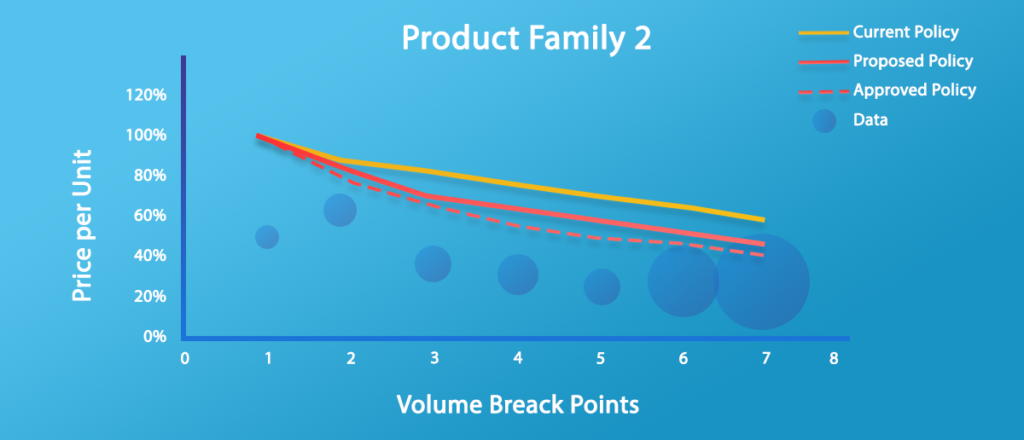 In this way, the current policy is expected to provide volume discounts at a certain standard rate but the approved policy based on the transaction data offers to increase volume discounts from the current policy to meet the competitive market terms. By providing statistical analysis, we can recommend the right slope at which the proposed policy curve should reside. So there is an empty room to apply the negotiated discount for each deal.

Factor #2

People distinguish the volume curve and negotiated a discount.

Volume curves have a unique role in pricing and should be ruled separately for clarity and sequence. For companies considering a smart pricing project, this delimitation is important as the policy-based volume discount can be separated from a negotiated one. After the true negotiated discount is calculated, the smart price guidance will provide the right target price guidance.
What are the Benefits of the Tiered Model?
Let's overview a few examples of tiered pricing pros and cons:
Pro's

Tiered & volume discounts are easy to apply. You can add several discounts for some products, depending on the number of purchases.

Ability to raise store profitability
You can get more income by allowing buyers to have more profit from shopping in bulk.

Selling to wholesalers / larger traders
You are able to create flexible pricing schemes for big customers.

Diverse steps of your business
With this model, you have diverse price steps for your product, and it will be more attractive to a client wanting to buy a large number of goods.
Con's

If you use too many tiers, clients may get confused. You have to concentrate on a simple choice.

You need to pay attention to those users who consume a lot of your resources.
If you are not structured enough, you might need to set limits to features.
What Businesses are Suitable for Tiered Pricing?
The wholesale business has always been a complex eCommerce theme. As the number of traders grows, so are the demands. With discounted products by a fixed amount, the world of wholesale started to progress. Tiered Pricing & volume discounts model fits both a small store with daily needs and large trading companies.
How to Earn More with Tiered Pricing?

With tiered pricing in your business strategy, you can make more money. We'll consider several ways of how you can do this.

1. Use dynamic pricing

Dynamic pricing is a smart way to clear interest and learn what price the participants are willing to pay. For example, you can set the first price, after the products are sold out, you may set another price and so on.

Tracking helps us understand which of our points should go for presale, how many goods there and what will be our prices.

2. Stimulate big sponsors with VIP- proposals

VIP packages drive sales. Visitors want to pay more for additional privileges and better service.

By offering a more luxurious experience for visitors, you attract a loyal audience and do it at a higher price.

3. Charge more for your goods on the spot

This position makes you believe that you can sell more products onsite at a higher price. If a higher price is scary, people will be more motivated to buy in advance.
When you get your fees in tiers higher over time, always show the full price next to the current price.

Wrap Up

As we can see, tiered pricing & volume discounts is a popular pricing model in eCommerce. Using this model, you can make your store more profitable. Tiered pricing is the easiest way to promote your shop and make money.