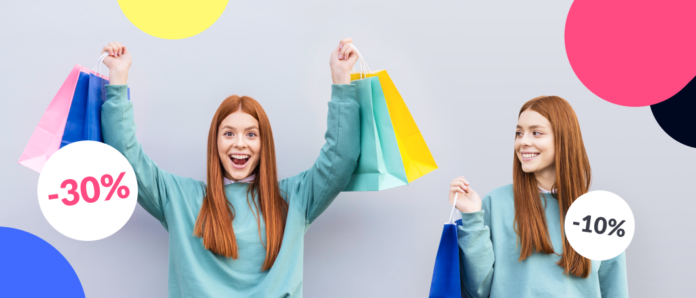 Reading Time:
4
minutes
In 2005, Allstate launched Your Choice Auto program, which allowed customers to choose from several plans added to the standard offerings and tailor their services. As a result, having got a massive response, by 2008, the company had sold nearly four million Your Choice policies. Moreover, according to the notes of the Harvard Business Review, in 2017, 33% of buyers still selected the Value and Gold or Platinum plans. Such considerable incremental growth was possible due to the successful implementation of the tiered pricing model.

If you are interested in increasing sales as Allstate has done, read on to learn more about this model, how it works, and all the benefits your business can gain.
What Is Tiered Discounts Model?
Tiered discount is a model in which products or services are sold within a particular price range. By reaching certain tiers, buyers get a different price. The more items shoppers purchase, the greater the discount they get. By offering customers multiple pricing levels, you give them a choice to pay for products they can afford.

For example, a retailer sells T-Shirts. The price is $25 per unit for the first 5 ones. If shoppers buy 5 items, they enter the next tier, which offers 6-10 T-shirts at $20 each. After 10 items, there is the third tier, where the price is $15 per unit. So, if customers purchase 12 items, the price will be (5x$25)+(5x$20)+(2x$15)=$255.

Thus, the tiered pricing model is aimed to stimulate consumers to buy more products otherwise more premium services or features of goods. In the case of Allstate, they didn't sell more insurance but more insurance coverage with the higher-tier plans.

Thanks to this strategy, you can bundle features of your products or services into packages and sell them at a different price. So, if buyers want specific features, they will have to choose a certain package.

The main goal of the tiered discounts model is to maximize the lifetime value of buyers. You should provide them with different appealing pricing tiers that will allow every customer to choose the most suitable one and appropriate to their interests and needs.
Benefits of Tiered Discount
Tiered pricing model helps attract a greater number of buyers by giving them a chance to pick products according to their opportunities. This allows keeping consumers coming back and converting them into regulars. Moreover, it gives you a chance to know what the state of your business is and how to make it better in the future.
Do you know how a tiered discount can increase your eCommerce sales? By promising to reduce costs for goods bought from higher tiers, this pricing strategy encourages customers to buy a larger quantity of products. Thus, it's a perfect opportunity to increase sales and your average order value. With offered options and add-ons, you are able to increase your bottom line.
You get a chance to beat your competition in a competitive market. When selling the same products as other retailers, you need to offer something that can differentiate you from others.
By selling goods in bulk it allows you to reduce per-unit costs, such as shipping and packaging, as well as lower inventory costs. It can be useful when products risk going out of date or become obsolete due to a technological breakthrough.
How Does Tiered Pricing Work?
Now, when we know what tired pricing is and how it can help your business, it's time to think about the way it works. There are several steps you should follow to use this strategy in your online business properly.

First of all, you should understand tiered pricing when adding them to your products or services. You should be able to see what tiers your buyers respond to. For example, if they don't purchase top-tiers, it means they are too expensive or out of value for your consumers. If shoppers don't pay attention to low-tiered packages, their price must be too high for them. Low-priced kits are a good opportunity to give your customers a chance to test your products in order to upgrade to high-priced ones, which will give them the greatest value.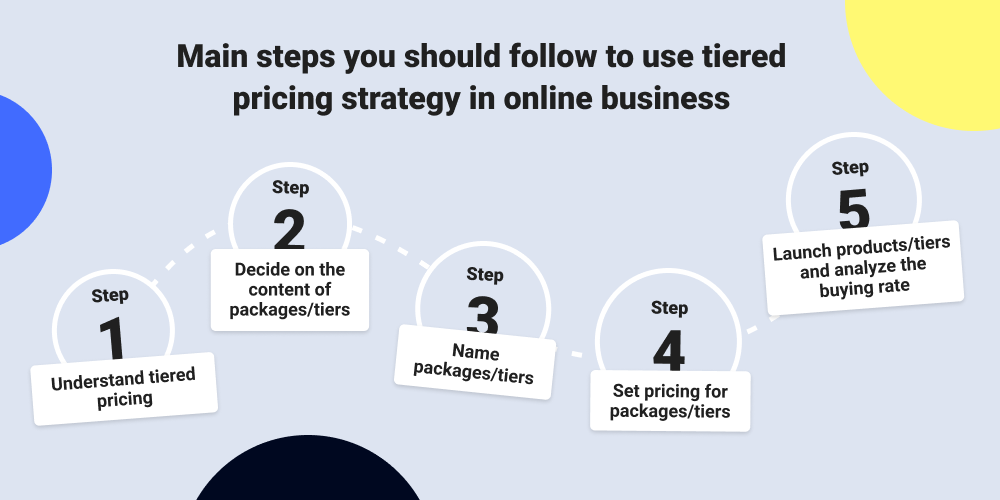 The second step is to decide on the content of packages. It's necessary to create top-tier, mid-tier, and base packages. The basic tier will suggest your buyers to start using products with essential features at a reasonable price. The mid package is a combination of basic tier with advanced features, which saves customers' money and increases your revenue as well. The top-tier is for those who know exactly what benefits they can gain buying this package of products. This tier brings you the highest return for every item sold as it is priced more than other tiers.

Then, you can follow the third step, which is to name all the packages. It's an essential moment as your customers should see the value of them. In different businesses, these can be the bronze, silver and gold tiers, otherwise the basic, standard or premium package, etc.

For example, Shopify has implemented tiered discounts by offering three kinds of plans distinguished by their features.

The fourth step includes pricing. It can take a long time before you select the perfect prices for each package.

And the final step is to launch your products or services and to analyze the buying rate in order to adjust your pricing if it's necessary.

One more important thing is to choose the main criterion according to which you are going to tier your products as there dozens of variants to select from, such as quantity, quality, personalization, and so on.
Tiered Discount Plugins on Shopify
Having your store on Shopify, you must be interested in the implementation of the tiered pricing model in your online business. You have an opportunity to benefit from one of the tired discount plugins that are available on the Shopify app store. One of them is the Volume and Tiered Discounts Kit by Mageworx. With its help, you can easily create tier prices for all your goods or just for separate ones, set specified conditions that should be met to apply tiered discounts. Consumers will get information about discounts with special tables.
Final Thoughts
To sum it up, the tiered pricing model is an effective strategy that allows selling products in large quantities or services to customers with different needs and demands.
Your buyers get products of high value, and as the icing on the cake, your profits and sales are growing.

---
Have you already implemented a tiered discounts model in your store? If so, share your experience with us.