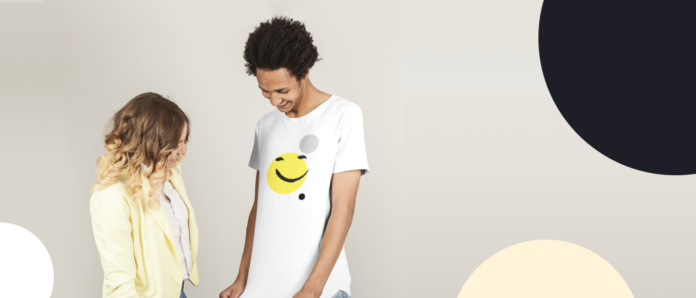 Reading Time:
5
minutes
Ecommerce competition is rather high and growing day after day. It's not an easy task to motivate customers to buy from your e-store. What can help make shoppers more loyal to your brand? It is personalization. For 51% of merchants, personalization has become the main priority. Such giants as Coca-Cola, Netflix, Sephora, Fabletics, USAA, and Wells Fargo are among 89% of digital businesses investing in personalization.

Just a few years ago, there were only some products that could be personalized, such as gifts, marketing merchandise, or showcase items. Now, the number of goods with names, logos, or something else printed on them has increased significantly.

What's the reason behind the popularity of personalization? Why offer personalized printouts in your store? How to do it on Shopify? Read on to get the answers.
Personalization in Common and Personalized Printouts in Particular
Product personalization means providing customers with customized services and products according to their needs and desires. There are different ways to personalize products. Printouts have been in demand the most lately.
Nowadays, there is the whole eCommerce model called 'print-on-demand' that gives you a chance to sell personalized products that are printed after an order has been placed.

Even though T-shirts are the most preferable products to be personalized with prints, the market has expanded into other apparel as well as cutlery, mobile cases, etc. Now, any item ranging from a pen to a sports car can be customized with prints.

For online stores, it's possible to offer buyers an option to customize goods themselves. Thus, shoppers are able to choose from suggested prints or create their own designs. As for customers, they prefer simple and elegant images to be printed with minimalistic and trendy designs.

According to the Bain survey, customers that have bought personalized products, visited these online stores 67% more often and spent 15% more there. Moreover, such consumers purchased 22% more often, and their average price per order was 28% higher. Considering this data, when offering personalized printouts, you should fulfill your order quickly and offer personalized printouts on high-quality goods. Also, it's crucial to collaborate with your customers and collect their feedback about the personalized items you offer.
Reasons for Personalized Printouts Being so Popular
The results of a 2017 Deloitte research on spending habits among millennials showed that more than 70% of these buyers paid for personalized fashion products more willingly. There are certain reasons why personalization is so popular. They are as follows:
As the overall affordability of customers has increased, they can get products corresponding to their needs and wishes. Furthermore, buyers are able to design goods and put any design of their liking.
For instance, Nike offers its customers to customize their shoes and make 'Nike by You'. Thus, buyers are provided with a whole range of personalized options, among which they can select what text or logo will be printed on their shoes. Consumers of Nike have accepted such an opportunity with much enthusiasm.
A sense of ownership is a strong one. Personalized products have an opportunity to say clearly that 'this or that item belongs to someone'. For example, products can be customized with photos of its owner or with a certain text.
Personalization doesn't require any difficult actions. Thus, the order process still stays effortless.
One more reason is an opportunity for customers not to be like others by purchasing something unique and exclusive with their personal print.
According to the Deloitte report, for 50% of shoppers, personalized products are the best gift idea for special occasions like graduations, weddings, birthdays, and others. For instance, a T-shirt with a funny text and image can become a nice gift for a friend or any member of the family.
Why Offer Personalized Printouts on Shopify
Do you know that by 2021 the global market for custom gifts is expected to achieve $31.63 billion? If it is so, you should already start thinking about offering personalized printouts in your online store. Furthermore, 80% of shoppers more willingly make purchases from brands providing a personalized experience.

According to the survey conducted by Evergage, due to personalization, there was increased visitor engagement (55%), improved customer experience (55%), improved brand perception (39%), increased conversion rates (51%) and increased lead generation and customer acquisition (46%).

One more significant reason for eCommerce merchants to make personalized printouts a priority in online stores is that 59% of buyers are more likely to purchase personalized products online as it is much easier and more affordable. Moreover, 53% of shoppers are convinced that online stores with product personalization offer better services.
Benefits of Personalization for Merchants
As you can see, personalized printouts are something more than just a trend. They really do well in eCommerce. Providing customers with personalization can lead to a great number of benefits for your e-store.
Get in Touch with Customers
Selling personalized products can help you interact with your consumers. It's a chance for you to find out their interests and preferences. When getting all this information, it could become a great source of inspiration on what more creative ideas can be offered in your store. Thus, it will allow you to expand your catalog.

In case you give your buyers an opportunity to create personalized products by themselves (using their personal images, photos, and text), you can benefit from their shareability on social media because people always tend to show off their creativity. It can become a part of your marketing campaign that will advertise your brand. Otherwise, you can suggest your shoppers share their creative ideas with certain hashtags as a part of a contest.
Generate More Sales
One in five consumers is more likely to pay 20% more for a personalized or even exclusive item. 48% of buyers are ready to wait longer for a customized product (Deloitte).
With the growth of customers' satisfaction, the number of sales in your store will be growing. It's not only thanks to these repeat satisfied buyers but also because they will recommend your brand to others.
Increase Revenues
Before, you had to make use of a third-party manufacturer to create personalized products. With the development of technologies, you can do it by yourself, just customizing every single product of each incoming order with the use of different kinds of printers. Moreover, customers are ready to pay more for something worth it. So, thanks to personalization, you'll be able to increase revenues by 5–15%.
Stand out from Competitors
According to some stats of Invesp, 45% of consumers prefer stores that provide personalized recommendations. Just imagine that there is a store with a wide range of T-shirts and your store with a few models but with an option to customize it with any print to customers' preferences. Which one will shoppers choose? So, if you can offer some unique and exclusive decisions for every single buyer that can't be found in other stores, it will make you stand out from the competitors and keep your consumers coming back.
Increase Customer Loyalty
If you want to increase customer loyalty, personalize the offerings following customers' tastes and desires. Brand loyalty among millennials increases by 28% on average in the case of personalized marketing communications.

When customers feel that their needs and interests are taken into account, they are more likely to make purchases from a brand again or even establish a long-lasting relationship. So, the surest way to gain customer loyalty is to make them satisfied.
How to Offer Personalized Printouts on Shopify
To get all the benefits of offering personalized printouts on Shopify, you don't need much effort. The Order & Product Fees plugin by Mageworx will allow you to offer your buyers multiple personalized options. Moreover, you can suggest personalized printouts to certain products, otherwise, to choose which customers they will be available to.
Conclusion
The advantages of offering product personalization in online stores are tremendous. Its efficiency and affordability make it even more attractive for merchants.
So, if you want to lead your brand to a new level, stand out from competitors and increase customer loyalty, personalized printouts are the surest way to make it real.