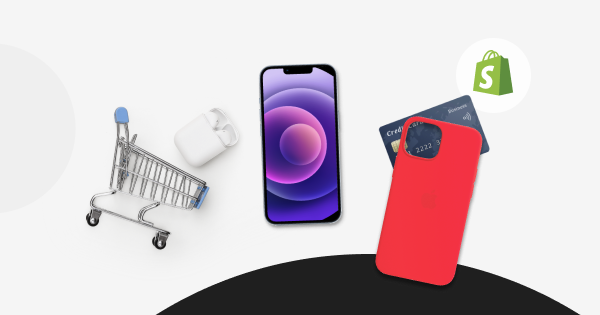 Reading Time:
5
minutes
Which of eCommerce merchants don't dream about increasing conversion rates and boosting sales revenue? The main question is how to achieve these goals in your online store. And the answer is simple – product recommendations. According to a study conducted by MyBuys, recommended products lead to an increase in eCommerce conversion rates by 915%, and the average order value across all devices goes up by 3% (Practical Ecommerce, 2018).

There is a wide range of different types of product recommendations. Your aim is to choose the most appropriate and profitable for your company.

In the article, let's take a look at the smartest types of product recommendations to offer in your Shopify store.
Be Inspired by Benefits
Some companies spend a lot of money on marketing and increasing sales without paying attention to such reliable tools as cross-selling and upselling. Thanks to the option of recommended products, you can achieve incredible results:

Boost in sales. Even if the price of the recommended products is lower than the one of the main item, the increase in revenue can be essential. As Gartner analysts predict, by 2020, smart personalization engines used to recognize customer intent will enable eCommerce businesses to increase their profit by up to 15%.
Additional products value. When you unobtrusively recommend products, buyers perceive them as useful and sometimes even necessary additions.
Increase of the average order value. Due to recommendations, your AOV can be increased by up to 70% (Remarkety).
Growth of customers' loyalty. As Steve Jobs once said, people don't know what they want until you show it to them. So, when you give useful recommendations to your customers, they will be loyal to you in turn. According to the Accenture report, personalized product recommendations increase the likelihood of a prospect purchasing from you by 75%.
Types of Product Recommendations
The main thing about product recommendations is the way you suggest them to your buyers. Customers should understand that you offer your help, and not just want to sell more. It's possible to do when you consider personalization for every single customer according to their previous shopping experience, place of living, or even the device they use.

Country-Specific Product Suggestions
Shoppers arrive at your online store from different locations. So, they can differ in languages, nationalities, currencies, and needs. That's why it's so important to make product recommendations according to customers' locations. As Google's research shows, 61% of smartphone owners prefer to buy from sites that customize information for their location. Country-specific product suggestions focus on customers from certain areas, and will hopefully help you increase your profits as a result.

For example, it makes sense to display products relevant to the local climate and culture. You are more likely to cross-sell a whole range of winter clothes and boots to buyers from Alaska than from Florida. Similarly, you won't offer winter tire casing for shoppers from southern countries. Meanwhile, a sports store chain might want to recommend products with the emblem of a local team from a certain region. You also can make special back to school offers in September in North America and Europe and in January for customers from Australia.

Columbia store is a great example of how product recommendations have been adapted to different countries:
Australia
United States

Recommendations within a Certain Period of Time
Thanks to this type of product recommendation, you'll be able to provide your customers with products that are available only within a certain period of time. The most perfect time to cross-sell/ upsell online shoppers is seasonal holidays or country-specific celebrations. At this period of time, buyers need your recommendations more than whenever.

Also, you can specify the offer validity period for such categories as 'products of the day', 'editor's choice', 'new arrivals', 'hot deals', and so on.

Sephora store offers a beautiful and attractive example of time-limited product recommendations. There, you can see 'just arrived' category, which will be valid only for a certain period of time estimated by the retailer.
One more example is Fredericks' 'the Season's Best-Sellers' that are also limited with a certain season and create a sense of urgency.
Items Based on the Total Amount in the Shopper's Cart
As stated by Kibocommerce, 92% of customers want to be targeted with product recommendations while they are on the shopping cart page. You can display the most relevant products as additional orders based on the total amount in the shopper's cart. It's an exceptional opportunity for upselling. So, in this case, you can display products relevant to the content of the shopping cart, providing your customers with offers they can't resist.

According to Pacific Crest SaaS Survey, for the average business, 70-95% of revenue comes from upsells. You should think properly about what to recommend to your customers.

The most inspiring example is Dollar Shave Club, which tends its buyers to spend more in an unobtrusive manner.
Offerings Solely on Specific Devices
84% of consumers between the ages of 18 and 29 are most likely to use a mobile device when shopping online (Salsify, 2017). Young online shoppers now overwhelmingly prefer to browse and make a purchase on mobile devices rather than desktop computers.
As the usage of mobile devices is growing at a rapid pace, it's essential to use a special type of product recommendations for various devices. You should represent your offers based on the screen resolution and other characteristics of a mobile device. Obviously, you can't recommend the same 10 items at a computer desktop as at a mobile screen at the same time.

As an example, let's see how Kyliecosmetics personalized product recommendations by the type of devices. For better customer shopping experience, the retailer offers a different amount of items at the same time on specific devices.

First-Time Visitors
Everything is clear with the regulars, i.e., you can create offerings following their browsing history, behavior, and shopping patterns. You improve the shopping experience of your buyers by showing the right content at the right time and place.

But what to do if you deal with first-time visitors? As you don't have enough information about them, aim to inform these prospects about your products and get them engaged. These recommendations for your e-shop can be as follows:

bestsellers,
new arrivals,
deals of the week,
items in trend, and so on.
This type of product recommendations will be displayed just to newcomers and also can be based on other customers' experience. According to SalesForce, 37% of buyers that clicked a recommendation during their first visit, are likely to shop there again.

Shopify Related Products Manager App
Unfortunately, by default product recommendations are not available in Shopify. You will need to go for a 3rd party solution to enjoy such power functionality. The Shopify Related Products Manager app by Mageworx is an advanced solution that can make product suggesting a breeze. With the functionality of the app, you can upsell and cross-sell your offerings in the right place at the right time, thus enhancing customers' shopping experience with relevant offerings that meet their needs. As a result, you'll see a boost in sales, an increase in conversion rate, revenue, and average order value.
Final Thoughts
To sum it up, in the modern eCommerce world, where there are no borders, you should create such a recommendation engine that will satisfy your customers. By creating relevant personalized product recommendations that save time and efforts of your customers, you'll boost sales and strike a success. Good luck!