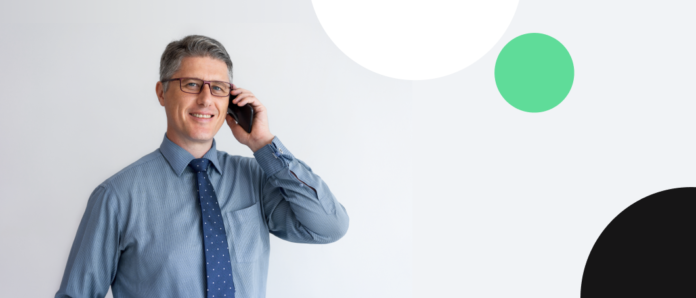 Reading Time:
5
minutes
The first thing every merchant should do to become more profitable is to differentiate buyers. Unfortunately, not all consumers increase sales and boost revenues. Customer segmentation can be seen when applying Vilfredo Pareto's theory known as the 80/20 rule to eCommerce, where 80% of your sales come from 20% of your customers. These are generally VIP buyers. If you want them to increase your profits and stay loyal to your brand, you should know how to identify and properly treat them. Read on to learn the answers to all these questions.
Importance of Customer Segmentation
After Lenovo, the computing giant, had decided to conduct customer segmentation based on product propensity and company priorities, the company gained a 40% growth in order conversions. Its average revenue per visitor increased by 25%. As you can see, customer segmentation helps merchants understand buyers better and personalize marketing for each segment.

Here are some of the main benefits that can be obtained thanks to Shopify customer segmentation:
Higher conversion rates. When consumers feel a special attitude to their needs and interests, buyers tend to be of great value to brands in return. Customers respond more positively to relevant personally-addressed marketing messages. 59% of buyers that are loyal to a brand refer it to others, 59% of customers join the brand's loyalty program, and 36% of them spend more (Yotpo).
Long-term profitability. It's a well-known fact that it's better and cheaper to retain existing customers than acquire new ones as repeat buyers have a 60% to 70% chance of converting (Marketing Metrics, Paul Farris). According to Monetate, 93% of businesses with advanced personalization strategies increased their revenue in 2018. By segmenting your buyers and knowing what products are purchased by every customer group, you'll be able to provide them with personalized offers and increase the lifetime value of each buyer and drive long-term profitability as a result.
Improve customer satisfaction and retention. Customer segmentation gives you a chance to make your buyers feel special. You get to understand the needs of every group, tailor products, and services to them and make relevant recommendations, implement more effective targeted marketing messages. By solving problems of every customer segment, in particular, you'll improve their satisfaction and increase retention and loyalty to your brand.
Help in acquiring high-value customers. When you differentiate your buyers, you discover high-value and low-value ones. Thus, you'll be able to focus on customers who buy more and bring higher profits to your store.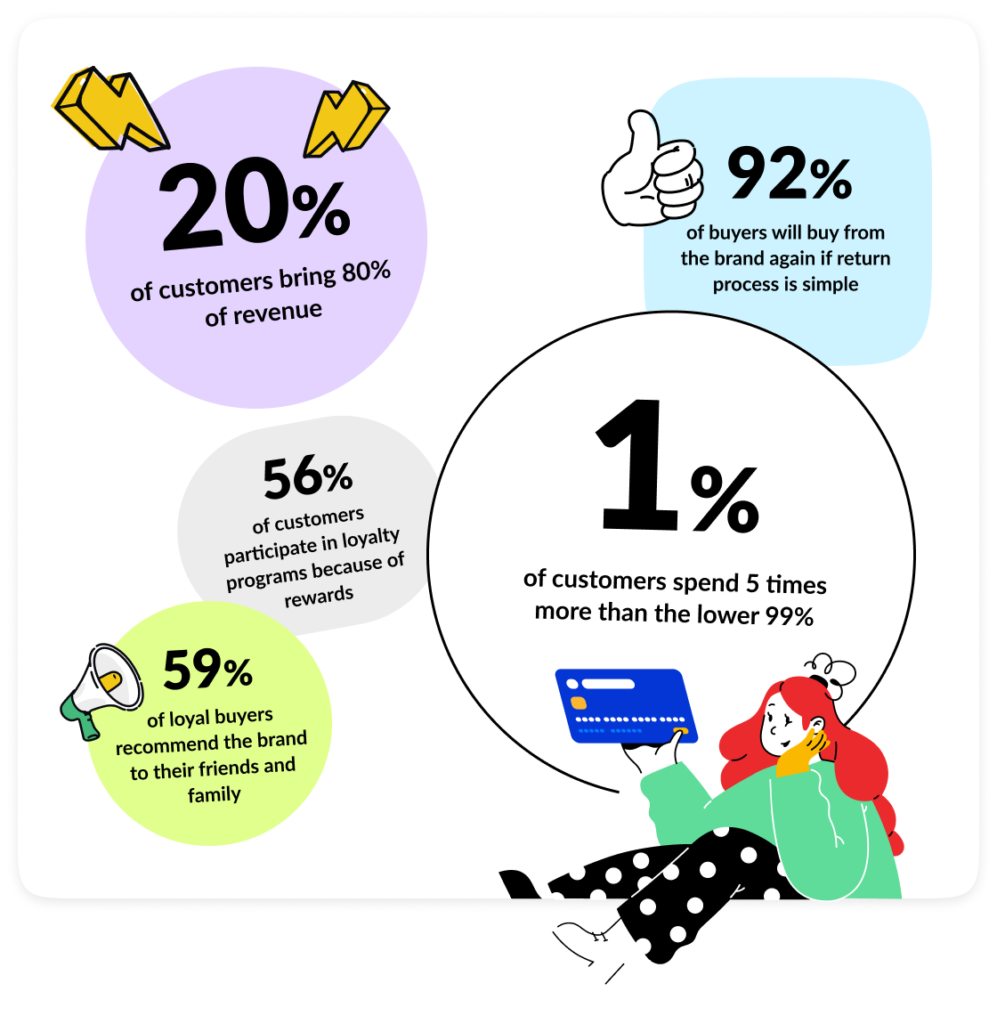 How to Identify VIP Customers?
It's crucial to identify an advanced customer segment group that will bring you 80% of your profit. There are several parameters for VIP customers on Shopify you should follow to indicate them:
The number of purchases is one of the main traits that can show 'big spenders' or those who have made orders frequently during a certain period of time. To define VIP customers, you should start by analyzing the data on how often this or that buyer visits your store and makes purchases. For instance, consumers spend 67% more on buying clothing after being loyal to a company for 30 months.
Average order value is another parameter for Shopify segmentation. You should know that high volume doesn't always mean high value. Thus, customers that make a lot of low-priced purchases can't be called VIPs. At the same time, buyers with high AOV may be worthy of this status. 10% of top loyal customers spend 3 times more per order than the lower 90%, and your top 1% of customers spend 5 times more than the lower 99% (RJMetrics).
Purchases at full price can also help create VIP customer groups in your Shopify store. For some shoppers, it's crucial to buy products that are on sale or using coupons. Others, on the contrary, are of more value for retailers, as they mainly pay full price for the goods they order.
Customer lifetime value (LTV) is the surest way to define the most valuable customers. This parameter can show how much money buyers will spend over the lifetime of their relationship with your brand. So, customers with higher LTV, which contribute a considerably higher amount to your bottom line, can undoubtedly become identified as VIPs.
Certain categories of products generate a higher profit margin for your e-store. Customers who buy more of these goods can become high-value ones.
Returns are the best way to identify customers who should be included or otherwise excluded from VIP status. Even though returns can happen with any buyer, there are some shoppers that have an unusually high rate of returns. That can't allow them to be on the list of VIP customers.
When having identified your VIP buyers, you should treat them differently, provide an exceptional shopping experience to build brand loyalty, and strengthen your relationship with them.
How to Handle VIP Customers?
Knowing the importance of advanced customer segment groups, you should do something to strengthen your VIPs engagement and retention, and incentivize them to boost your sales. How? Take a look at some effective ideas:
Exclusive Sales for VIP Customers
To start with, you can run exclusive sales for VIP customers. Otherwise, open sales earlier to them. It makes sense to inform them via emails where upcoming events are promoted. You shouldn't forget to show them content for non-VIP segments to let them feel a special attitude and know the benefits of their status.
Free Returns and Free Shipping
What can better show your special attitude to VIPs than personalized benefits? The best offers you can do for the most valued customers are free returns or free shipping. According to InvespCRO, 27% of buyers are ready to pay more than $1,000 for purchases online only if they are offered free return shipping. At the same time, 92% of customers are likely to purchase from the store again only if the return process is effortless.
Rewards and Loyalty Programs
56.8% of buyers are incentivized to participate in loyalty programs because of exclusive rewards. Thus, by creating various loyalty programs that help optimize conversion, you offer your VIPs more benefits as they become more loyal. You should remember that the purpose of VIP programs is to make your best customers feel more valued than the average shopper to maximize the effectiveness of the rewards program.
If you are going to take advantages of loyalty programs, make use of the following:
Tiered Reward Program
According to this program, VIP customers get enormous rewards depending on which tier they are. So, the more consumers purchase, the more they get. With the Shopify Volume & Tiered Discounts Kit plugin by Mageworx, you can motivate your VIPs to buy more in order to reach a higher level and get larger tiered discounts. By showing them which levels have been achieved by other participants, you'll stimulate them to gain certain VIP status. For example, you can reward them with Silver, Gold, or Platinum VIP status.

To add effectiveness to your VIP program, set a milestone that should be reached to qualify for the next tier. For example, in Sephora's Beauty Insider program, the milestone for the highest tier is $1,000 spent a year. Even though it's achievable, not all the participants can gain it.
Points Reward Program
One more program that can be suggested to VIP buyers is the point program. They will get points with every purchase, depending on how much is spent. The more points buyers accumulate, the higher the reward they are offered.
Paid Reward Program
The paid program is targeted to customers who are ready to pay a fee for the membership.
To make VIP customers join this program you should show its value. For instance, Barnes and Noble has made a $25 annual payment for the program membership.
Wrap up
Customer segmentation is a perfect way to find buyers who will boost your sales and the bottom line. Carefully selected VIP customers that are treated with deserved appreciation can lead your brand to a new level and give you life-long loyalty in return. Conduct segmentation in your Shopify store, identify the most valuable consumers, pay special attention to them, and you'll see the changes for the better in your brand.

---
Do you show a special attitude to VIP customers? Share your experience with us.