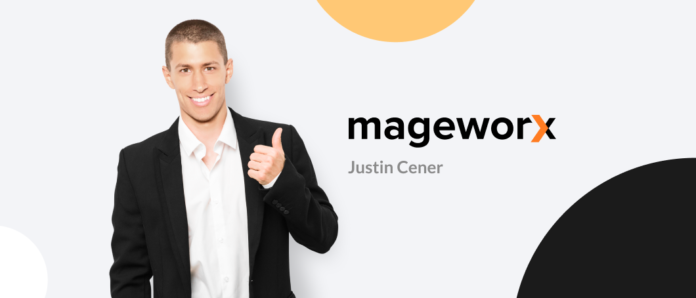 Reading Time:
3
minutes
To be noticed, marked, and recommended by a trustworthy person is precious. We are pleased to share that two Mageworx apps have recently got positive feedback and recommendations from Justin Cener, the eCommerce bootcamp mentor and influencer. It's a great honor and luck for our team to see our products featured and selected from the pool of similar solutions.

Who is Justin Cener and Why His Estimate Matters?
Justin Cener is not only a lifelong entrepreneur having created the fastest growing sports app. Now, he is also a trustworthy eCommerce bootcamp mentor. He has 615+ student success stories, 1000+ hours of training, 5+ years of coaching. He has become popular due to the Wolf Mug ads that also gave birth to a new intro many other Youtubers started using 'if you give me 60 seconds'. Over the past six years, Justin has been able to build four multi-million dollar businesses from scratches. It sounds fascinating!

At his famous bootcamp course, consisting of several sections, Justin Cener:
helps choose a niche,
helps start a Shopify store,
explains advantages of the Shopify setup over other similar products,
tells about print-on-demand setup,
teaches dropshipping with Shopify and Facebook ads, and more.
Considering Justin Cener's bio, his success, achievements and experience, and how much he can help eCommerce businesses develop, his feedback and estimate of our apps are so important and precious.

MageWorx Apps Featured by Justin Cener
On his Youtube channel with 32k+ subscribers, Justin Cener shares his experience. He uploads instructional videos and recommendations for his students, real and future eCommerce entrepreneurs, and just Shopify amateurs.

Order and Product Fees App
In one of his numerous videos on Youtube, Justin Cener gave advice on how to make more money on every sale with Shopify. He explained how to do it with no extra expenditures, no additional ads or traffic no matter what type of store you have or what type of products you are selling.
Justin Cener suggested understanding the concept of average order value (AOV). That is the total number of sales divided by the total number of orders. Thus, every retailer should increase AOV to make more money. According to Justin Cener, bundles, upsells, down-sells, cross-sells, small add-ons, order bumps, etc. are prefect to help you with that.

To make it all possible on Shopify, Justin recommends using a 3rd-party app. To our common pleasure, in his pet personalization store, he personally uses and strongly recommends the Order & Product Fees plugin by MageWorx. Justin Cener finds this app to be incredibly powerful and flexible. The app does exactly what is required for increasing your AOV.

Advanced Bundle Products App
This video will teach you how to create product bundles in Shopify without losing print-on-demand integration. The bootcamp mentor considers bundling to be the best strategy as every single product could be bundled together. Justin Cener suggests several popular bundle ideas that will drastically increase conversion rate and expand your product catalog.

In the video, the entrepreneur also marks the pros and cons of bundling. As for the positive sides, this strategy is extremely effective, gives a feeling of personalization, increases AOV and gives your catalog an update. The main disadvantage of bundling is not built in Shopify by default and some bundling apps will not work with print-on-demand or dropshipping apps.

Justin Cener recommends using the Advance Bundle Products plugin to create the perfect product bundle in Shopify. For the eCommerce bootcamp mentor, it was important for this app to integrate with print-on-demand and dropshipping apps, not create any duplicates or clones, and keep original products. Justin Cener admitted that the plugin has everything to increase AOV and conversion rates, as well as make customers spend more. Furthermore, the app allows having full control over pricing, discounts, and display. Ease of use has also influenced the decision of the entrepreneur to use and recommend this app.

Final Thoughts
We thank Justin Cener for taking his time to mention our Shopify apps on his channel. It's an honor for us to know that the niche experts like himself use and recommend our apps. Thank you!