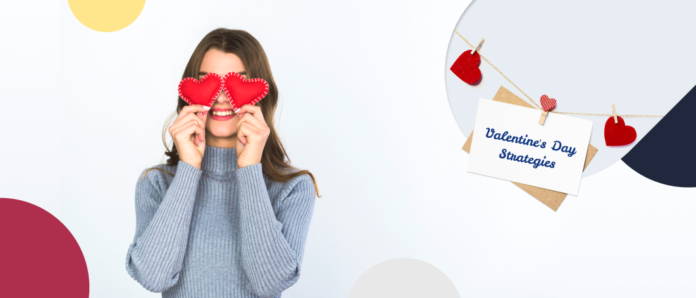 Reading Time:
5
minutes
The holiday season is behind. All the Christmas and New Year gifts have already been sold out. But don't get too comfortable―it's the right time to start implementing Valentine's Day marketing ideas in your Shopify-based store as almost 50% of holiday buyers prefer to shop in advance. Even though there are a lot of those who don't celebrate this holiday, total Valentine's Day spending is still $19.6 billion.

So, it's time to brace yourself and look through 15 best Valentine's Day marketing strategies that can help customers ready for the most romantic day of the year.

Top 15 Valentine's Day Marketing Ideas
Give Your Site a Romantic Look
What can help your buyers get into the spirit of Valentine's Day better than red hearts, little cupids, arrows, and love letters? By decorating your store with such romantic effects and creating an atmosphere of love and romance, you can grab customers' attention and inspire them for more purchases.

It can be a good idea to make a holiday-related header and footer, turn a mouse cursor in the Cupid's arrow, or add a flair of love to your logo, for example

Send Your Customers Charming Emails
If you want to increase the conversion rate for your site on average by 5% and generate 4x more revenue, email marketing is your surest assistant. Valentine's Day is a chance to send appealing emails that will drive customers to your online store. There, you may express gratitude and appreciation to loyal customers and subscribers, send Valentine's Day gift guide, special offers, or invitation to participate in a holiday-themed contest for a 'yummy' giveaway or discount. Combining these emails with love-spirit images and sweet words can do wonders.
Create Valentine's Day Product Bundles
A product bundle is a kind of 'pairing' that seems to be the most appropriate Valentine's Day marketing idea to be implemented. You can not only create bundles and gift sets that will boost your sales but also add appealing messages to them, such as 'Best Valentine's Day Outfit', 'The Best Valentine's Couple', 'Bundle for Lovers', etc. Such sets will undoubtedly grab the attention of customers.
Run a Love-Themed Campaign on Social Media
Social media is a strong power and the best channel to drive engagement with your customers, promote Valentine's Day gift guides and bundles, show your love to your buyers.
It's a good idea to conduct a poll on your Facebook page or Instagram stories visualizing them with holiday-themed items relevant to your business and options to choose from. For example, you may display two nice clothing sets and ask your audience which one is more appropriate for a night date.

Otherwise, you can promote your products by using Valentine's Day hashtags. For example, in 2018, Tiffany ran 'The Tiffany Tattoo Shop' online campaign, where buyers could customize digital stickers and place them on their bodies. The company asked customers to share their tattoos with '#BelieveInLove' hashtag. It allowed the retailer to get a great number of branded customer photos. Shoppers also had an interactive experience with the brand and got a self-created personalized tattoo.
Hold on a Romantic Contest
Running Valentine's Day contest is a beneficial idea for you and your shoppers. Ask them to share their love or break up stories, best or worst date narratives. Or it can be a contest for the funniest date photo, for example. Offer a tempting giveaway for the best one. As a result, you'll get a large number of followers, potential customers―and your audience will be encouraged by prizes.

Thus, Valentine's Day contest held by Eagle View Escape had 2,632 views and 941 entries, a 35.75% conversion rate. The task was to tell in 25 words or less who the followers would bring with them to Eagle View Escape and why. The prize was a two-night stay in this wonderful place.
Offer 'Two for One' Deals
Rephrase the 'buy one, get one' offer into 'two for one' and you'll get another creative Valentine's Day marketing idea. As couples are all about this holiday, pairing products is the surest way to attract customers. These items need to be appealing and relevant to Valentine's Day couples.
Give a Hand to Buyers with Valentine's Gift Guide
Did you know that 53% of women are ready to break up not receiving a gift for Valentine's Day? Most buyers do not always have ideas on what to purchase to make their beloved ones happy. Thus, you can save their effort and improve the shopping experience by offering Valentine's Gift Guide. Gift ideas can be arranged in accordance with the type of products in your store: for him/her, for singles/couples, for kids/pets, for sport/music lovers, and so on. It'll be easier for customers to search for new gift ideas. Moreover, the gift guide can be sent via email or promoted on social media to attract more buyers.
Send Valentine's Day Cards
Annually, people exchange 190 million cards on Valentine's Day. Don't you think that there is one more way to show gratitude to your buyers except for emails? It's by sending them Valentine's Day cards. In digital time, it can become a pleasant surprise. In addition to your 'Thank you' message you can include a special offer or discount. Remember to send such cards in advance in order not to make your customers hurry to use any special offer.
Suggest Time-Sensitive Offers
This kind of marketing activity for Valentine's Day can help increase site conversion by 25%. Fear of missing out has a great psychological impact on customers. When the amount of items or time is limited, they look more valuable and desired for customers.
Adapt Mobile Push Notifications to Valentine's Day
Taking that almost half of all online shopping is done with the use of mobile phones, the best idea to implement on the holiday is to send Valentine's Day marketing push notifications, which are relatively unobtrusive and friendly reminders. Carefully adapting more romantic messaging and special offers to the main day for all lovers can become extremely effective as an opening rate of push notifications is 90%.
Offer E-Gift Cards
Save your customers from the necessity to spend hours in search of an appropriate Valentine's Day gift for beloved, family, and friends. What can you do? Promote e-gift cards.
For last-minute buyers, it can become crucial. By offering e-gift cards, you not only make their shopping easier but also give your customers an opportunity to send their gifts to recipients in a mouse click.
Provide Customers with Gift Wrapping and Anonymous Delivery
To help your customers surprise ones they love, provide them with gift wrapping options and anonymous delivery.
Gift-wrapping can help save time and effort, as well as give Valentine's Day look to a present.
As for anonymous delivery, it can be extremely demanded by shy gift-givers who don't want to reveal their identity. For example, zCholcolate offers its buyers to use this option during the check-out process and promises not to reveal the identity of a sender.

Implement a Free Shipping Threshold
Free shipping is an impulse for 93% of online shoppers to buy more. But quite often it can be unprofitable to offer free shipping for all orders. In this case, a free shipping threshold is off help. Just set a minimum Valentine's Day order value and you'll get increased AOV and your buyers such desirable free shipping.
Show Love for a Charity
Valentine's Day is the best time to show your care and love. Moreover, you can encourage your buyers to support your intentions by offering them to donate a small amount at checkout, for example.
Upload Holiday Themed Videos
Quite often, we could use a little inspiration. St. Valentine's Day is not an exception. It's a good chance for you to improve the attitude of your followers to your brand. You may upload holiday-themed videos on your site or social media with gift ideas, or some advice on a perfect date or outfit. You can create a series of short videos and upload them on Instagram stories every day before Valentine's Day. Undoubtedly, your customers will appreciate it.

Wrap Up
Valentine's Day is one more chance in a year for your brand to show your appreciation to customers as well as boost the bottom line. By giving your shoppers all that can help them spend this day perfectly, you can improve your life-long relationship with these buyers. We strongly believe that the list of 15 best Valentine's Day marketing strategies will help you achieve your sales boosting aims.

---
Which of the suggested Valentine's Day marketing ideas would you implement in your Shopify store this year?