Magento 2 Email Configuration
Newsletters are the most proven way to communicate with customers. This statement is also true for eCommerce stores. In general, the newsletter is powerful and at the same time cheap marketing tool.
Magento 2 supports newsletter functionality by default. All you need to do before you start sending newsletters is to configure some settings. Log in to your store admin panel and open the Stores tab. Then, select the Configuration option and expand the Customers section. We need the option called Newsletter.
From here you can configure the following newsletters settings: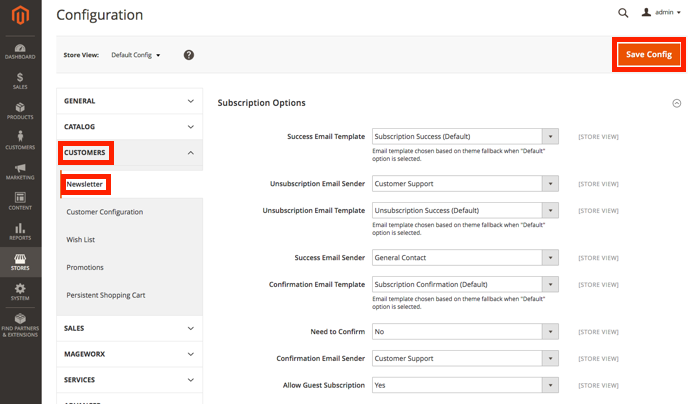 Success Email Template – the email that is sent when a customer subscribes for your newsletters.
Unsubscribe Email Sender – this option allows you to specify the sender of the unsubscribe emails.
Unsubscribe Email Template – lets you specify the template for the unsubscribe email.
Success Email Sender – selects the sender of the email with the 'successful subscription' notification.
Confirmation Email Template – specify the template with the confirmation email.
Need to Confirm – this option enables customers to confirm their subscription. It helps your shoppers avoid the unnecessary newsletters.
Confirmation Email Sender – specifies the sender of the confirmation email.
Allow Guest Subscription – by enabling this option, you allow Guests and not logged in customers to subscribe to your newsletters.
Generally, you need to specify only three options to start sending newsletters: success, unsubscription and confirmation emails.
To complete the email configuration hit the Save Config button.