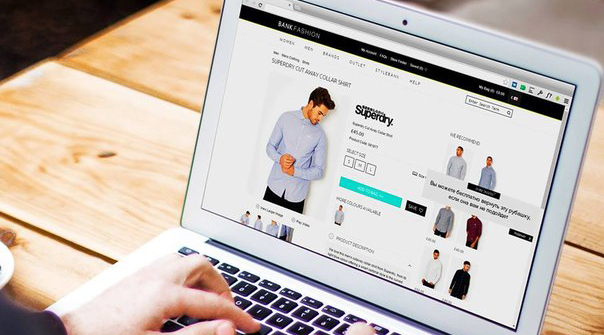 Reading Time:
5
minutes
Why do 90% of small online ventures fail?
Those who managed to build a successful eСommerce business know that the cornerstones of a successful online venture are careful, in-depth data analysis and methodical, strategic planning.
Alas, both aspects are often ignored by online entrepreneurs. They tend to make intuitive rather than data driven decisions, thus putting their business at risk. But why do they neglect such vitally important things? 

It usually happens for 2 trivial reasons.
1. Shortage of time.
Imagine you are a one-man company and have to perform all functions for your eCommerce store. Will you have time for diving into careful data analysis and thorough strategic planning? I believe the answer is obvious.

2. The complexity of data analysis.
The biggest challenge here is insufficiency of data free tools provide.
For example, Google Analytics displays only the basic metrics such as profit, revenue and traffic sources and is totally useless for subtracting discounted products and refunds, calculating taxes/ shipment expenses and PayPal fees. Also, Google Analytics misses out about 5-10% of all transactions, which questions the whole point of further analysis.
To make even the basic sales data analysis, store owners have to combine data from various sources and run heavy spreadsheet calculations.
Luckily, there is a tool that can fully automate the process, quickly deliver accurate analytical data and provide competent projections for the future.

SavvyCube – The first ecommerce analytics software developed for small business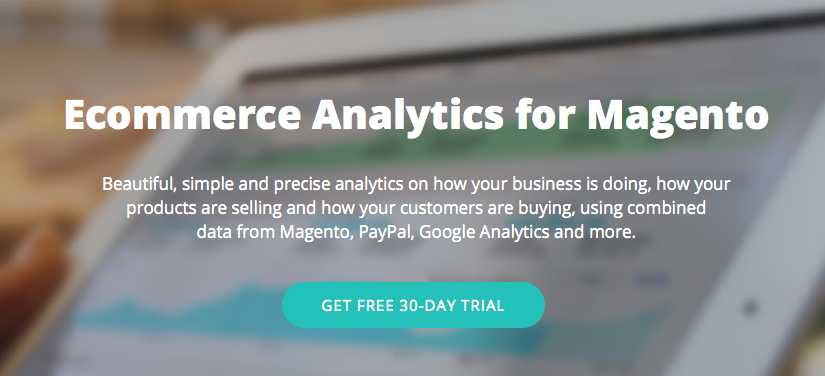 SavvyCube is designed to help small and midsize eCommerce companies get the precise and reliable insight into how their online business is actually doing. The app is easy to use and doesn't require any technical skills or knowledge whatsoever.
This is a short glimpse on what the software is capable of:
pulling data directly from the original sources (Google Analytics, PayPal and Magento itself) and combining it all in eye-candy, professional sales reports
delivering accurate data on all essential eCommerce metrics: actual store revenue, refunds, Net Profit, taxes, shipping expenses an payment provider fees
running versatile analysis of customers' behavior
delivering the list of channels/referrals that are best (or worst) in contributing conversions for specific products, customers or groups of customers
running simple product analytics and calculating metrics that let merchants investigate the selling behavior of all their products
This, in a nutshell, is how the whole system works: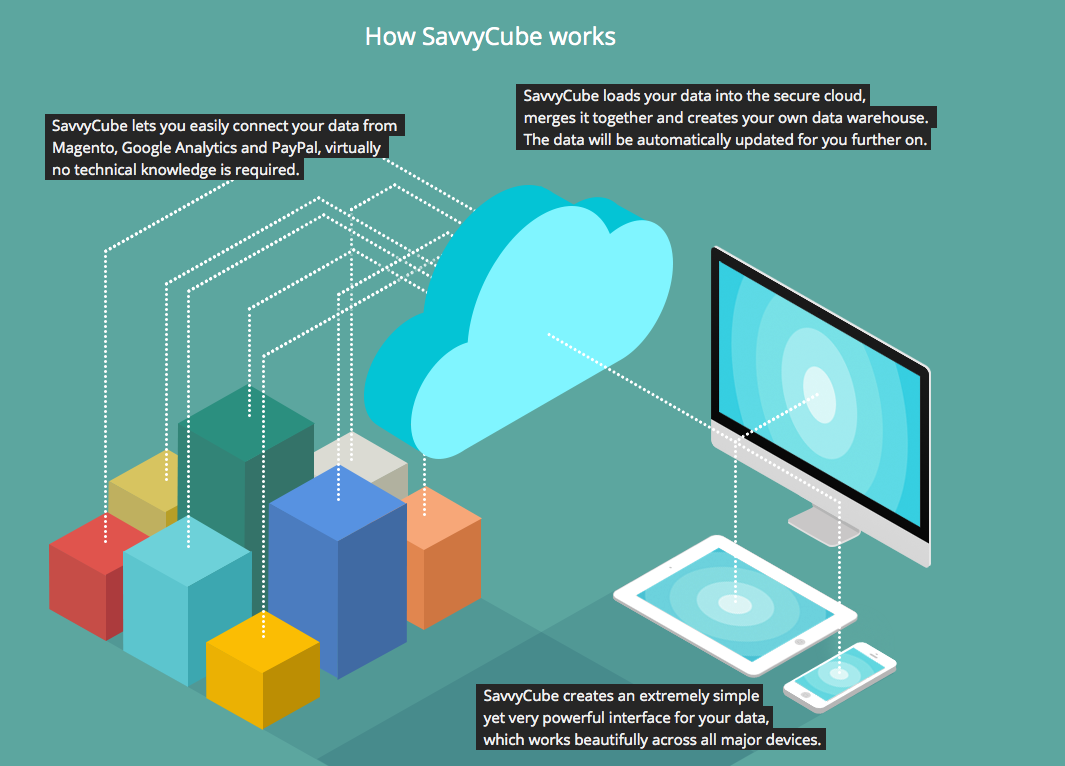 Now, let's take a "hands on" look at the software and walk through its main features:
Signing Up
To get the ball rolling, create an account at https://www.savvycube.com/. The procedure is free (SavvyCube offers a 30-day free trial) and requires NO credit card details.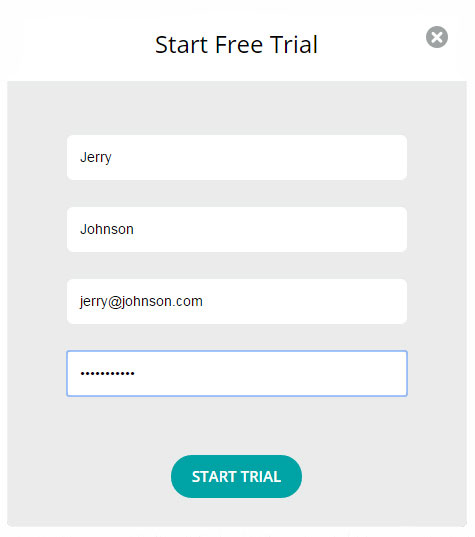 When done, install a FREE Savvy Cube connector extension and follow the instructions it provides: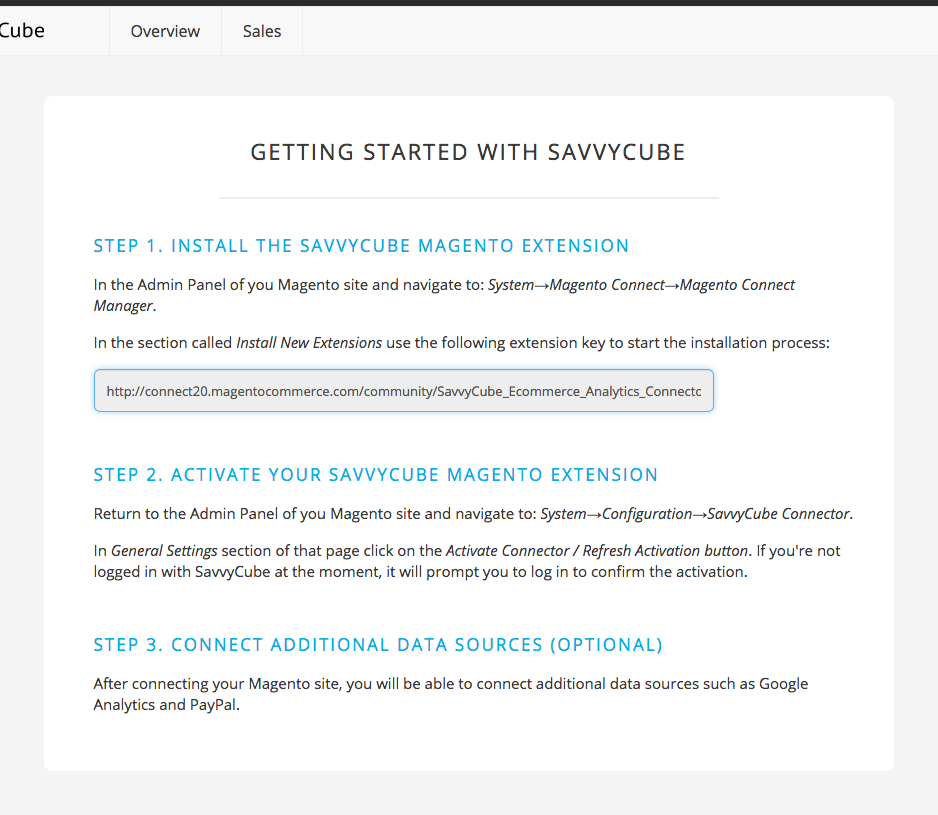 Next connect your Google Analytics and Pay Pal accounts. That can be done by a single click in Savvy Cube datacenter.

Viola! Now you can start exploring the power of the software.
Starting to Use your Magento Analytics
Overview tab


The first thing you see when logged in is the Overview tab. Here you can find fast but actionable stats on all the key sales metrics, such as:
revenue
Net Profit
refunded sum
# of refunds
the amount of all applied discounts 

The data is shown for the current date, as well as for a week, month and year to date.
In the Sales tab you can access a wide selection of metrics that let you get a coherent overview of your store sales stats. The board view is fully customizable so you can easily adjust it for your needs.
The Sales tab lets you view such metrics as:
conversion rate
charges deducted on taxes
repeat cust orders (number of orders in a period made by customers who made orders previously)
average order value
average order quantity
repeat purchase rate
products sold
diverse products sold (number of different products/ SKUs sold within a period)
average product value
average product cost
average product profit
PayPal fee
and more
Below the metrics block there is a graph that displays changes of any chosen metric over time.
What is more, you can set a time frame to check data for and visually compare fluctuations of any 2 metrics.

Deeper Sales Analysis
Want to check how well your products sell, analyze your customers behavior, find the sources that generate most of your sales? Jump to the bottom of the Sales page! 

The multi-tab section displays all the data you need to make the informed sales & marketing decisions.
Products
This is the place where you can find the detailed stats on the products you sell. Here you can find what your best selling products are, and see which products generate most of your store profit.
Data in each column can be easily sorted by clicking on its header.

Orders
The tab displays such important stats as shipping expenses, tax charges and fees associated with each order. Also, you can check order status and referral traffic source that resulted in the sale.
The tab lets you quickly view the purchase history of each customer: the total # of orders and refunds, revenue and profit generated since the very first order made with your store, the privileges certain customers enjoy.
That is invaluable data for doing customer segmentation, building relations with your key clients and developing customer loyalty.
Want to know what sources generate the biggest amount of your sales? Switch to the Sources tab.
Here you can see the referring sources and medium that resulted in a conversion on your site. Also, the tab displays the whole amount of revenue and profit, generated by each source, its average order value, incurred shipping/ tax expenses and refunds.
Having this info, you can adjust your SEO, PPC and inbound marketing strategies — strengthening your solid market positions and put more effort into building presence in the sources where your positions are weak.
This data is a goldmine for any website owner.
Having a full, detailed list of all processed refunds, you can find out the reasons why people get dissatisfied and claim money back. That, in turn, will help you eliminate the cause of their dissatisfaction and save your earned income.
Also, this data can be useful for shaping a well-thought-out return policy.
When running an international online store, it's necessary to check how your sales are going in different locations.
With SavvyCube you can do that by a single click. Just switch to the Countries tab and sort the amount of orders by country, check the amount of revenue, profit, average order value for any chosen location.
This data will help you to conquer new markets and enhance your presence in the current ones.
Customer Segmentation is the most effective way to tailor offerings that resonate with different types of customers.
With SavvyCube you easily track the efficiency of your segmentation approach and adjust it for a better effect. 

The software displays the number of orders per customer group, revenue/ profit each group generates, the amount of discounts made for a certain group, all processed refunds and more.

Bottom-Line
SavvyCube is the first Magento analytics software that is capable of effective tracking and accurate calculating of all important eCommerce metrics.
This is the only software that can combine the output from various analytic systems (Magento, Google Analytics and the payment systems) all in one place.
All that makes the SavvyCube an invaluable tool for accurate data analysis, methodical strategic planning. In a word, it's a must-have tool in the arsenal of every small and midsize Magento business owner.
Want to test the app? Feel free to sign up for a free trial and share your thoughts in the comments below.