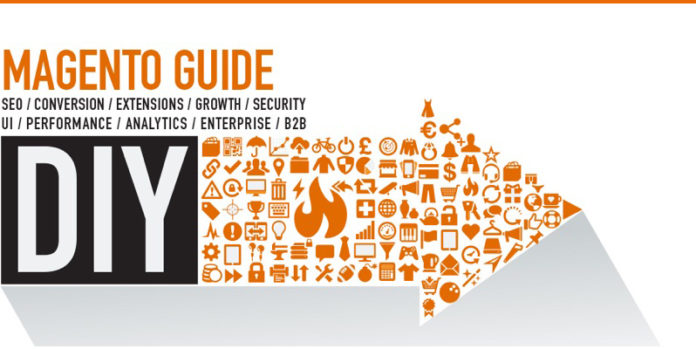 Reading Time:
2
minutes
Viktor Khliupko and the Firebear team have recently released a new book about Magento Community Edition named "Magento DIY. The Complete Guide"
Although there are lots of materials dedicated to the most popular ecommerce platform, this guide is truly unique. Not only because it explains how to enhance website performance, but also because it tells how to find the analogues of the Enterprise-level Magento features.
"Magento DIY. The Complete Guide"consists of 5 chapters:

Setup
Sales Generation
Growth
Enterprise
Custom Magento Development

.
The FireBear Team have done their best to explain all the benefits of various Magento modules, plugins, and services. Also, the authors have showed how to practically use the third party tools to enhance store performance, optimize it for search engines and improve security.

1 Setup
This part tells how to launch a new ecommerce website. It covers such topics as Magento download and installation, hosting, extensions and templates, payment gateways, etc. The most important part of this chapter is dedicated to Magento performance and the ways to improve it.

The authors carried out a series of tests that proved that the paid extensions, including those developed by MageWorx, provide more robust enhancement.

Other topics introduced in the chapter are security, SEO, and pre-launch.
2 Traffic Generation
The chapter sheds light on major traffic sources and reliable traffic-driven techniques: Banner ads, AdWords, SMM campaigns and social media advertising, marketplaces and blogs, etc.

3 Growth
The chapter shows how to drive and convert traffic. Thus, you will find a lot of useful information about CRO, cart abandonment, referral and affiliate marketing, and customer support in the chapter.
4 Enterprise
This part of the book shows how to introduce the analogues of all the Magento Enterprise Edition features to the Community edition using the certain extensions and services.

Additionally, you will find some nonspecific tips for Magento EE improvements (e.g. multi-channel marketing, PIM, ERP, CRM, SAP, dropshipping, B2B, multi-vendor marketplace, and dynamic pricing).
5 Custom Magento Development
The chapter describes where to hire the qualified Magento specialists, best suited for further custom website improvements.

******
Being a complex book, "Magento DIY. The Complete Guide" will be of great help to anyone, engaged with Magento: ecommerce merchants, marketers, and Magento developers.
Each part of the book features the most advanced and at the same time the easiest advice, leading you through all the difficulties of Magento ecommerce development.
To get "Magento DIY. The Complete Guide" with a 20% DISCOUNT follow this link.