NEW: Hreflang Tag Support – a Magic Wand for multi-lingual and multi-regional websites
Today, we are happy to announce a big update of our SEO Suite Ultimate Magento extension.
The module that is reckoned as one of the best tools for Magento SEO, is now empowered with a new great feature – the support of a hreflang tag.
The hreflang tag (also referred to as rel="alternate" hreflang="x") was designed to tell Google which language you are using on a specific page, so that the search engine can deliver the relevant results to users searching in this language.
The feature is extremely useful if you are running a multi-lingual and multi-regional site, and created a big amount of content for a local audience.

This is how it works: the hreflang tag adds a signal to search engines that a user querying in language "x" will want this result instead of a page with similar content in language "y".


SEO Suite Ultimate Magento extension lets you easily implement the hreflang tag for language and regional URLs. With the extension you can:
set Alternate URLs Scope (this type of URLs can work within one website, as well as between websites)
use the hreflang for category/ product/ CMS pages
use the language code from the default locale
add a country code
use the country code from the default country
and more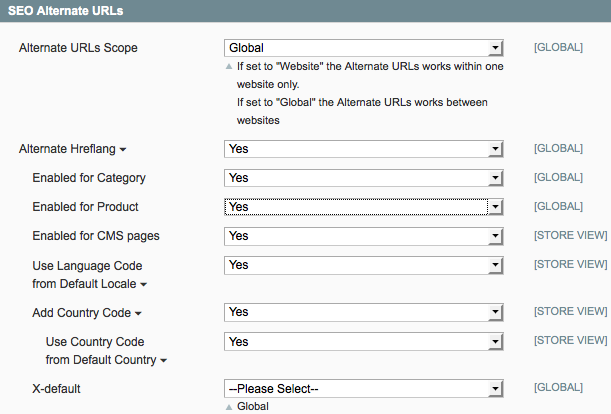 On top of that, you can include the Alternate URLs into your XML sitemap.


And the last but not least improvement is that the extension's code has been moved from app/code/local/ folder to app/code/community.
Explore the enhanced potential of the extension, get your license now!