A Bundle of Long-Awaited Features, Great Functionality Improvements and More!
Today, we are happy to announce the major update of our Customer Credit module.
The module that is reckoned as one of the best tools for building customer loyalty, is now empowered with a set of great new features and functionality upgrades.
These are the features the updated vision of the module is fitted with:
Internal Credits Exchange Rate
Specify how much your store internal credits are actually worth
With this new feature you can specify an exchange rate of 1 credit to 1 unit of your base currency.
The extension also supports multi-currencies setup. So, if you have more than 1 currency allowed, the resulting sum can be converted using your currency rates.

Email Templates
Take advantage of the improved email functionality for better customer engagement
Email templates have been moved directly to the Transaction Emails, and a new sub-section has been added to the configuration page. This enables you to assign a template to each credit action.
Also, the feature allows you to specify different templates for each store view. Thus you can set up different mailing options for different languages.
Moreover, with the updated version you can inform your customers whenever their balance is charged: the module lets you enable/disable the corresponding notifications and add a CC for these emails.

Custom Credits Amount
Let your customers manage their credits as they want
The updated version of Customer Credit provides store customers with an immense flexibility in managing their internal funds. With the updated version customers can define the amount of the custom internal values they want to use.
Simply put, customers can specify how many credits they would like to spend (even in cases when their credit balance covers the order's total). The difference will be paid by any other supported payment method.
Thus, customers don't need to spend the whole amount of their credits and can manage their internal funds in a more efficient way.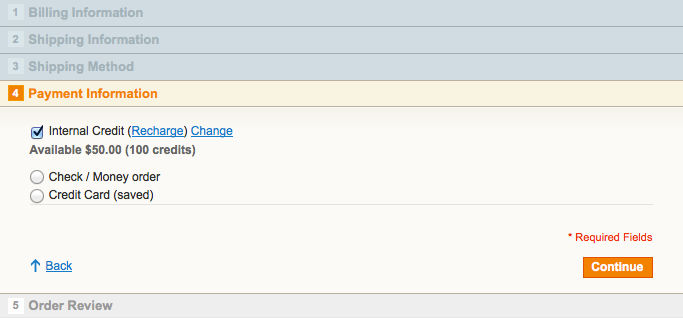 Sync Balances (for Magento EE only)
Fully synchronize your store internal balances
This great feature makes the Customer Credit extension fully-compatible with Magento Enterprice Edition.
With this option you (as an admin) can sync the internal balances and manage your customers' existing balances right inside of the extension.
Also, with the v2.6.0 you can choose to append values or replace them.
Order's Grand Total
Make your sales reports maximally accurate
Previously, when customers used the internal credits to fully cover an order's total, the grand total of this order was decreased down to "0". This happened because the internal credits worked as discounts. All that caused confusion in your sales reports.
Now, you can easily disable this option and keep the Grand Total for such orders unchanged. Thus, the new feature allows you to keep your sales reports untouched and accurate.

______________________________________________________________________
The updated version of Customer Credit is fully-compatible with Magento 1.9!
To learn about other software great features or to get your hands on the extension demo version, follow this link.
Want to increase your customer loyalty manifold? Grab you own license of the advanced customer credit management tool for Magento!