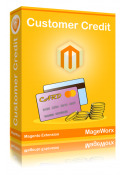 You've had an opportunity to let your customers pay for any goods or services using the funds of internal credit account with one of our Magento extensions – the previous version of Customer Credit Magento Extension. Today we are proposing you a fresh update – Customer Credit Magento Extension v1.2.0, which can give you more new possibilities for growing your business!
How will this extension improve your i-business? We are describing you the major features that make you be sure that this extension is irreplaceable for your i-business:
With this extension, your customers can view their credit balance, get detailed payment information, refill credit balance with Recharge Codes that simplifies the process of the gift certificates/debit cards mapping or replenish customer accounts by your own to make shopping again:

During the check-out, the customer can choose internal credit at the payment information step (the customer can pay either with credits or other paying methods, if his credit balance is not enough for the payment):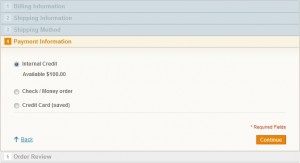 In case the customer has used internal credit and other paying methods, both methods will be shown in payment information in the back-end:

You can choose Internal Credits during creating orders manually from Magento back-end. You should mark the customer, who wants to pay with a credit, the product from the orders' grid and the paying method ("Internal Credit") by himself. You can also see all payments and charges on the credit of the customer: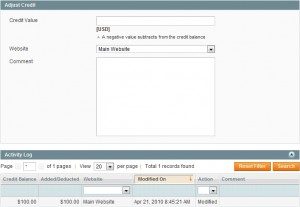 You can create rules for automatic credits addition to customers' balances based on either customer attributes (purchased amount, registration date) or product attributes (SKU, name, price etc.). This feature gives you awesome opportunities to provide credits in a flexible way. "Registration date" allows you to give credits to customer who registered or will register at the specific date (it's perfect to give credits to new customers or to all customers during specific event only). "Purchased amount" allows you to give credits when customers spend appropriate amount of funds in your store (it's perfect to build an effective loyalty program). "Product Attributes" is a really powerful feature that allows you to assign credits to specific products and give the credits only when these products are purchased.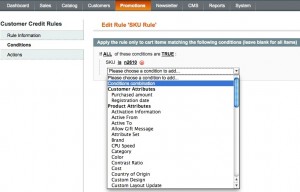 Besides, our extension supports auto credit refund. It means that you don't have to edit your customer's balance manually if an order is canceled or refunded (in case a customer pays with a credit), the extension makes it for you automatically.
At last, due to Customer Credit Magento v1.2.0 you can bring your online business to a new level by attracting more customers with the easier, safer, and more convenient ways to pay for their online purchase. For you, the businessman, to create  internal credit account would only mean one thing: more accomplished and processed sales.
Still in doubt? Visit Customer Credit Magento Extension v1.2.0 page for getting more information.