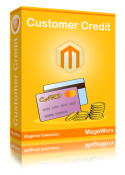 What do your customers expect from your Magento store? Right, to implement new features and improve the functionality for making your store easy-to-use and advanced. For instance, extension of different payment methods and ways allows to enlarge customer base is several times. We're pretty glad to help you by releasing an update to Customer Credit Magento Extension!
Since v1.5.0 admin can add a credit as a separate product ("Credit Unit") at the back-end and a customer can purchase necessary quantity of credits on the frond-end. Thus, you can sell credits and customers will purchase credits for "real" money. You can disable this product on the front-end by changing its visibility to "Not visible individually". In this case, customers can purchase credits only from their accounts. However, you can make this product visible on the front-end and promote it as your special product.
Changing the product's price, you are changing the rate between 1 credit and 1 your base currency, i.e. if "Credit Unit" has the price $1. It means that 1 credit costs $1.
You can also add a static block to "My Credit" section (for example, you can describe the rules for getting credits in your store):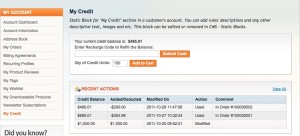 Customer Credit v1.5.0 also makes the process of tracking customers' balances easier. The admin has an ability to display "Credit Balance" column in customers grid in the back-end – available credit is shown in a separate column. Thus, you always know amounts of available credits of your customers:

One more awesome feature is the ability to return credits instead of funds in case of offline refund. That means using an offline refund the admin will process the credit memo in Magento system manually and will able to return credits. The admin just need to set the value of a credit in an appropriate field. This is a great addition. Offering credits instead of refunds you will bind the customers to your store and avoid returning funds: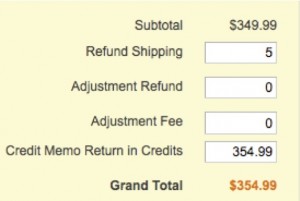 Now the admin can select checkout attributes the credits should be applied to (Subtotal, Shipping & Handling, Tax). For example, you can allow to use credits to pay for your products only and not for shipping costs. In this case, customers will need to pay shipping using other payment methods: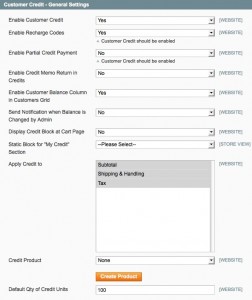 There are some changes in checkout. This version can support Magento Multi-Shipping checkout.
What concerns credit rules, now a credit rule can be created as a one-time. It can be useful if you make a one-time promotion (sales, discounts etc.)
One more feature –  the admin has changed internal balance, a customer will be notified by e-mail.
Give your customers pleasurable possibility to make "free of charge" purchases using money available in the account!
See more details on Customer Credit Magento Extension page.